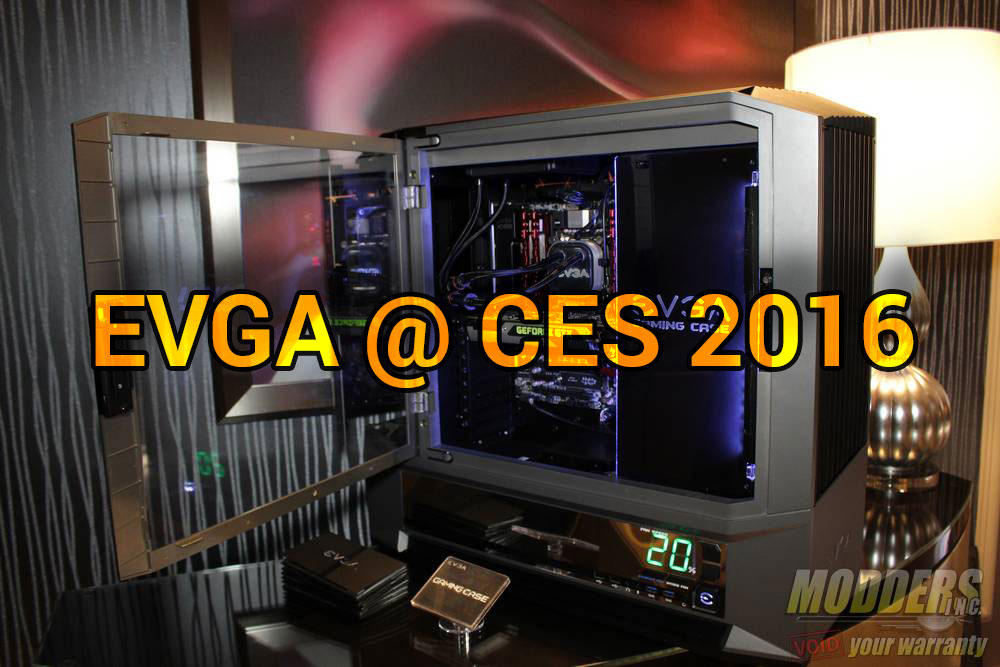 EVGA is expanding their product line further in 2016 showing off several new gaming-related products, some of which are new territory for NVIDIA's #1 AIB partner. Center stage at their CES 2016 suite was a working prototype of a high-end gaming case which is yet to be named. Unlike the previously released EVGA Hadron, the new gaming case is large and designed with modularity, high-airflow and liquid cooling support in mind. This case is absent typical drive bay mounting options in liue of more radiator, reservoir and fan mounting room. The bottom compartment also has an LED display which shows temperatures but EVGA confirms that they are still trying to decide on how the bottom LED display will look like or function before it launches.
Showcased inside the prototype case is EVGA's new Asetek-based liquid cooling AIO loop. EVGA calls it the QRC/QRG unit which stands for Quick-release CPU or GPU system which makes use of adapters for easy expandability should extra cards need to be added. EVGA also displayed several self-contained liquid cooled HYBRID kits of their video cards.
EVGA is also VR ready, displaying an HDMI output port at the front of their cards that goes with a 5.25″ HDMI extender with USB 3.0 ports for power so that users can plug in their VR headsets conveniently. This is part of EVGA's upcoming "VR Edition" video cards which will be available in blower-style or ACX 2.0+ cooling versions.
Jumping into mobile gaming, EVGA had a 17″ 4K gaming laptop on display dubbed the SC17 which will also be available in a G-Sync version. Aside from having an impressively compact size and sleek backlit keys, the SC 17 gaming laptop had surprisingly powerful speakers built-in. EVGA designed the single-piece unibody aluminum alloy laptop in-house and built it from the ground up, including a custom UEFI (which looks different than the desktop EVGA UEFI). The EVGA SC 17 uses an Intel Core i7 6820HK unlocked CPU with an NVIDIA GTX980M GPU as well as 16GB of GSkill 2666MHz Memory with 256GB M.2 SSD and 2T of storage drive.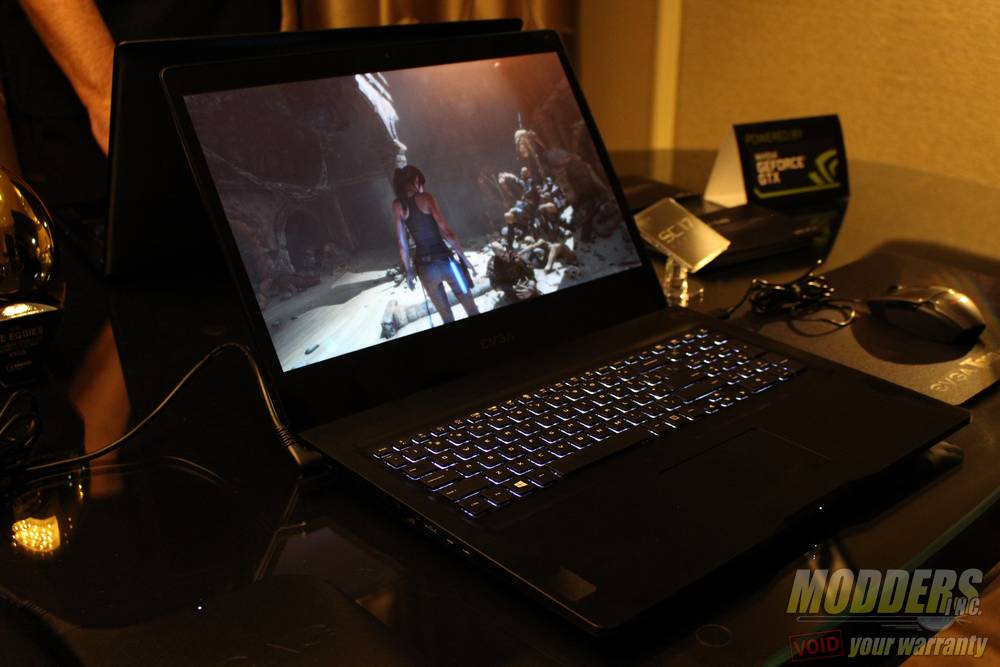 Also new from EVGA is an audiophile grade sound card via PCI-E x1 or external USB. Specifications are still forthcoming but EVGA states a 130dB SNR. Like the gaming case, this sound card is yet to be named but EVGA was more than happy to demonstrate the sound card's performance at the suite, demonstrating that it is ready to rock.
More photos: