Thermaltake released new additions to The Tower 200 Mini Chassis in the fan-favorite Turquoise, Racing Green colors, and this year's new color Matcha Green. The Tower 200 is a tiny but mighty mini-ITX case, which comes with an iconic vertical case design that can accommodate a 4090 graphics card, and supports up to a 280mm AIO. Users have been looking forward to the multiple-color versions of The Tower 200, and Thermaltake hears you! Now, The Tower 200 is available to purchase in five colors: Black, Snow, Turquoise, Racing Green, and Matcha Green. Whether you are into gaming, video editing, or just daily use, the classic colors and the special colors allow The Tower 200 to fit perfectly into any scenario.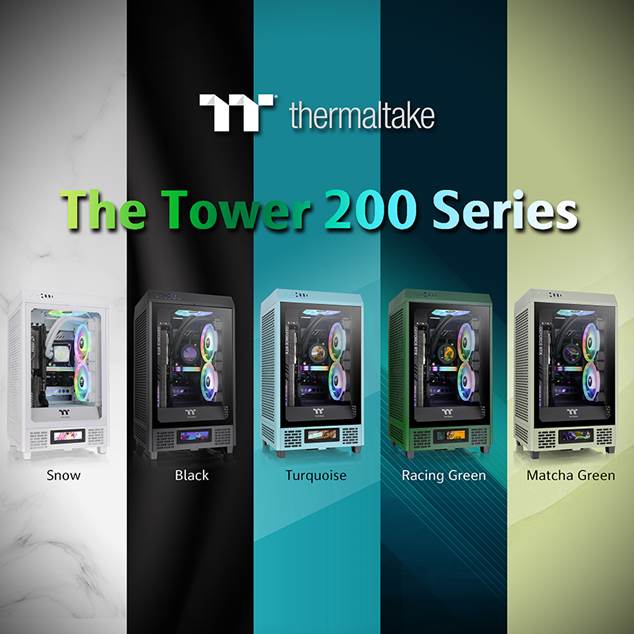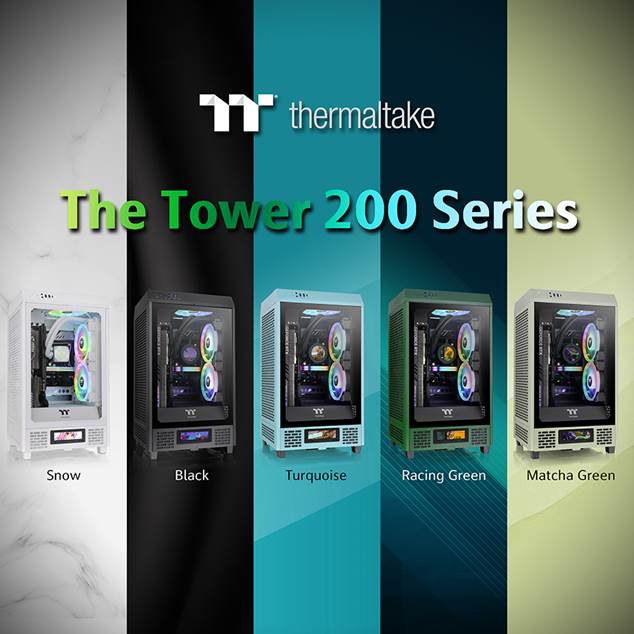 The Tower 200 keeps the classic vertical body design of The Tower series, minimizing the chassis footprint for working and gaming space. As a compact chassis, The Tower 200 still provides outstanding support for high-performance hardware. It can house a standard-size power supply of up to 220mm long and a GPU with a maximum length of 380mm such as the 4090 GPU. To secure the components, this case is equipped with a GPU stabilizer to prevent the GPU from wobbling during use or transport. Additionally, The Tower 200 can accommodate a CPU cooler with a maximum height of 200mm and an AIO radiator up to 280mm. On top of that, The Tower 200 features well-designed air intakes and hot air exhausts as well as pre-installed one CT140 PC Cooling Fan at the top and another one at the rear, offering an exceptional cooling performance.
Besides the superior hardware compatibility and thermal performance, The Tower 200 also aims to bring a visually pleasing experience to users. The Tower 200 comes in five fashionable colors to satisfy visual aesthetics in different styles. Furthermore, the tempered glass front panel allows users to show off their gorgeous PC components inside the chassis. If you want The Tower 200 more interactive and customized, the separately sold LCD Panel Kit is a good choice of expansion accessory. The 3.9" LCD display can show components' real-time information, time, and weather. What's more, you can upload any images or GIFs you like through the TT RGB Plus 2.0 software.


The Tower 200 is an unparalleled chassis with a compact size, marvelous cooling performance, and great hardware that can support up to a 4090 GPU and a 280mm AIO. Available in Turquoise, Racing Green, and Matcha Green, The Tower 200 series provides unique color selections for users to create their ideal work and entertainment space!
For more information on The Tower 200 Mini Chassis:
The Tower 200- https://www.thermaltake.com/the-tower-200-mini-chassis.html
The Tower 200 Snow-https://www.thermaltake.com/the-tower-200-snow-mini-chassis.html
The Tower 200 Turquoise- https://www.thermaltake.com/the-tower-200-turquoise-mini-chassis.html
The Tower 200 Racing Green- https://www.thermaltake.com/the-tower-200-racing-green-mini-chassis.html
The Tower 200 Matcha Green- https://www.thermaltake.com/the-tower-200-matcha-green-mini-chassis.html
The Tower 200 Videos:
Thermaltake The Tower 200 Series Chassis Product Animation-https://www.youtube.com/watch?v=_BpwugpTuVc
Thermaltake Chassis – The Tower 200: Tiny But Mighty-https://www.youtube.com/watch?v=GdlHNwPA-gY
Thermaltake Science –The Tower 200 Mini Chassis System & Thermal testing-https://www.youtube.com/watch?v=YH3NwzhNwNk&t=30s
Thermaltake Chassis – The Tower 200 – First Look-https://www.youtube.com/watch?v=cfjlFK9stzc&t=44s