« Intro
|
Page 3 »
 A Closer Look
The G.SKill Ripjaws X Memory is packaged in a standard blister pack.This seems to be the industry standard for packaging RAM. I'm guessing the reason for it is to make the RAM more attractive in the store. While this design is not ideal for cross-country shipping, G.Skill made up for it with their great packaging with lots protection.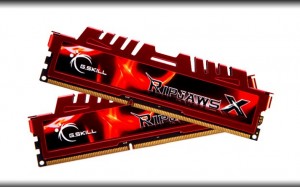 The Ripjaws X 2133Mhz RAM sports a stylish heat spreader design to help dissipate more heat when you are working on a higher overclock. The hollow teeth-like heat spreader fins is made from aluminum and designed to allow maximize air flow for maximum cooling efficiency. It seems as though this RAM will fit under most aftermarket heatsinks like the Noctua NH-D14, the Cooler Master 212 Hyper/Evo, and even the newer Cooler Master V8 GTS without any repositioning or modding. They have a height of 40mm/1.58in. This is great news for all you guys out there who are hoping to break away from the chains of your stock CPU cooler! Just be sure to double check the compatibility before you buy yourself a new CPU cooler. With the Ripjaws X being a very popular pair of RAM you will most likely be able to find compatibility lists for it and the CPU cooler in question online. In most cases the aftermarket cooler will fit perfectly without having to change orientation or do any modding.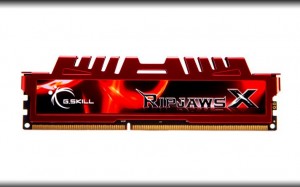 When I first saw these online I figured that they were just painted a cheap red color. I didn't realize until I got them that they are an amazing high quality metallic red that glistens in the lighting of the computer. Nothing but quality here. Now let's take a look and see how these perform.