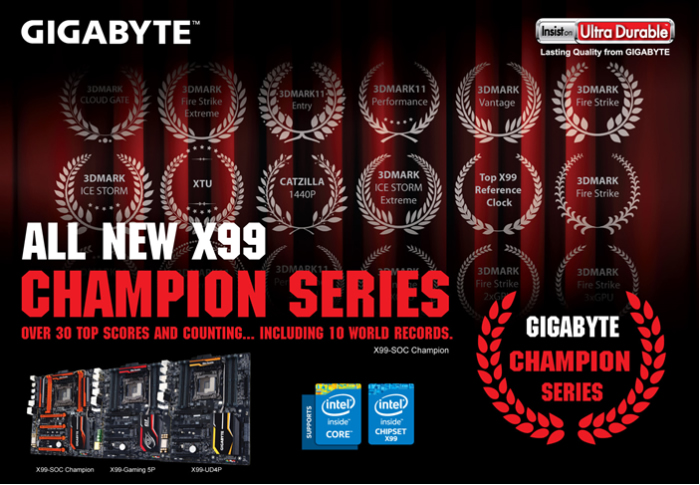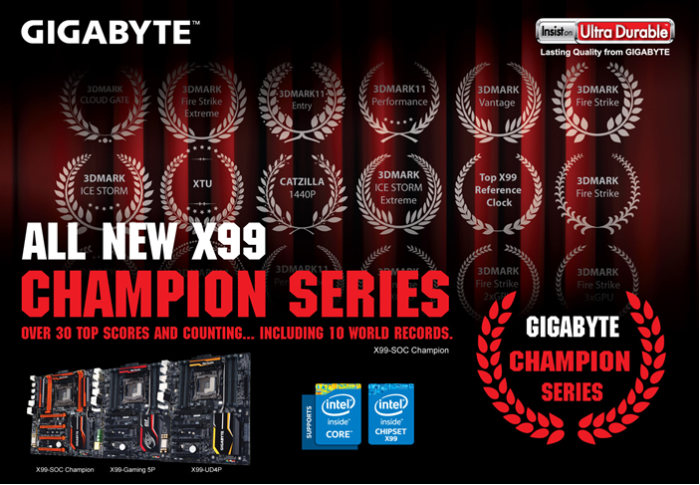 You can tell a lot about the quality of a motherboard by the percentage of technical jargon in the press release that are actual technical terms versus marketing terms. This is evident in Gigabyte motherboards where they have been forthcoming about their component choices, showing the International Rectifier PowIR stage VRM instead of rebranding it as if they developed it themselves like their closest competitor. That is a good because the last thing you need when shopping for a motherboard that will be used for overclocking is to not know what is really underneath those fancy heatsinks. Gigabyte has launched four new additional motherboards to the X99 line just in time for those who are seeking to set higher overclock board standings. The X99 champion series will all feature IR based digital VRM, 10K cap, RDIMM support and will also come with some lovely audio and network extras in the form of SoundCore3D Audio and Killer Gigabit LAN. More information is available in the press release below:
GIGABYTE Launches New X99 Champion Series Motherboards
4 New Motherboards with Higher Frequency Memory Support for Champion-Level Performance
Taipei, Taiwan, March 6th, 2015 – GIGABYTE TECHNOLOGY Co. Ltd., a leading manufacturer of motherboards and graphics cards is proud to announce today the addition of 4 new high performance motherboards to their comprehensive Intel® X99 chipsets offering with the X99 Champion series. The new motherboards consist of the X99-Gaming 5P, X99-UD4P, X99-UD3P and the already famous X99-SOC Champion."Since its launch in January, the GIGABYTE X99-SOC Champion motherboard has become the undisputed performance leader for X99 motherboards with over 30 top overclocking scores under its belt including 10 World Records, commented Henry Kao, Vice President of GIGABYTE Motherboard Business Unit. "With the launch of our latest X99 Champion series of motherboards, we wanted to extend the same levels of performance leadership including support for the world's fastest DDR4 memory to our X99 G1™ Gaming and Ultra Durable series motherboards."
DDR4 memory modules are available at a stock frequency of 2133MHz, but memory vendors encode XMP profiles which can automatically modify the frequency and timings of the supported memory modules to work in par with your CPU. With the X99 Champion Series, GIGABYTE is offering a tested and proven platform that ensures proper compatibility with profiles up to 3200MHz, and exclusively 3400Mhz for the X99-SOC Champion.
Paired with DDR4 memory such as the Corsair® Limited Edition Orange Dominator® Platinum kit, which was custom designed for the GIGABYTE X99-SOC Champion motherboard, users can take advantage of better responsiveness during gaming and faster operation execution in memory demanding works applications.
Corsair® Dominator® Platinum Series 16GB DDR4 DRAM 3400MHz C16 Memory Kit
GIGABYTE X99 Champion series motherboards also provide support for RDIMM memory which allows users to use greater density memory sticks up to 16GB per stick. This paired with a range of exciting features such as the GIGABYTE's Amp-Up Audio, Killer™ E2200 or Intel® gigabit Ethernet controller and unique GIGABYTE Ultra Durable™ features means that users can truly build a PC that brings them exceptional performance and durability.
Genuine All Digital Power Design
GIGABYTE X99 Champion series motherboards use an all-digital CPU power design from International Rectifier® which includes both digital 4th Generation digital PWM Controller and industry-leading 3rd Generation PowIRstage™ controllers. These 100% digital controllers offer incredible precision in delivering power to the motherboard's most power-hungry and energy-sensitive components, allowing enthusiasts to get the absolute maximum performance from their next generation Intel® Core™ processors.
IR Digital PWN and IR PowIRstage® ICs

This new generation of IR® digital power controllers and PowIRstage® ICs feature Isense technology, which provides more precise current sensing accuracy. This helps evenly distribute the thermal loading between the PowerIRstage® ICs, preventing the overheating of each individual PowIRstage®, resulting in longer lifespan and better reliability.
Server Level Chokes
GIGABYTE X99 Champion series motherboards features Server Level Chokes.

– Server level reliability
– High current capacity
– New design reduces heat created by power loss and provides efficient power delivery to CPU VRM area.
Long Lifespan Durable Black™ Solid Caps

GIGABYTE X99 Champion series motherboards integrate the absolute best quality solid state capacitors that are rated to perform at the maximum efficiency for extended periods, even in extreme performance configurations. This provides peace of mind for end users who want to push their system hard, yet demand absolute stability.
6x (30μ) Gold Plating
GIGABYTE X99 Champion series motherboards come equipped with a 30 micron thick gold plating, 4 PCIe slots and over the DIMM slots, which means that enthusiasts can enjoy better connectivity, absolute reliability and longevity for the diverse connectors overtime, without having any concerns about corroded pins and bad contacts.
Creative® Sound Core3D™ Quad-Core Audio Processor Plus Creative SBX Pro Studio Audio Suite
Exclusive to the gaming motherboard of the X99 Champion series, the X99-Gaming 5P features the world's first Quad-Core Creative Sound Core3D Audio Processor plus Advanced Creative SBX PRO STUDIO Audio Suite. SBX Pro Studio™ suite of audio playback technologies delivers a new level of audio immersion. Realistic surround sound, the ability to clearly hear specific sounds in a gaming environment are just a few elements of SBX Pro Studio that enhances the overall experience, be it movies, games or music.
Realtek ALC 1150 115dB SNR HD Audio with Built-In Reat Audio Amplifier
Featured across the other Champion motherboards is the Realtek ALC1150, a high-performance multi-channel High Definition Audio Codec that delivers an exceptional audio listening experience with up to 115dB SNR, ensuring users get the best possible audio quality from their PC.
The ALC1150 provides ten DAC channels that simultaneously support 7.1-channel sound playback, plus 2 channels of independent stereo sound output (multiple streaming) through the front panel stereo outputs. Two stereo ADCs are integrated and can support a microphone array with Acoustic Echo Cancellation (AEC), Beam Forming (BF), and Noise Suppression (NS) technologies. The ALC1150 incorporates Realtek proprietary converter technology to achieve Front differential output 115dB Signal-to-Noise ratio (SNR) playback (DAC) quality and 104dB SNR recording (ADC) quality.
Killer Networking
The GIGABYTE X99-Gaming 5P motherboard features the Killer™ E2200, a high-performance, adaptive gigabit Ethernet controller that offers better online gaming and online media performance compared to standard solutions. The Killer™ E2200 features Advanced Stream Detect technology, which identifies and prioritizes all network traffic to ensure important applications that require high-speed connectivity are prioritized over less important traffic.
Intel® GbE LAN with cFos Internet Accelerator Software
Additional GIGABYTE X99 Champion series motherboards feature cFos Speed, a network traffic management application which helps to improve network latency, maintaining low ping times to deliver better responsiveness in a crowded LAN environment. cFos Speed works in a similar way to an OS driver, monitoring network traffic packets at the application layer, allowing optimization and improved network performance for specific applications.
GIGABYTE X99 Series Motherboard Models*
For more details regarding GIGABYTE X99 Champion series motherboards, please go to: http://www.gigabyte.us/MicroSite/376/index.html