« Sub-System Benchmarks (Storage, Audio, Network, Gaming)
Final Thoughts about the Gigabyte X299 AORUS Ultra Gaming Motherboard
The Gigabyte X299 AORUS Ultra Gaming shines in more ways than one. Fully decked out in RGB LEDs with digital LED support and dual RGBW/RGBUV header availability, it is a motherboard ready to party. Armed with three M.2 slots, dual 8-pin CPU power and a strong VRM design, it is also ready to be pushed performance-wise.
The comprehensive monitoring and fan control is also highly functional and a welcome sight. Gigabyte even included temperature probes so that users can truly take control. Add on to that the fact that the System Information Viewer software provides desktop control and monitoring as well, then you have a well-oiled machine running.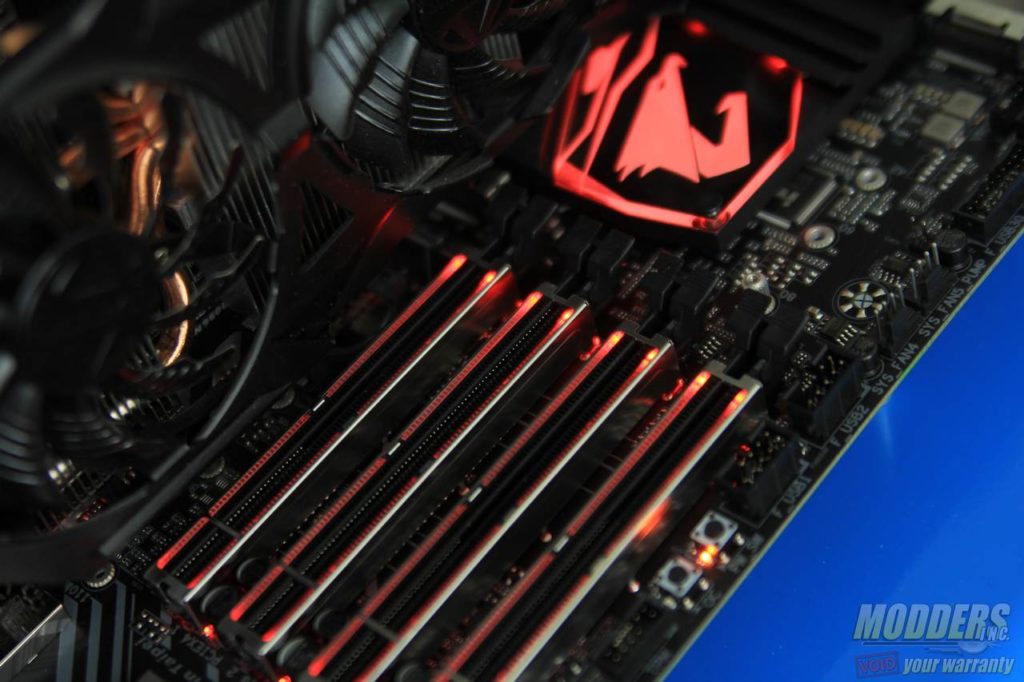 In terms of gaming credentials, the X299 AORUS Ultra Gaming has plenty. With multiple PCIe x16 slots, multi-GPU users  will not be short on horsepower if they have the proper CPU with enough lanes. The biggest downside on the X299 AORUS Ultra Gaming however, is that there is no SLI support for users on a 16-lane CPU. Since SLI requires at least an x8 slot, dual-GPU users with a 16-lane CPU can only use Crossfire which accepts cards on the x4 slot. Even the Z270 can run SLI.
The X299 AORUS Ultra Gaming is a complete gaming solution from top to bottom. In fact, it will take you a while to appreciate all the features because there are just so much. This is one motherboard that is easy to love. It also helps that it looks pretty damn good, and worthy of the AORUS name.