« Bundled Software and UEFI Overview
|
Sub-System Benchmarks (Storage, Audio, Network, Gaming) »
Test System and Testing Procedures
Item
Name
Processor
Intel Core i7-7740X
CPU Cooler

Corsair H110i
Power Supply

Silverstone Strider Platinum 750W ST75F-PT PSU
Memory
Crucial Ballistix Sport LT @ 2666MHz CL16
Storage

OCZ Agility 4 240GB SSD (OS)
ADATA SP550 240GB (SATA)
Patriot Hellfire 480GB M.2 NVMe (M.2)
2x ADATA SP550 240GB in Silverstone TS231UC RAID-0 mode(USB3.1 Gen1 and Gen 2)

Graphics
Gigabyte GTX 960 Windforce 3x OC
Router
Cisco E3200 stock firmware with 2x 6ft Cat5E cables for network testing
Motherboard(s)
X299 AORUS Ultra Gaming (F2 BIOS), MSI X299 Tomahawk Arctic (7B05v11 BIOS)

Operating System
Windows 10 Pro x64
Latest working BIOS, updates and drivers were used at the time of the review. Each test was conducted at least three times for accuracy with the exception of PCMark 8 which already does three sets per benchmark run.
System Benchmarks
Aida64 Engineer
CineBench R15
WinRAR
7-zip
x.264 FHD
x.265 HD
Handbrake
Gaming Benchmarks
3DMark Firestrike (Default)
Unigine Heaven 4.0 (Max Settings, 1920 x 1080)
Bioshock Infinite (Lowest Settings @ 640 x 480, Max Settings @ 1920 x 1080)
System Benchmarks

The AIDA64 suite has various benchmarks for CPU, FPU and memory testing: CPU Queen is an integer benchmark that tests branch prediction and misprediction penalties. CPU PhotoWorxx tests the SIMD integer arithmetic execution units of the CPU and the memory subsystem. CPU ZLib is a compression benchmark that tests the combined CPU and memory performance. CPU AES is a multi-core encryption benchmark that uses Advanced Encryption Standard data encryption. CPU Hash is an integer benchmark that measures performance using SHA1 hashing algorithm. FPU Julia measures single precision FP, FPU Mandel measures double precision FP, FPU SinJulia measures extended precision FP while FPU VP8 is a video compression test utilizing the FPU Julia fractal module.
Using AIDA64, memory performance is benchmarked, including latency tests as well as read, write and copy speeds.
MAXON's Cinebench R15 runs two sets of benchmarks, a processor test for the CPU and an OpenGL test for the graphics processor. The 3D rendering workload is based on Maxon's Cinema 4D, a program utilized by movie production studios world wide for special effects so it is a semi-synthetic test closer to real-world 3D graphics benchmarking.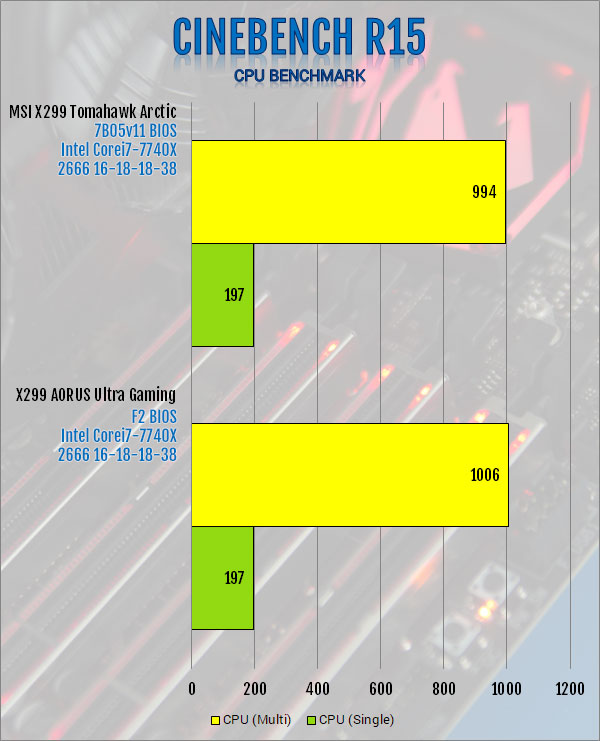 x264 is a popular free software library for encoding video streams into the H.264/MPEG-4 AVC format. x264 FHD measures how efficient a system is in encoding H.264 video and produces results in frames-per-second. H.265/HEVC video encoding is the future of video able to compress significantly larger resolution videos including 4K and make streaming feasible. The downside is that hardware support is still few and far between so processing requirement is steeper than current H.264/AVC standards. x.265 is an open-source implementation of the H.265 standard and x.265 HD benchmark tests the CPU's ability to process an HEVC video.
Handbrake is free open-source video transcoder that can convert various video file formats to compatible video files for other typical media viewing applications such as in an iPhone or Android tablet. A 52:55 1.1GB H.264 MKV file was used converted to the built-in iPod Preset (5G Support), then manually timed. The results are in seconds and the lower number is the better result.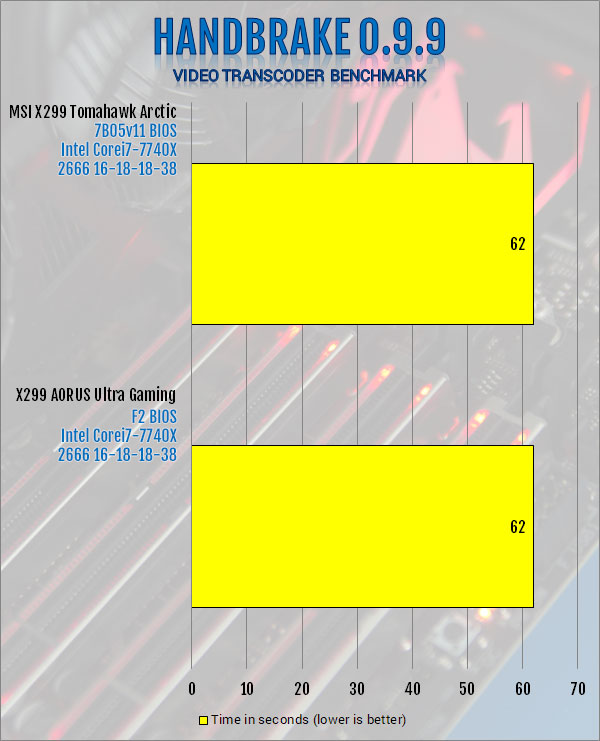 7-zip is an open source (GNU) compression program utilizing LZMA method as the default. WinRAR on the other hand is a Windows version of a popular compression software created by Eugene Roshal in 1993, widely used for its flexibility. Both have built in benchmarks that measure the system's compression and decompression capability.