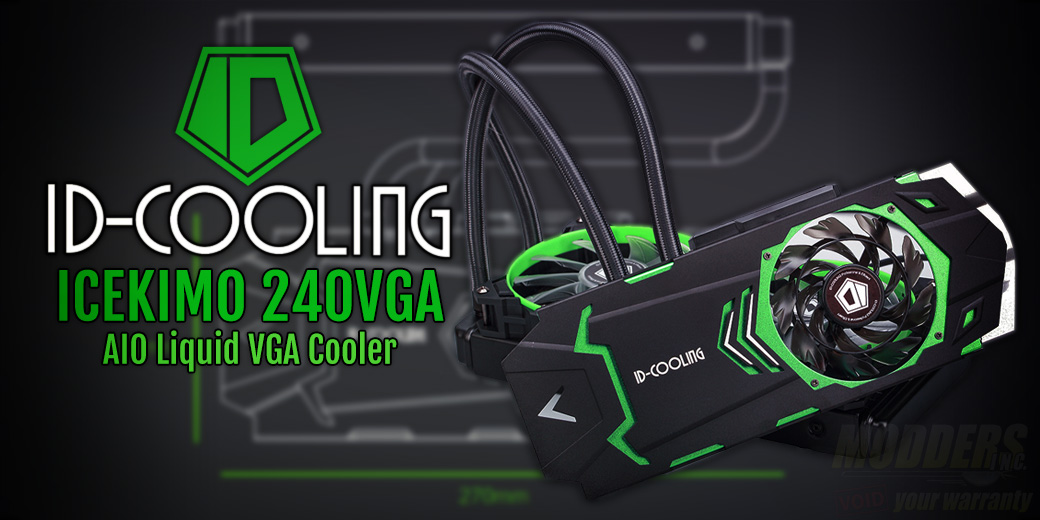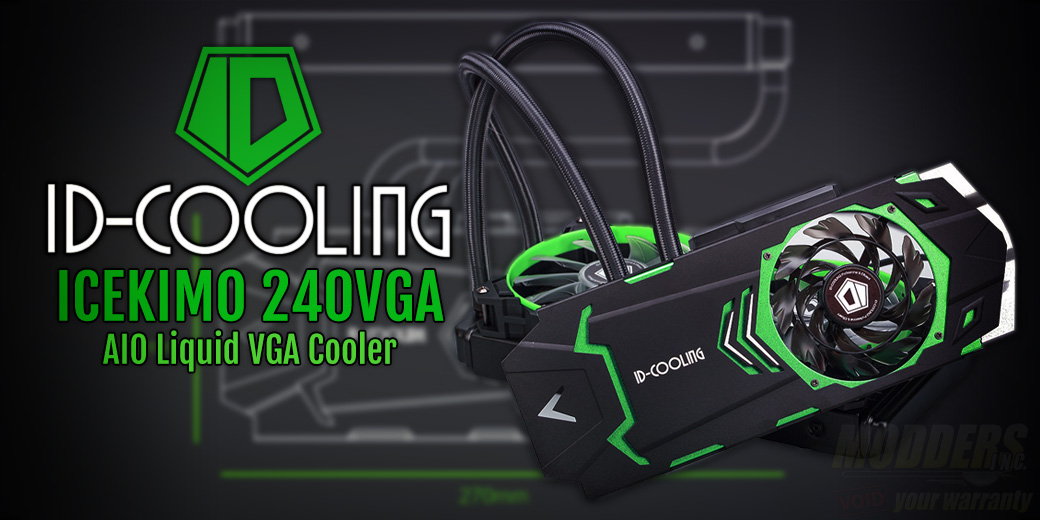 ID-COOLING has announced the latest member of their ICEKIMO series and this time, instead of a cooler for the CPU, the ICEKIMO 240VGA is an AIO for video cards. As the name suggests, it includes a 240mm radiator. The color theme is green for both the accents on the shroud and the fan LED and that might suggest that it is only compatible with NVIDIA's video cards but it actually is compatible with AMD's graphics cards as well. Specifically, it is compatible with VGA cards with mounting holes measuring 58.4 x 58.4 mm and 53.3 x 53.3 mm which includes certain NVIDIA GTX 10 series and 9 series cards as well as AMD cards from R9 200 through the latest 400 series.
The pump integrated into the shroud cover has a flowrate of 96L/H and the fan on the cover is also of low-profile design so the video card does not become a chunky mess compared to other aftermarket VGA coolers. This cover is also made of aluminum so it is lighter while being a lot more durable than plastic so that the video card does not sag from the heavy weight. The fan also helps actively cool the voltage regulator area so it is positioned towards the front end of the card rather than the center (since the GPU is at the center and the waterblock is there anyway).
A pair of 120mm PWM green LED fans are attached to the radiator and the FEP tubing is sleeved for a cleaner look. These 120mm PWM fans run from 700 RPM to 1600 RPM and have a static pressure of 1.78mmH20 at max speed. Aside from the fan bundled and the mounting kit, VRAM heatsinks, extra accessories include thermal compound, thermal adhesive, 4-pin PWM fan splitter and molex to 2x 4-pin splitter.
Manufacturer suggested retail price is $119.99 and should hit retail shelves soon. For more information, visit: http://www.idcooling.com/Product/detail/id/87/name/ICEKIMO%20240VGA.