More options for M.2 PCI-E x4 based SSDs finally arrive courtesy of Kingston with their HyperX brand PRedator PCI-E SSDs. The high-performance SSD is a M.2 card that comes with a PCI-E adapter so it can be installed even in motherboards that do not have M.2 mounting support. Powered by a Marvell 88SS9293 controller, the HyperX Predator PCI-E SSD is capable of speeds up to 1400MB/s and 1000MB/s (rear/write) and available in 240GB as well as 480GB capacities. More information is available from the official press release below: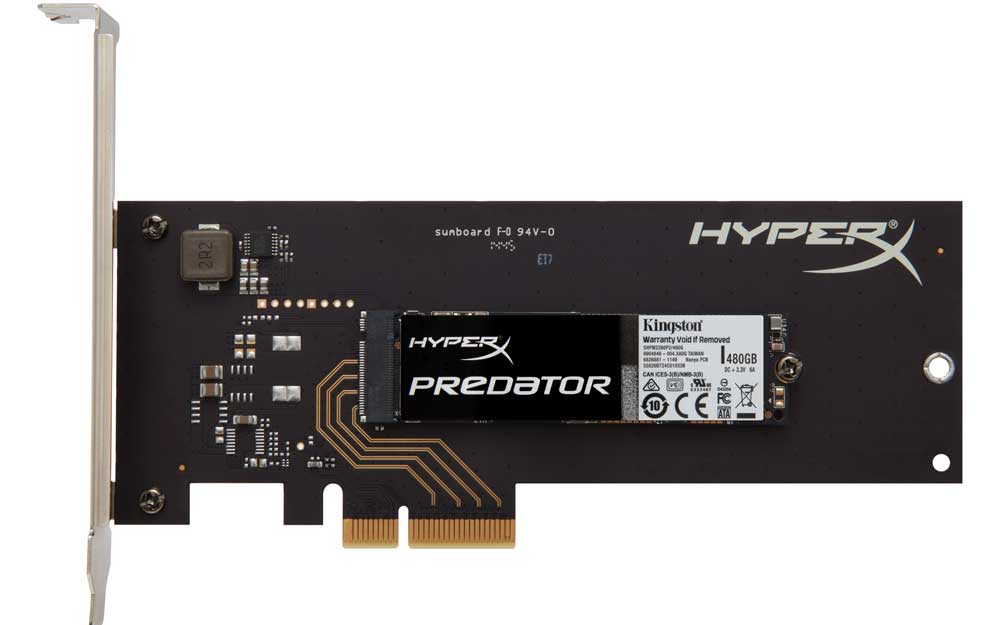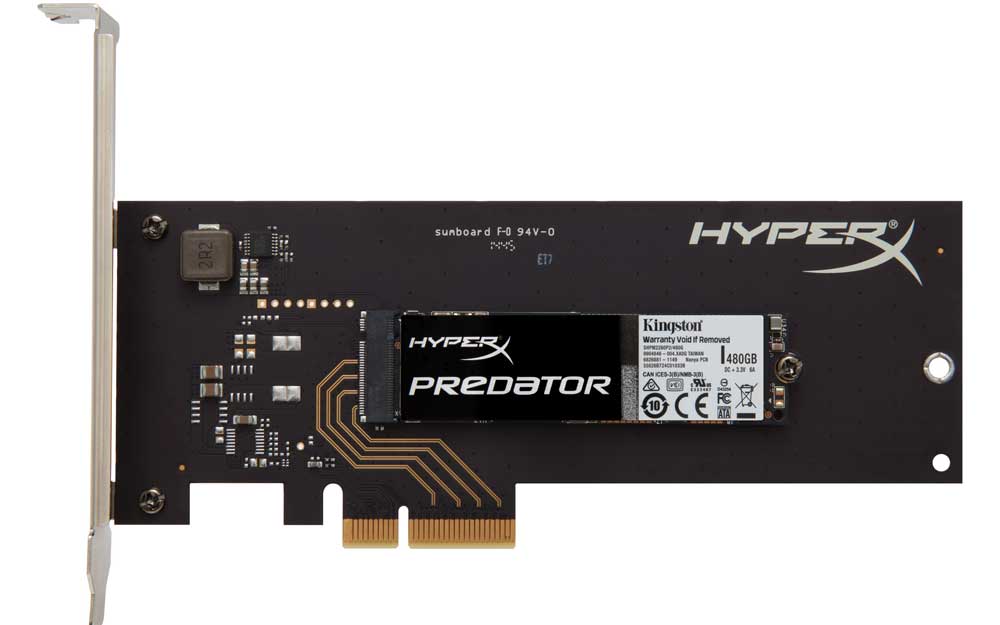 Fountain Valley, CA – March, 2015 – HyperX®, a division of Kingston® Technology Company, Inc., the independent world leader in memory products, today announced the HyperX Predator PCIe SSD. Shipping immediately, HyperX Predator PCIe SSD is the highest-end SSD with the fastest speeds in the HyperX lineup.
HyperX Predator PCIe SSD offers large capacities (240GB, 480GB) and incredible speeds to take systems to the edge. Faster than SATA-based SSDs, the PCIe generation 2.0 x4 interface delivers speeds up to 1400MB/s read and 1000MB/s write for ultra-responsive multitasking and an overall faster system. It is powered by the Marvell 88SS9293 controller.
The M.2 form factor ensures next-generation platform support with an M.2 PCIe slot. An optional half-height, half-length (HHHL) adapter is also available for many existing motherboards without an M.2 socket. The HHHL adapter comes with both standard and low-profile brackets to fit in slim profile desktop builds.
HyperX is the high-performance product division of Kingston Technology, encompassing high-speed DDR4 and DDR3 memory, SSDs, USB Flash drives, headsets and gaming accessories. Targeted at gamers, overclockers and enthusiasts, HyperX is known throughout the world for quality, performance and innovation. HyperX is committed to eSports as it sponsors over 20 teams globally and is the main sponsor of Intel Extreme Masters. HyperX can be found at many shows including Brasil Game Show, China Joy, DreamHack, gamescom and PAX.
HyperX Predator SSD Features and Benefits:
Fast: PCIe connection provides higher speeds than SATA-based solid-state drives for the ultimate computing experience
Blazing performance: ultra-responsive multitasking and overall faster system
Reliable: rugged and durable to take your system to the edge
Form factor: M.2 with optional Half-Height Half-length adapter to fit in both new and older motherboards
Guaranteed: three-year warranty and free technical support
Form factor: M.2 2280
Interface: PCIe Gen 2.0 x 4
Capacities1: 240GB, 480GB
Controller: Marvell 88SS9293
Baseline Performance2:

Compressible Data Transfer (ATTO):

240GB: 1400MB/s Read and 600MB/s Write
480GB: 1400MB/s Read and 1000MB/s Write

Incompressible Data Transfer (AS-SSD and CrystalDiskMark):

240GB: 1290MB/s Read and 600MB/s Write
480GB: 1100MB/s Read and 910MB/s Write

IOMETER Maximum Random 4k Read/Write:

240GB: up to 160,000/ up to 119,000 IOPS
480GB: up to 130,000/ up to 118,000 IOPS

Random 4k Read/Write:

240GB: up to 120,000/ up to 78,000 IOPS
480GB: up to 117,000/ up to 70,000 IOPS

PCMARK® Vantage HDD Suite Score:

240GB: 138,000
480GB: 139,000

PCMARK® 8 Storage Bandwidth:

240GB: 331MB/s
480GB: 336MB/s

PCMARK® 8 Storage Score:

240GB: 5,015
480GB: 5,017

Anvil Total Score (Incompressible Workload):

240GB: 6,500
480GB: 6,700

Power Consumption: 1.38W Idle / 1.4W Avg. / 1.99W (MAX) Read / 8.25W (MAX) Write
Storage temperatures: -40°C~85°C
Operating temperatures: 0°C~70°C
Dimensions:

80mm x 22mm x 3.5mm (M.2)
180.98mm x 120.96mm x 21.59mm (with HHHL adapter – standard bracket)
181.29mm x 80.14mm x 23.40mm (with HHHL adapter – low-profile bracket)

Weight:

10g (M.2)
73g (with HHHL adapter – standard bracket)
68g (with HHHL adapter – low-profile bracket)

Vibration operating: 2.17G Peak (7–800Hz)
Vibration non-operating: 20G Peak (10–2000Hz)
Life expectancy: 1 million hours MTBF
Warranty/support: 3-year warranty with free technical support
Total Bytes Written (TBW)3:

240GB: 415TB 1.6 DWPD4
480GB: 882TB 1.7 DWPD4
Some of the listed capacity on a Flash storage device is used for formatting and other functions and thus is not available for data storage. As such, the actual available capacity for data storage is less than what is listed on the products. For more information, go to Kingston's Flash memory Guide at kingston.com/flashguide.
Based on "out-of-box performance" using a PCIe 3.0/2.0 motherboard. Speed may vary due to host hardware, software and usage. IOMETER Random 4k Random Read/Write is based on 8GB partition.
Total Bytes Written (TBW) is derived from the JEDEC Client Workload (JESD219A).
Drive Writes Per Day (DWPD)
HyperX Predator PCIe SSD
Part Number
Capacity and Features
SHPM2280P2/240G
M.2 Form Factor 240GB
SHPM2280P2/480G
M.2 Form Factor 480GB
SHPM2280P2H/240G
HHHL Form Factor 240GB
SHPM2280P2H/480G
HHHL Form Factor 480GB
About HyperX
HyperX® is a division of Kingston Technology Company, Inc., the world's largest independent memory manufacturer. Established in 2002, HyperX is headquartered in Fountain Valley, California, USA. www.kingston.com/hyperx