Test System and Benchmarks for the Kingston HyperX Predator PCIe SSD »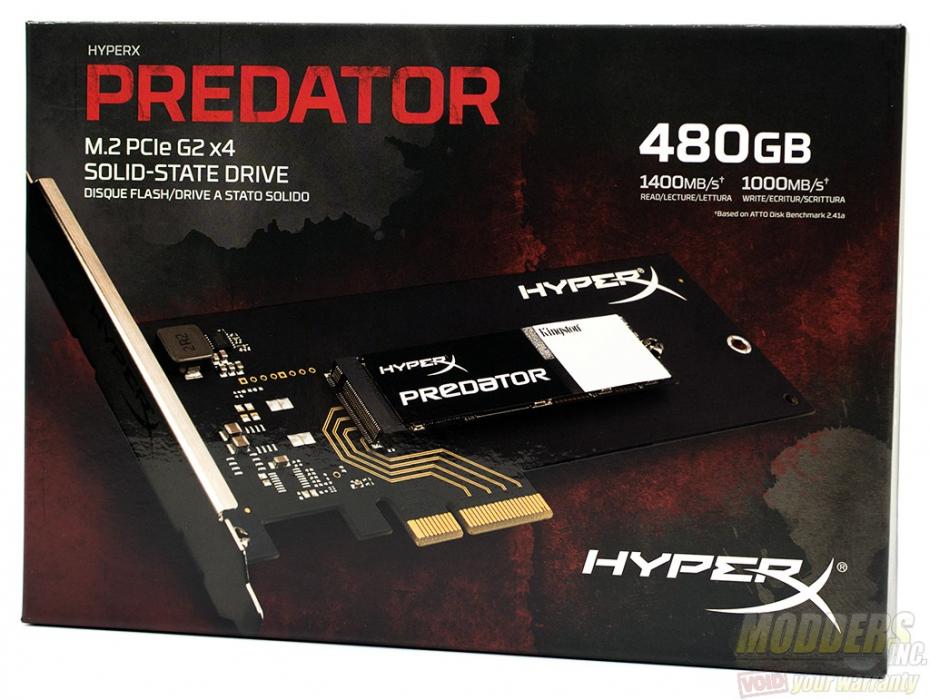 "Traditional" or mechanical hard drives have long been a huge bottleneck in overall PC performance. A mechanical hard drive consists of magnetic rotating platters, read & write heads, electrical motor and a controller. As the platter spins, data is written and/or read from the platter by the heads that float just above. Essentially, the mechanics of the drive can only transfer data so fast. SSD or Solid State Disks, do not have moving parts. Data is stored on flash storage. SSDs consist of non-volatile memory, a controller and a PCB. Since there are no moving parts SSDs tend to be considerably faster in read, write and access times. For a while now, consumer based SSDs connected to the motherboard via the SATA interface and while, still faster than mechanical SATA hard drives, SSDs are limited by the SATA bus. Over the last few years there has been a push by the motherboard chipset manufactures to connect storage devices directly to the PCIe bus either by a specific connector on the motherboard (i.e. m.2) or by using a M.2 to PCIe adapter. Kingston has recently released their HyperX Predator PCIe SSD. They boast their drive can attain read speeds of 1,400 MB/s and write speeds of 1,000 MB/s. Most M.2 drives sold today support 2 lanes of PCIe whereas the Kingston HyperX Predator supports 4 lanes. The extra two lanes gives the drive almost twice the bandwidth of other M.2 drives
[sc:sponsor sponsor="Kingston" product_link="http://www.kingston.com/us/ssd/s#shpm2280p2″ product_name="HyperX Predator PCIe SSD" product_price_link="http://amzn.to/1zhVWQL" product_price="500.00″ ]
Solid State drives are some of the fastest available storage available for the PC. Prices are constantly in flux. Currently SSDs can be had for somewhere between .50 to 1.50 per gigabyte depending on specifications and form factors. The price per gigabyte is constantly dropping.
The Kingston HyperX PCIe SSD is currently available in both 240 GB and 480 GB and is available with or without the half-height, half-length adapter. With the next generation storage protocol geared towards SSDs, NVMe right around the corner and looking to edge out the legacy AHCI protocol, at this time Kingston does not have plans to support NVMe on the HyperX Predator PCIe SSD.
The packaging for the Kingston HyperX Predator PCIe SSD features an image of the PCIe adapter with the SSD attached.  The back of the box gives a little more information and gives a little more information on the PCIe adapter.
Inside the box, the drive and the accessories are nestled neatly inside a rigid foam shell.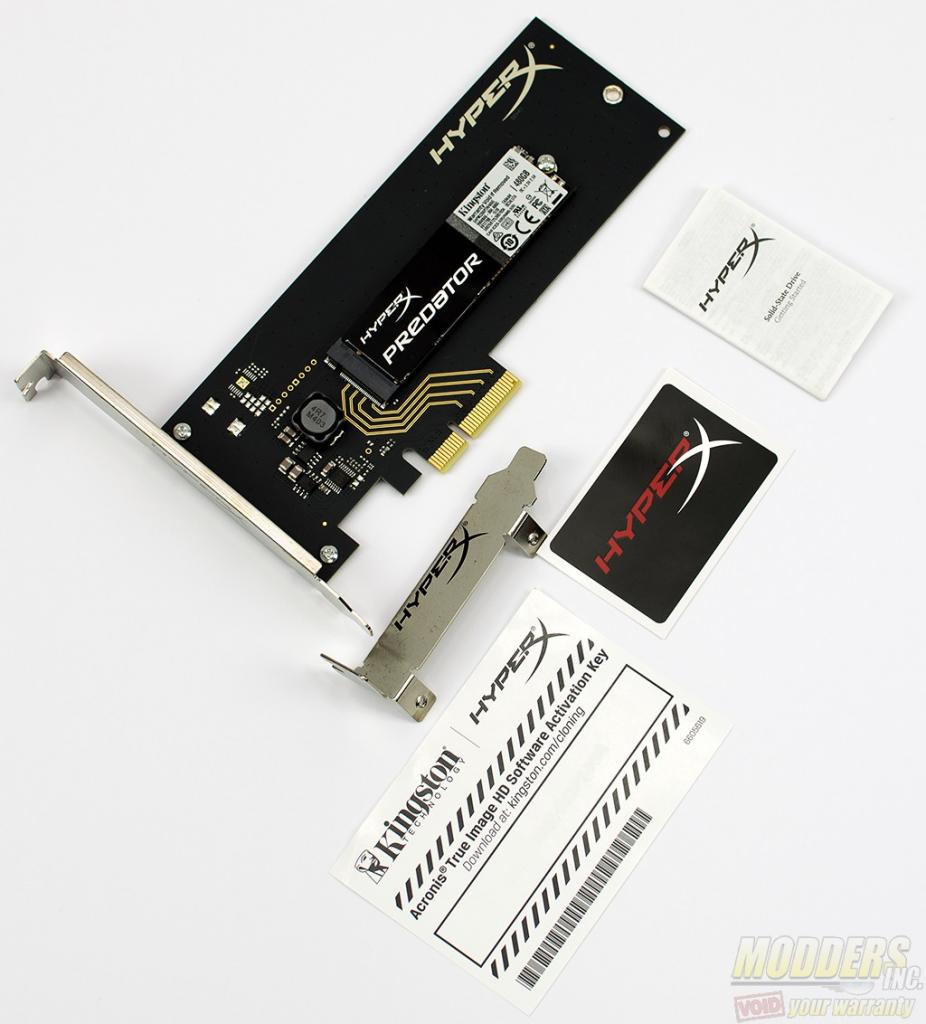 Besides the SSD and the PCIe adapter, the kit includes a half-height adapter for small form factor cases, a serial number for Acronis True Image, HyperX sticker, and an installation guide.
The HyperX Predator drive is a standard M.2 drive length. The drive uses eight of Toshiba's A19 NAND flash chips. Two of Kingston's 512 MB DDR3-1600 DRAM are also used for a total of 1GB of on-board ram.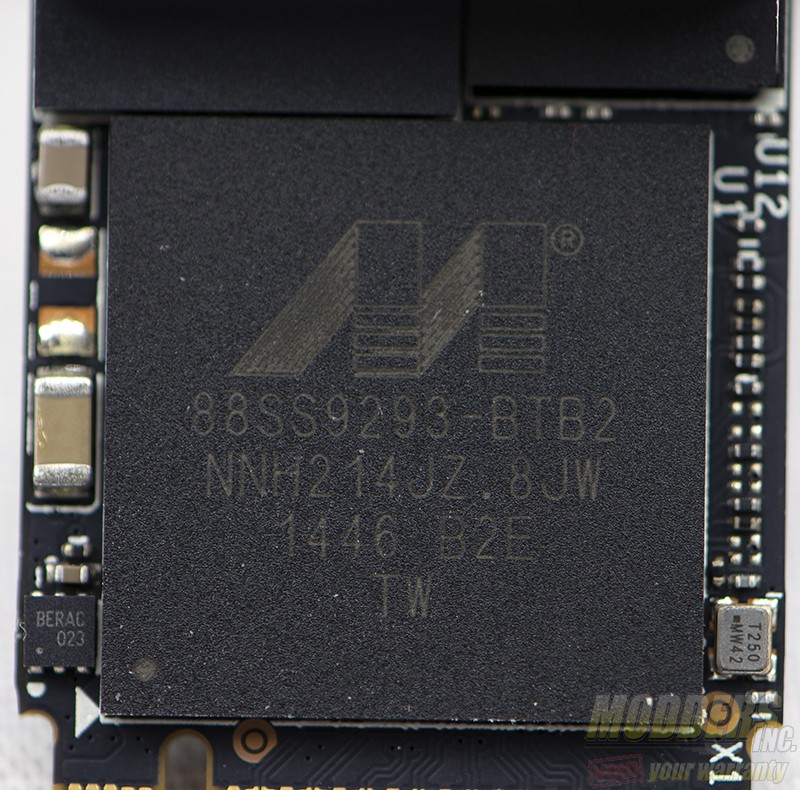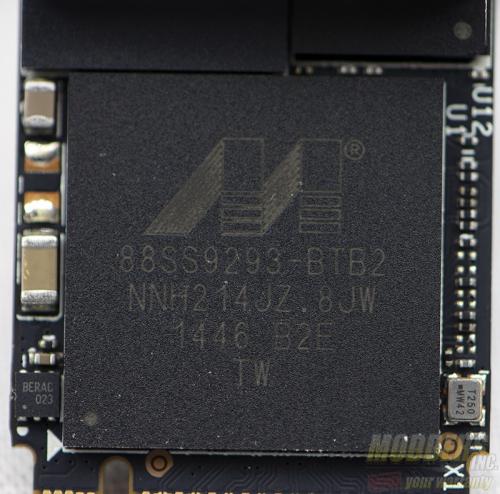 Marvell's 88SS9293 PCIe controller is located at the front edge of the PCB near the M.2 connector under the Kingston sticker. This controller is PCIe x4 capable and we should start seeing more and more of this controller as similar drives are released on the market.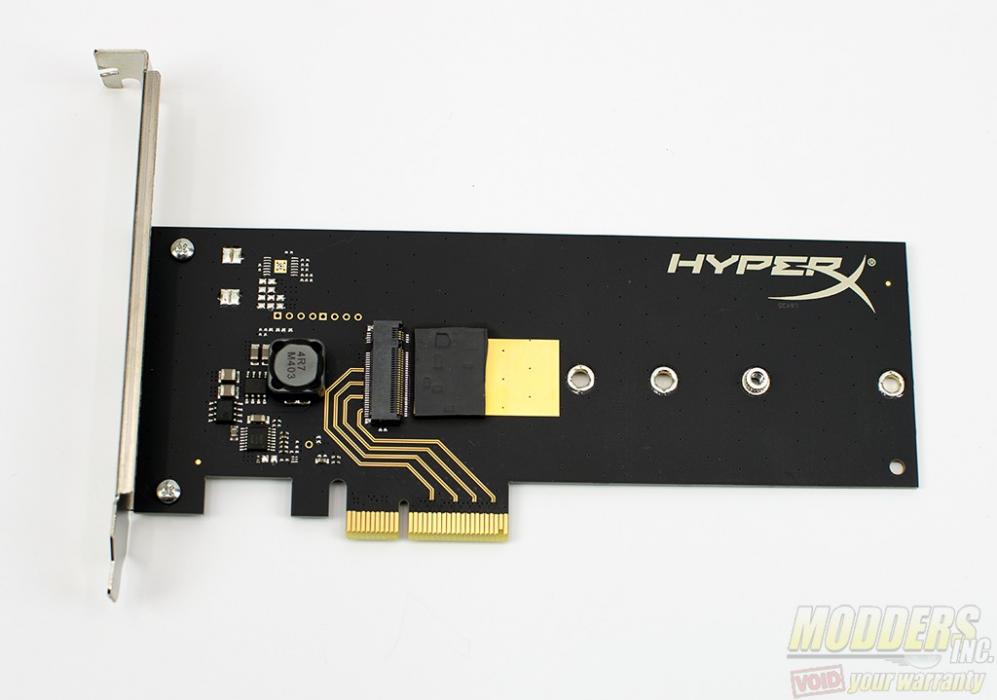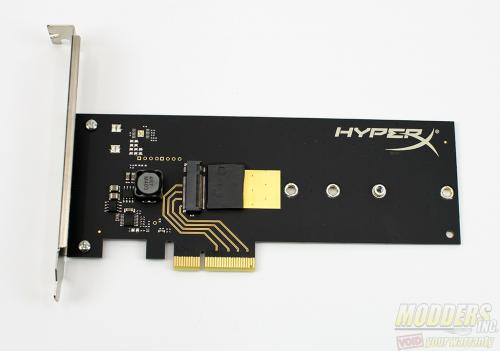 For those that do now have a M.2 slot on the motherboard, there is an optional expansion card. The SSD sits on the expansion card, and the assembled unit plugs into any available x4 (or greater) PCIe expansion slot.