Elegant looking yet now, rugged and able to withstand much more than a typical mobile storage device, the LaCie Rugged Thunderbolt SSD is available in a 1TB SSD capacity with speeds of up to 387 MB/s via Thunderbolt connectivity. The LaCie rugged is MIL-compliant protecting the contents for up to 2 meters of accidental dropping and is IP 54 rated against dust and water even during operation. For more photos and information, consult the official press release below: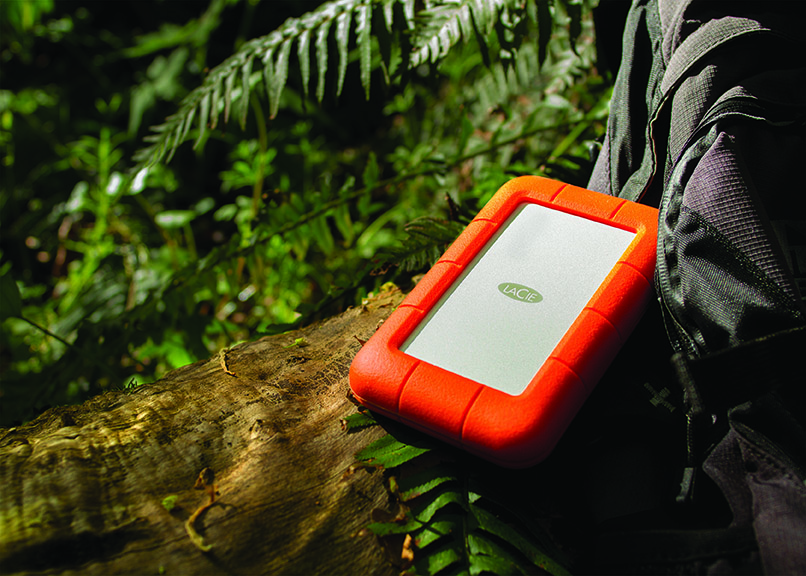 LaCie, the premium brand from Seagate Technology plc (NASDAQ: STX), announced today that its iconic Rugged Thunderbolt™ storage solution will be available in a 1 TB SSD capacity. With double the storage, the new LaCie® Rugged is just as portable with no size or weight increase compared to the 500 GB offering. Plus, it still features the lightning–fast transfer rates of Thunderbolt and is tough in the field with shock, dust and water resistance.
"My expeditions take me all over the globe so I need equipment that's up for any terrain," said photographer and National Geographic Expeditions expert Kike Calvo. "The LaCie Rugged is my go–to hard drive because its fast speeds help back up my work quickly, and its toughness has yet to let me down. With the addition of drones into my workflow, I'm creating more content than ever before. So larger capacity in the same reliable enclosure means I can take fewer drives and save valuable luggage space."
The LaCie Rugged delivers speeds of up to 387 MB/s* — three times faster than a standard mobile hard drive**. With these speeds, creative professionals can transfer 100 GB in less than five minutes. The LaCie Rugged even provides enough bandwidth to review and edit photos or video in the field. With a laptop and a LaCie Rugged, a photographer or videographer has everything they need to back up footage or complete a project on location. This time savings and convenience is key for field–based professionals.
"Wherever digital content is created and wherever our customers want to travel to capture and collect it, our LaCie Rugged Thunderbolt drive will go as the ideal companion," said Erwan Girard, Business Unit Manager for LaCie. "With fast Thunderbolt speeds that save hours in the field and now a 1 TB SSD capacity, our customers can focus on the creative process instead of worrying about transfer times or storage limits."
The LaCie Rugged is MIL–compliant, which means that data is protected even during accidental drops of up to 2 meters (6.6 feet). With its cap in place, the LaCie Rugged is also IP 54–rated for superior protection against dust and water splashing — even during operation. Plus, it is resistant to vibration and shock and is tough enough to be shipped for reliable delivery to clients or partners.
With both Thunderbolt and USB 3.0 interfaces, the LaCie Rugged is an ideal match for Mac® and PC users. The LaCie Rugged is fully bus powered through the Thunderbolt and USB 3.0 cables. Plus, the integrated Thunderbolt cable stows neatly when not in use, ensuring that it will never get lost or left behind.
The LaCie Rugged includes everything professionals need for secure backup in the field: a backup software suite and compatibility with Time Machine® and Windows® Backup. It also includes LaCie Private–Public software, which lets users password–protect the entire drive or only certain volumes with AES 256–bit encryption.
See the LaCie Rugged Thunderbolt hit the trail: https://youtu.be/c18vI-BYwrU
WARRANTY
The LaCie Rugged features a three–year limited warranty that includes comprehensive, complimentary web–based resources, expert in–house technical support, and worldwide repair and/or replacement coverage. It is possible to upgrade this service with warranty extensions and fast product replacement.
AVAILABILITY
The new 1 TB SSD version of the LaCie Rugged, design by Neil Poulton, will be available this month for $949.99 (MSRP) through the LaCie Online Store and LaCie Resellers.
ABOUT LACIE
LaCie, the premium brand from Seagate Technology (NASDAQ: STX), designs world–class external storage products for Apple®, Linux and PC users. LaCie differentiates itself with sleek design and unmatched technical performance. Find out more at www.lacie.com.
* These transfer rates were achieved using AJA System Test when connected to a Mac computer via the Thunderbolt interface. Actual data rates may vary depending on operating environment and other factors, such as chosen interface and disk capacity.
** Standard mobile hard drive is defined as a 2 TB HDD product with speeds of approximately 120 MB/s.
© 2015 Seagate Technology LLC. All rights reserved. LaCie and the LaCie logo are trademarks or registered trademarks of Seagate Technology LLC or of its affiliated companies. Thunderbolt is a trademark of Intel Corporation in the U.S. and/or other countries. Other trademarks or registered trademarks are the property of their respective owners. When referring to hard drive capacity, one terabyte, or TB, equals one thousand billion bytes. Your computer's operating system may use a different standard of measurement and report a lower capacity. In addition, some of the listed capacity is used for formatting and other functions and will not be available for data storage. The export or re-export of hardware or software containing encryption may be regulated by the U.S. Department of Commerce, Bureau of Industry and Security (for more information, visit www.bis.doc.gov). Seagate reserves the right to change, without notice, product offerings or specifications.