Lenovo Sensei by Boddaker
---
Hey everyone, I was chosen as one of the top 4 designs to compete in Lenovo's Mod Contest! Here is my concept/idea: 
The Lenovo Sensei is an A700 IdeaCentre with a built-in HD projector underneath, creating an indispensable teaching aid that could replace the age-old dusty chalkboard. Having both components integrated together would enable the teacher to instruct his or her class more dynamically.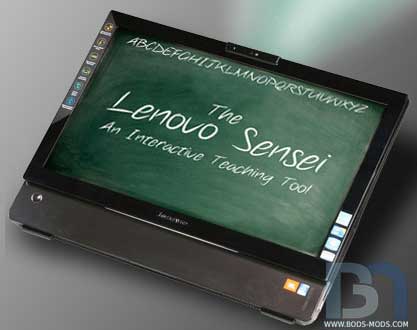 Assignments could be projected onto a large screen or wall in front of the class. The teacher could run education software, play videos & DVDs, and keep track of all the students' progress, all in one compact unit. Think of it as the chalkboard of the future!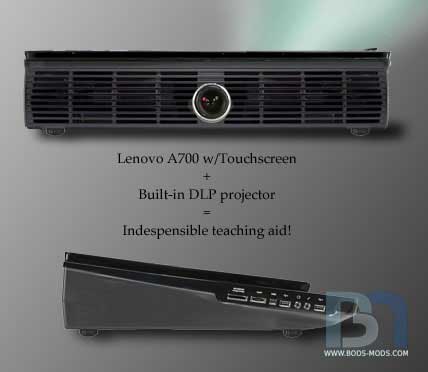 Features include:
* 23″ widescreen LCD monitor with Touch Screen capability 
* Slot load blu ray drive 
* Integrated DLP projector 1280 x 800 Resolution 
* Hybrid laser/led technology, 3 low wattage power modes 
* HDMI connection between A700 and projector 
* Well-ventilated housing to keep system cool 
* Cabling kept to a minimum, with only power cords emerging out of unit 
* Buttons on projector relocated as well as other I/O ports to maintain functionality 
With everything that the all-in-one Lenovo A700 offers, paired with the detailed display capabilities of the DLP projector, the teaching possibilities are virtually endless!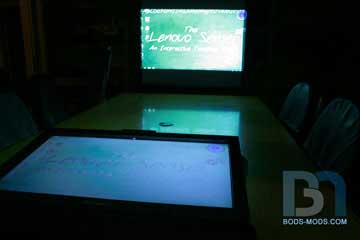 Make sure you click on the link to see how Boddaker created this awesome product.
Check Out the Worklog in Our Forums