News and Articles
MSI B150M Mortar Arctic and B150M Bazooka Motherboards Now Available
MSI has introduced two new affordable options for Intel Skylake system builders in the form of the the B150M Mortar Arctic and B150M Bazooka. MSI is a very active supporter of the modding community so these lower-cost options that are sure to entice modders who want an affordable alternative to the more expensive Z170 chipset gaming aesthetic oriented motherboards. Both of these B150-chipset based motherboards use a micro-ATX form factor measuring 24.38 x 24.38 cm (9.6 x 9.6 in) and support the latest 6th Gen Intel® Core™ i3/i5/i7 processors, and Intel® Pentium® and Celeron® processors for Socket LGA1151.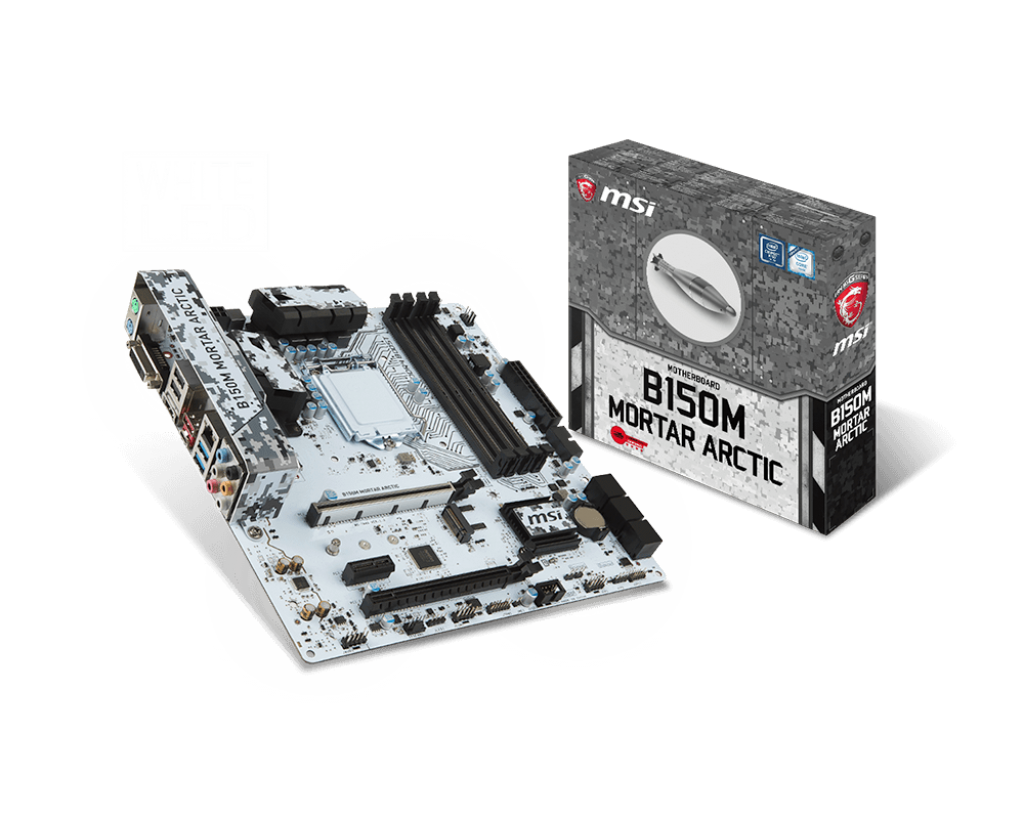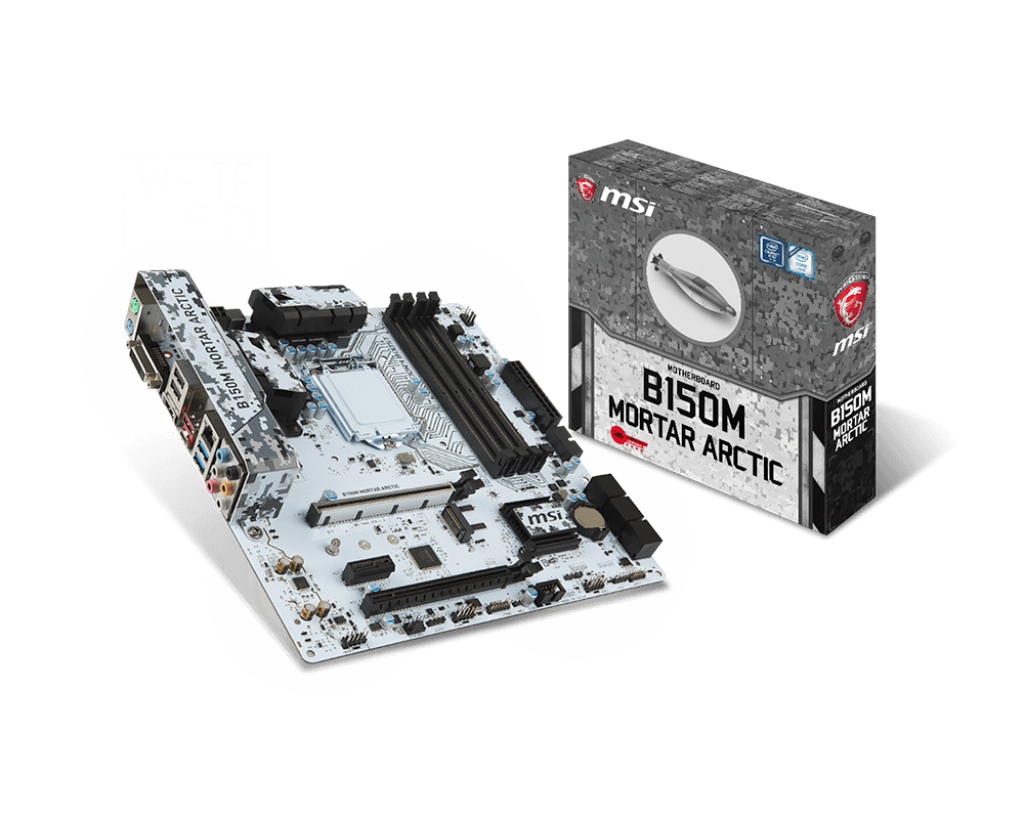 The B150M Mortar Arctic is essentially a white version of the original B150M Mortar, sporting a white PCB with arctic camo accents on the heatsinks. It has a PCI-E x16 and x4 slot, as well as a PCI-E x1 slot and an M.2 slot. The PCI_E3 slot will only run PCIe 3.0 x2 speed when a M.2 SATA storage is installed in M.2 slot (M2_1), and the PCI_E3 slot will be disabled when a M.2 PCIe module is installed in M.2 (M2_1) slot. Audio is handled by a Realtek ALC 892 HD audio codec and network connectivity by a Realtek RTL8111H Gigabit LAN controller. You can get this motherboard on Amazon.com currently for only $84.95.
The B150M Bazooka on the other hand has a black PCB with alternating white DIMM slots and PCI-E x16 slot. Unlike the B150M Mortar, it has two physical PCI-E x1 slots and does not have M.2 support. The network connectivity is also handled by a Realtek RTL8111H Gigabit LAN controller but uses a Realtek ALC887 HD audio codec and has three analog connectors for audio instead of six. It is also slightly unorthodox when it comes to the micro-ATX form factor, measuring 23.5 cm x 22.8 cm (9.6 x 9.0 in).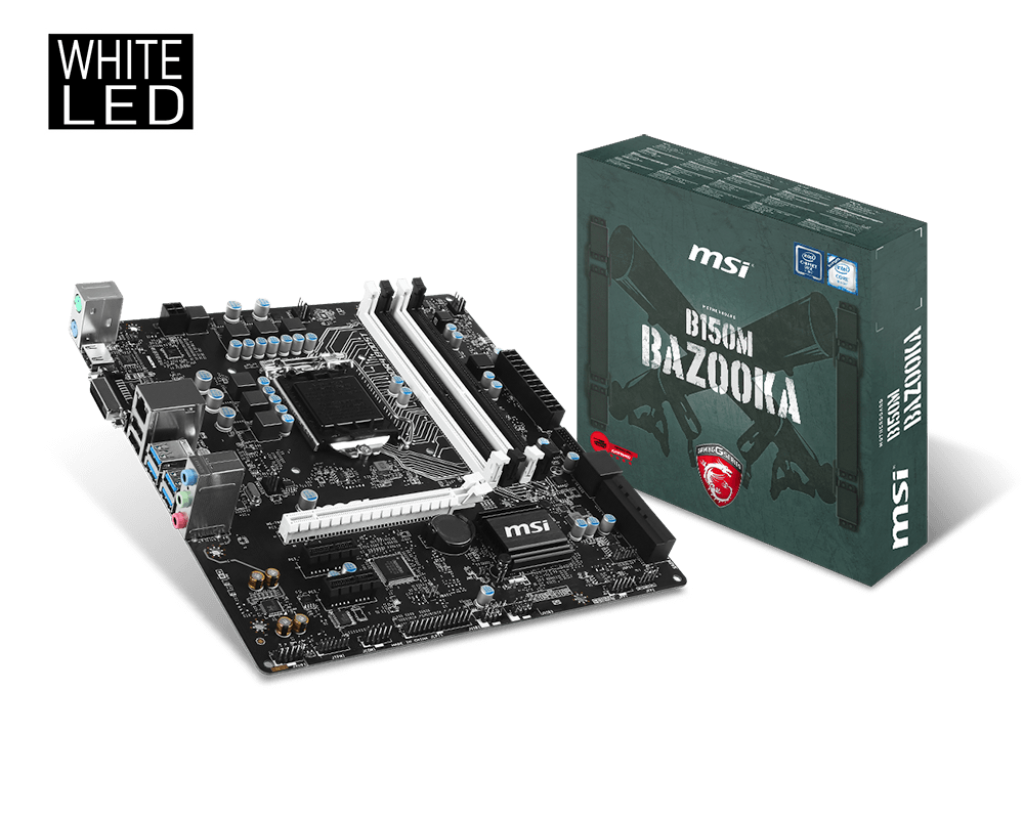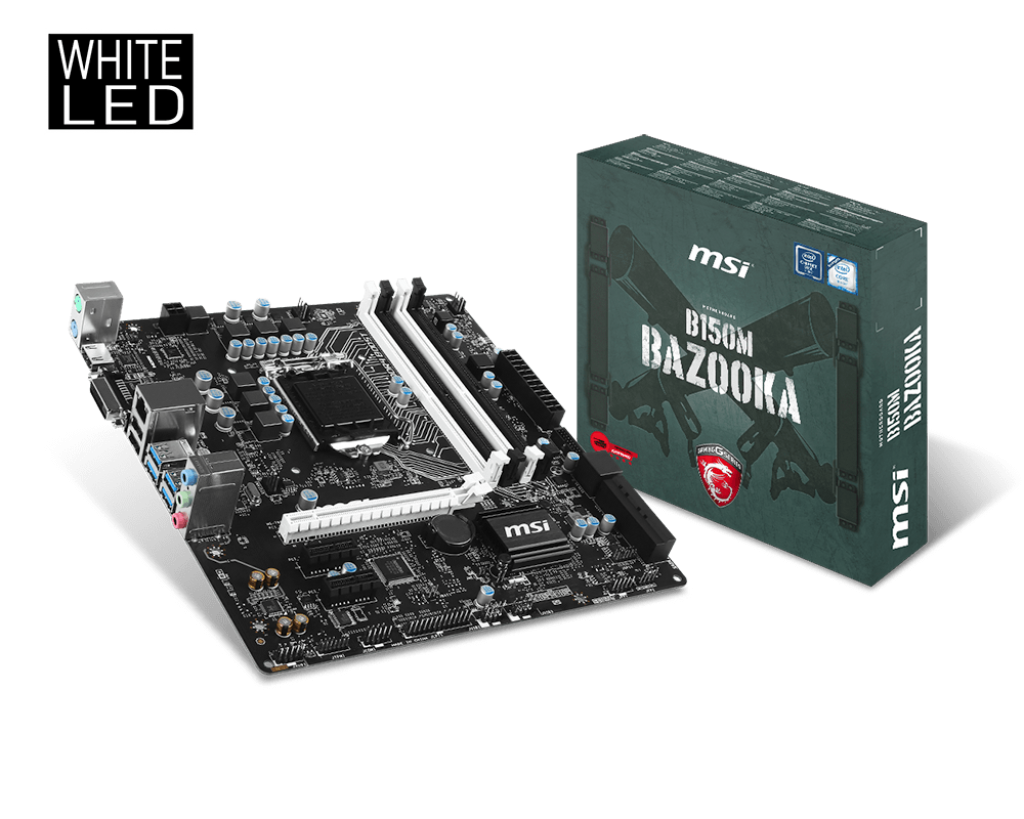 Oddly enough, this motherboard is currently priced higher on Amazon.com at $95.00 compared to the B150M Mortar.
For more information and detailed specifications, visit the product pages: