Motherboard Overview »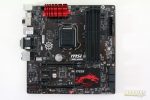 Not every plan goes smoothly and in the tech world, everything moves so fast that odds are stacked towards the likelihood of a plan fizzing out before the idea even gets off the ground. This is why the strategic concept of "pivoting" is such a vital ingredient to the success of current Internet giants such as Instagram (which started out as a virtual check-in service before it became a photo-sharing haven for the self-absorbed) and Twitter (which rose from the ashes of a failed podcasting company to be a micro-blogging website that provides average people a direct line for berating their favorite celebrities or to simply keep up to date with #biebermania). Change is inevitable and adaptability turns failures into success stories.
The initial run of motherboards bearing the Intel H87 and B85 8-series chipset actually had the ability to overclock, not because Intel designed it so but because motherboard engineers found a way to enable it on their boards. Intel intended overclocking to be limited to K-series CPUs on Z-series motherboards for the LGA1150. With a simple micro-code update a few months after release, they unfortunately ended the short-lived overclocking capability on non-Z boards.
For B85 offerings to remain viable, motherboard manufacturers such as MSI, whose B85-G43 holds the record for the highest OC on that platform, now pivots their design focus on the subsystem features for the latest B85 models. The B85M-Gaming and B85I-Gaming are the two latest additions to MSI's red and black Gaming series mainboards utilizing the B85 chipset. Both use a smaller form factor with the B85M using a micro-ATX design while the B85I looks similar to the mini-ITX Z87 version with a few changes to keep the cost low. Both B85 boards retain some of Gaming series features such as Killer E2205 Gigabit Ethernet and an EMI shielded Realtek ALC1150 audio chip on an isolated PCB area with TI OP1652 OpAmps and gold-plated audio jacks.
Review Sample Provided by: MSI
Product Name: B85M Gaming Motherboard
MSRP: $85 USD
Product was given in exchange for work done to produce this review.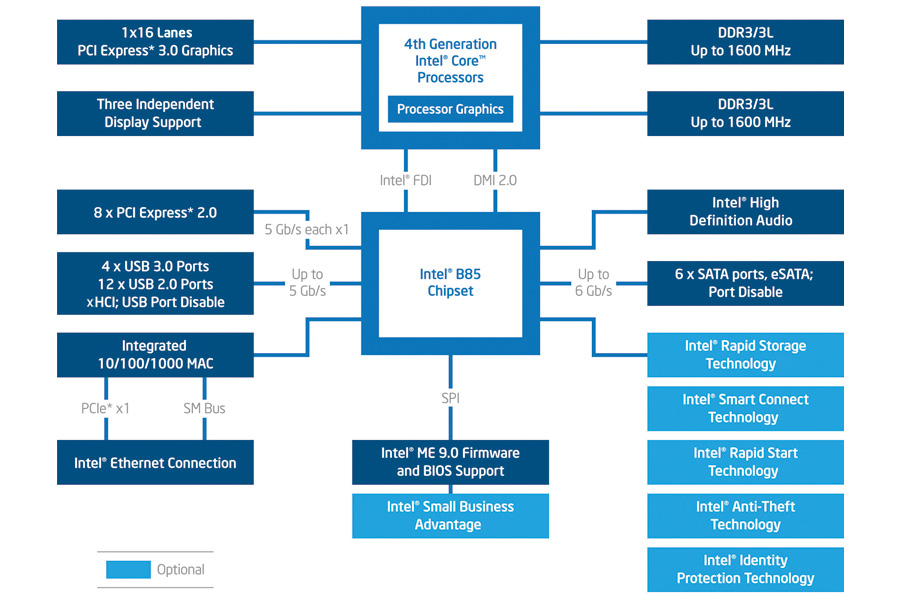 The B85M Gaming packaging is equally as fancy as its other Gaming-series contemporaries with its Gaming series black and red color theme. Inside, the motherboard is housed in an anti-static packaging while the accessories are stored at a lower partition.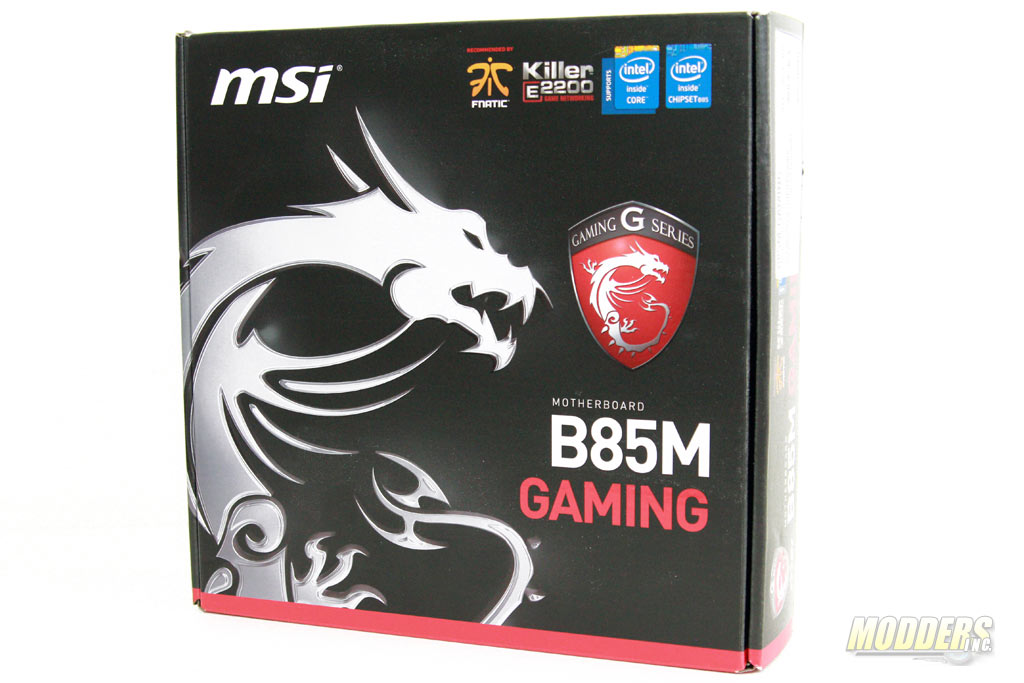 Accessories for the MSI B85M Gaming include the essential driver disc, IO shield, door hanger, quick installation guide, a user's guide and a pair of angled latching SATA cables.
Specifications:
CPU
Supports 4th Generation Intel® Core™ i7 / Core™ i5 / Core™ i3 / Pentium® / Celeron® processors for LGA 1150 socket
Please refer to CPU Support for compatible CPU; the above description is for reference only.
Chipset
Intel® B85 Express Chipset
Memory
Support four DDR3 DIMMs 1066/1333/1600 DRAM, 32GB Max
Support Dual-Channel mode
Supports non-ECC, un-buffered memory
Supports Intel® Extreme Memory Profile (XMP)
Slots
2 x PCIe x16 slots
– PCI_E1 supports PCIe 3.0
– PCI_E4 supports PCIe 2.0
– Support x16, x16/x4 modes• 2 x PCIe 2.0 x1 slots
Onboard Graphics

1 x VGA port, supporting a maximum resolution of 1920×1200 @60Hz, 24bpp
1 x DVI-D port, supporting a maximum resolution of 1920×1200 @60Hz, 24bpp
1 x HDMI port, supporting a maximum resolution of 4096×2160@24Hz, 24bpp/ 2560×1600@60Hz, 24bpp/1920×1080@60Hz, 36bpp
1 x DisplayPort, supporting a maximum resolution of 4096×2160@24Hz, 24bpp/ 3840×2160@60Hz, 24bpp
Multi GPU

Supports AMD CrossFireTM Technology
Storage
SATAIII controller integrated in Intel® B85 chipset
– Up to 6Gb/s transfer speed.
– Supports four SATAIII ports (SATA1~4) by B85SATAII controller integrated in Intel® B85 chipset
– Up to 3Gb/s transfer speed.
– Supports two SATAII ports (SATA5~6) by B85- Supports Intel Smart Connect Technology*
*Supports Intel Core processors on Windows 7 and Windows 8.
USB
Intel® B85 Express Chipset
– 4 x USB 3.0 ports (2 ports on the back panel, 2 ports available through the internal USB connectors)
– 8 x USB 2.0 ports (4 ports on the back panel, 4 ports available through the internal USB connectors)
AUDIO
Chipset integrated by Realtek® ALC1150
– Flexible 7-channel audio with jack sensing
– Supports S/PDIF output
LAN
1 x Killer E2205 Gigabit LAN controller*
* The Killer Network Manager is only available for Windows 7 and Windows 8 currently. The supported drivers for other operating systems would be available on the website if provided by vendor.
Internal I/O Ports
– 1 x 24-pin ATX main power connector
– 1 x 4-pin ATX 12V power connector
– 6 x SATA connectors
– 2 x USB 2.0 connectors (supports additional 4 USB 2.0 ports)
– 1 x USB 3.0 connector (supports additional 2 USB 3.0 ports)
– 1 x 4-pin CPU fan connector
– 2 x 4-pin system fan connectors
– 1 x Clear CMOS jumper
– 1 x Front panel audio connector
– 2 x System panel connectors
– 1 x Chassis Intrusion connector
– 1 x TPM module connector
– 1 x Serial port connector
Back I/O Ports
– 1 x PS/2 keyboard/ mouse combo port
– 4 x USB 2.0 ports
– 2 x USB 3.0 ports
– 1 x Optical S/PDIF-out connector
– 1 x LAN (RJ45) port
– 6 x OFC audio jacks
– 1 x VGA port, supporting a maximum resolution of 1920×1200 @60Hz, 24bpp
– 1 x DVI-D port, supporting a maximum resolution of 1920×1200 @60Hz, 24bpp
– 1 x HDMI port, supporting a maximum resolution of 4096×2160 @24Hz, 24bpp/ 2560×1600 @60Hz, 24bpp/1920×1080 @60Hz, 36bpp
– 1 x DisplayPort, supporting a maximum resolution of 4096×2160 @24Hz, 24bpp/ 3840×2160 @60Hz, 24bpp
BIOS
The mainboard BIOS provides "Plug & Play" BIOS which detects the peripheral devices and expansion cards of the board automatically.The mainboard provides a Desktop Management Interface(DMI) function which records your mainboard specifications
Dimensions
9.6 in. x 9.6 in. (24.4 cm x 24.4 cm)  Micro-ATX Form Factor