Motherboard manufacturer MSI expands their ECO-brand lineup with the addition of three new Intel Braswell based mini-ITX products, the first of its kind. The MSI N3050I ECO, N3150I ECO and N3700I ECO all have a 14nm Intel Braswell processors embedded capable of rich multimedia playback including H.265 hardware decoding, 4K out-put, 8-channel HDMI audio and Blu-ray playback. For more information, check out the official press release below:
MSI launches 3 Braswell based ECO motherboards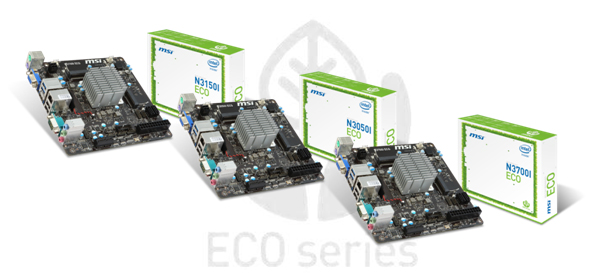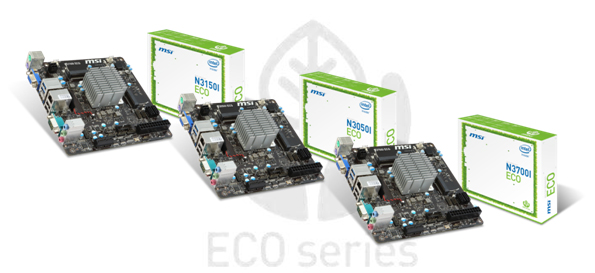 08 Apr 2015-MSI, world leader in motherboard design, debuts the first Intel® Braswell based Mini-ITX ECO motherboards; the MSI N3050I ECO, N3150I ECO and N3700I ECO. With a rich feature set and all new onboard 14nm Dual & Quad Core Intel® Celeron® and Pentium® Processor with next generation Intel® HD graphics up to 2x faster, the new passively cooled MSI Braswell ECO motherboards are the perfect solution for HTPC or industrial devices. MSI's revolutionary power-saving design featured on its new ECO series motherboards, together with Intel's newly designed ultra-low power consuming SoC using only up to 6w, make these motherboards the next step in efficiency. Featuring a fully passive cooling solution, the new Braswell based ECO motherboards run cool, silent & efficient.
The next generation multimedia solution
The new MSI Braswell based ECO motherboards feature a wide variety of multimedia solutions such as H.265 (HEVC) hardware decoding, support for 4K output, Blu-ray playback and 8-channel HD Audio via HDMI. The new motherboards also feature two DDR3L-1600MHz SO-DIMM slots (up to 8GB Dual Channel Memory), two SATA 6Gb/s ports, one PCIe slot, Gigabit Ethernet, COM port, USB 3.0 and HDMI 1.4b output. The new Intel® Braswell® processors are available feature 2x faster graphics power with support for DirectX 12 and Windows 10. All this comes in an ultra-low power, all passive cooling, small form factor design, making the new MSI Braswell based ECO motherboards the ideal solution for industrial, office or living room use.
Military Class 4: The Most Stable Military Class Components
Military Class 4 is the next step in high quality components which ensures your PC runs stable under extreme conditions. These key components have all passed the seven tests of MIL-STND-810G military class which are performed by independent laboratories to ensure stable operation under the harshest environments.
Models & features
3 NEW ECO MODELS FEATURING INTEL® BRASWELL ONBOARD (MSI N3700I ECO with Intel® Pentium® Quad-core N3700, 2.40GHz SoC, MSI N3150I ECO with Intel® Celeron® Quad-core N3150, 2.08GHz SoC, MSI N3050I ECO with Intel® Celeron® Dual-core N3050, 2.16GHz SoC)
HDMI 1.4b-High-Definition Multimedia Interface Version 1.4b with 4K output support
USB 3.0-Fully Supports High-speed USB Storage Devices
M-FLASH-Simply Update & Backup Your BIOS
FAST BOOT-Quickly Boot Up And Enter OS In A Few Seconds
LIVE UPDATE 6-Easily Update The Latest BIOS & Drivers
For more information about MSI® ECO Series motherboards please visit www.msi.com