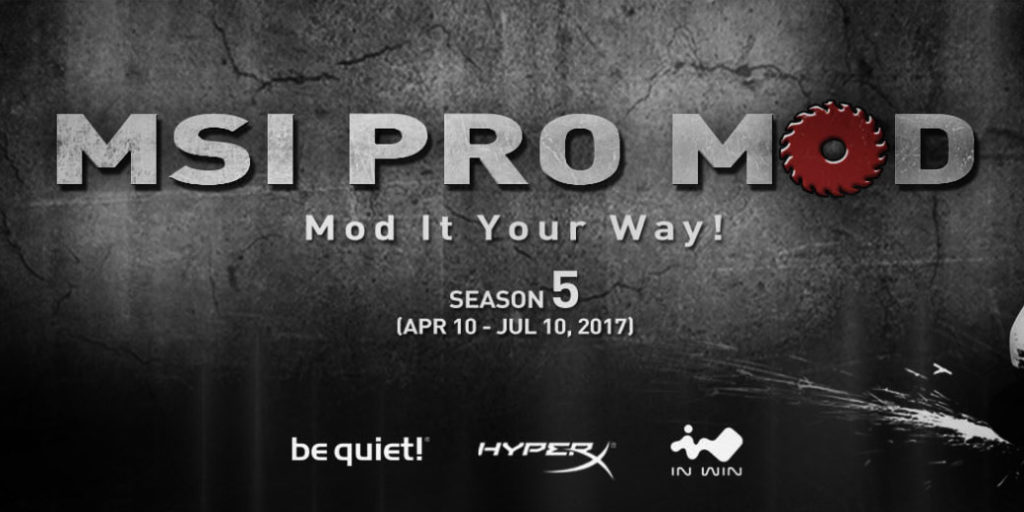 The MSI PRO MOD competition started in 2015 but now it is entering its 5th season already, and this time the event will be sponsored by AMD, HyperX, In Win and be quiet!. The theme for this season is "ARCTIC" and users can compete in more than one category. They can either participate in a Classic Case Mod where a pre-existing manufacturer built chassis is modified to fit the theme, or they can create something from scratch in the Scratch Build category. MSI will also be offering a Special Jury Prize that is separate from the grand prize winner and is dedicated specifically to the best modding project that is made up of 3D Printer Parts.
Casemod Classic Prizes / Scratch Build Prizes: 1st – $3000 value / 2nd – $1500 value / 3rd – $1000 value
AMD Ryzen R7 1700X
In Win X-Frame 2.0
MSI B350 Tomahawk Arctic
MSI DS300 Interceptor Mouse
MSI DS502 Headset
MSI GK-701 Mechanical Keyboard
be quiet! Dark Power Pro 1200W
be quiet! Silent Wings 3 120mm Fan
HyperX Predator 4x4GB 3000MHz
HyperX Predator PCIe SSD 240GB
Special Jury Prize:
MSI Radeon RX 580 ARMOR 4GVideo Card
AMD Ryzen5 1600X Processor
People's Choice Award Prize:
AMD Ryzen 5 1600X Processor
The judges for this season include seasoned case modding veterans and previous PRO MOD winners such as Siratas "Jengki WMP" Vutipapornkul, Dave Cathey, Ronnie Hara and Oliver Peier. Public voting will begin on July 17, 2017.

Rules:
The motherboard and graphics card assembled in your mod MUST be MSI brand ( onboard GPU is allowed ).
Your mod must fulfill the " ARCTIC " theme requirement.
Steps to join:

1. Create your account on MSI Global Forum. ( Existing members can skip this step ).
2. Create your worklog(s) thread under User Reviews & Modding sub-forum from April 10 to July 10, 2017 11:59 PM ( GMT +8 ).
3. Upload the following in your worklog:

Create a new topic and name the subject with 【MSI PRO MOD – S5: Scratch Build】 or 【MSI PRO MOD – S5: Casemod】 in front of your mod entry title,
e.g. 【MSI PRO MOD –S5: Scratch Build】 ARCTIC TOMAHAWK or 【MSI PRO MOD –S5: Casemod】 ARCTIC TOMAHAWK
Insert the official banner on the top of your threads. Download the banner file here.
Provide the following modder profile in your 1st thread of worklog:
a. Modder Name ( Nickname )
b. Facebook ( or Instagram / Twitter ) URL
c. Country
List all hardware configuration of your mod. (model name of MSI motherboard & graphics card must be highlighted.)
Concept of your mod entry.
Post (1) or more pictures of all the components you are going to use in your mod (make sure all pictures are recognizable).
Provide description and photos showing full worklog process (from start to finish).
5 or more pictures of your FINAL mod entry (preferably W600 x H400 pixels in jpg file format) including 1 highlighting MSI motherboard & graphics card (model name specified).

4. Reply the following message under the campaign thread (here) by July 10, 2017 11:59 PM (GMT +8).

‑ MOD entry title
‑ URL of your worklog

Note-
* Update and complete your worklog(s) by July 10, 2017 11:59 PM (GMT +8).
* Before the submission deadline, you MUST complete your mod.

To join, visit: https://www.msi.com/Landing/msi-pro-mod