Equipped with Intel's 7th generation Kaby Lake mobile parts, MSI's updated CUBI 2 mini-desktop is a compact computing solution offering highly efficient performance in a form factor that is barely larger than a can of soda. The MSI CUBI 2 is 450ml (while a soda can is 355ml) and measures 155.3 x 147.9 x 58.6 mm.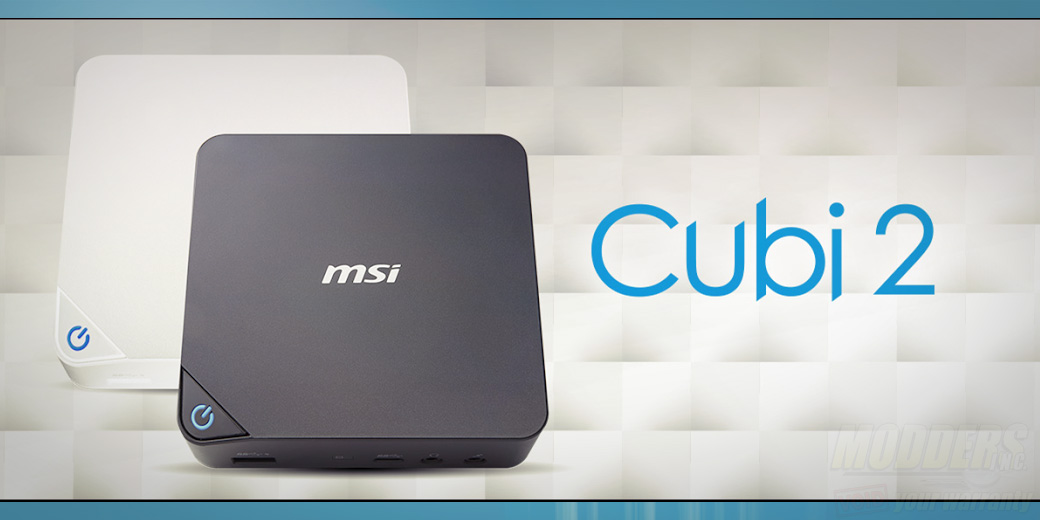 Compact PCs such as the CUBI 2 of course are expected to have VESA support so it can be stealthily mounted at the back of monitors and displays (and yes it does support that feature). The new Intel 7th generation Kaby Lake processors are equipped with Intel HD 620 graphics and supports 4K display via HDMI and mini-DisplayPort. The MSI CUBI 2 also has front 3.5mm audio ports for a microphone input and headphone output.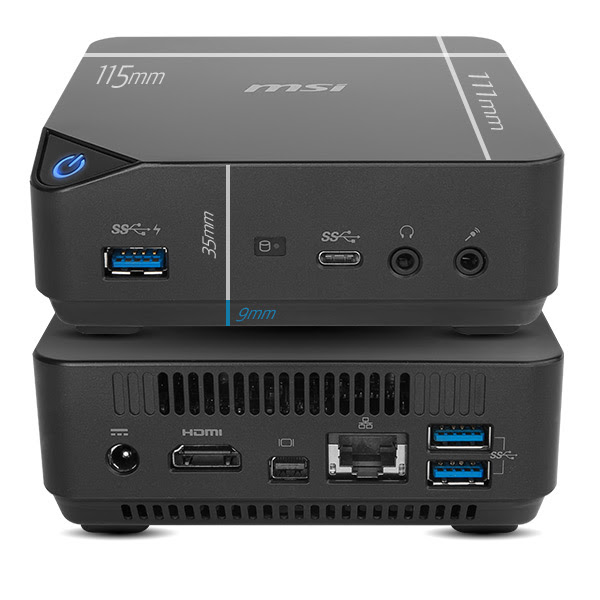 For storage, two Type-A USB 3.1 ports are available at the rear while the front has one Type-A and one Type-C.  These are all Gen 1's however so don't hold your breath for very high-speed transfers, but they should be more than enough for typical desktop applications. Internally, it supports 1x m.2 SSD and optionally, users can install a 2.5″ drive with the extender option cover. When laid-out including the VESA mount, it will look like this: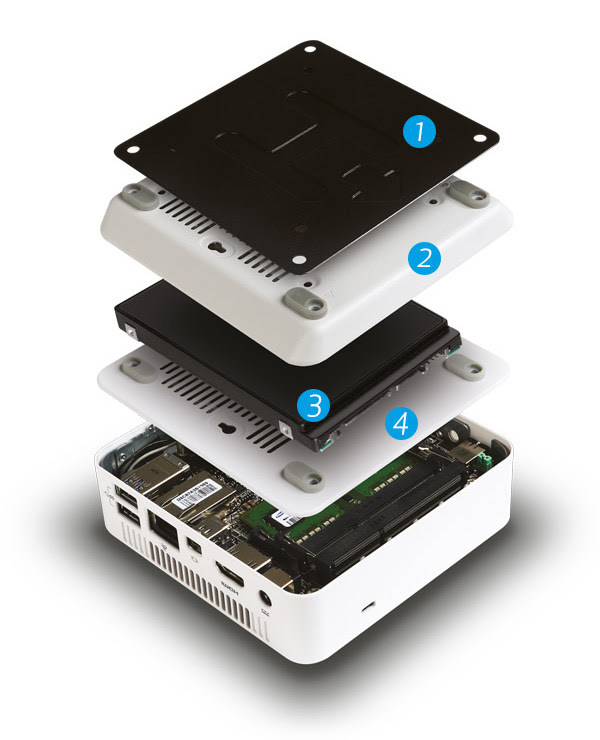 1. VESA mount
2. HDD Base (option 2) – M.2 SSD slot x1, 2.5″ SSD/HDD bay x1
3. 2.5″ HDD (optional)
4. Bottom plate (option 1) – M.2 SSD slot x1
For network connectivity, the MSI CUBI 2 has Intel 3168 802.11 ac + BT4.2 wireless feature while users can also plug the CUBI2 into a router via an RJ45 port.
CPU options include Intel Core i3-7100U, Intel Core i5-7200U and Intel Core i7-7500U. Each CUBI 2 comes bundled with Windows 10 Home edition. Availability is expected within October and users will also have the option of either the black or white versions so they can be color matched with either their office or home entertainment setup.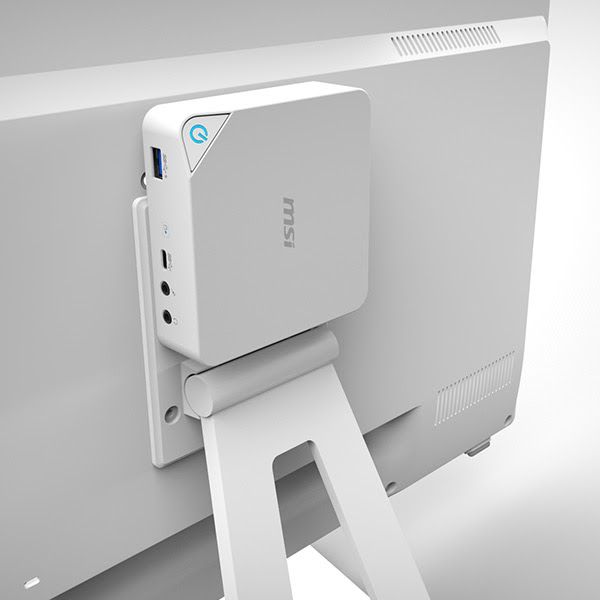 MSI® Cubi 2
Processor
ntel® Core™ i3-7100U / Intel® Core™ i5-7200U / Intel® Core™ i7-7500U
Operating System
Windows 10 Home
Chipset
Intel® SoC
Graphics
Integrated Intel® HD 620 series Graphics
Memory
Two entries for DDR4 2133MHz (max to 32GB)
Storage
Supports 1x M.2 SSD slot (optional)
Supports 1x 2.5" SATA HDD or SSD (optional)
Wireless
Intel 3168 802.11 ac + BT4.2
I/O
Front: 2x Headphone out/Mic in, 1x USB 3.1 Gen1 Type-A, 1x USB 3.1 Gen 1 Type-C
Rear: 1x HDMI out, 1x DP out, 1x RJ45 LAN port, 2x USB 3.1 Gen1 Type-A, 1x DC jack
Adapter
65 W
Dimension (W x H x D)
155.3 mm * 147.9 mm * 58.6 mm