A Closer Look at the MSI X370 Krait Gaming Motherboard »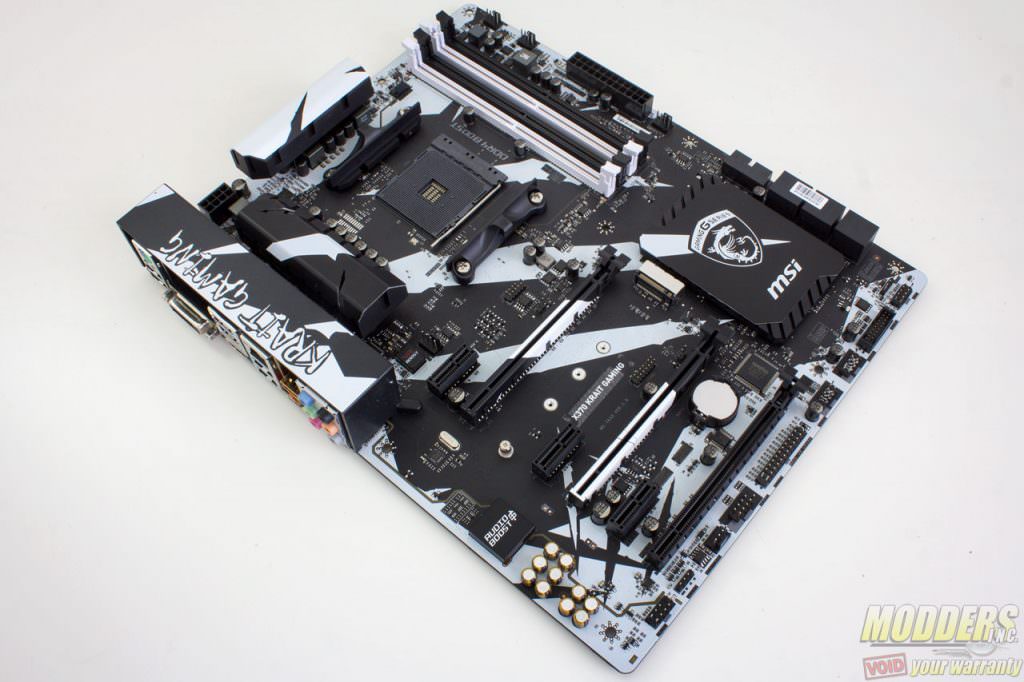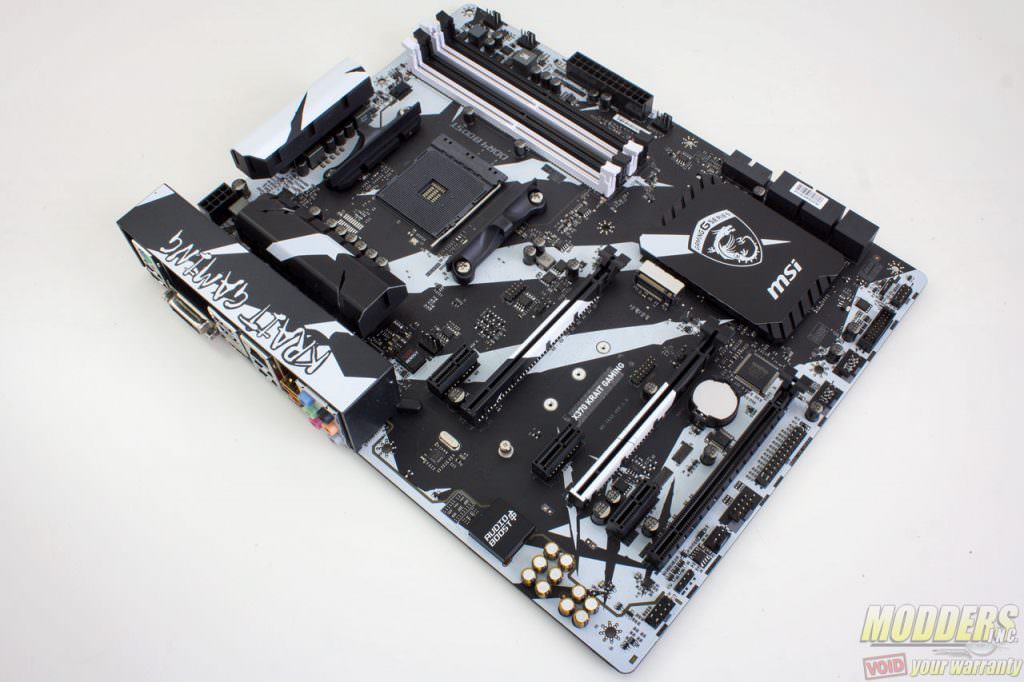 For those who have not kept up with motherboard naming schemes, MSI's motherboard product line might seem confusing at first just because of the sheer amount of motherboards they offer. In actuality, they have the simplest and easily understandable one there is since there are only technically two: gaming and non-gaming (aka Pro series). Since we often don't see much of the Pro-series reviewed or marketed, this makes almost every motherboard they have essentially a Gaming motherboard.
One of the latest from MSI this year is the AM4 based X370 Krait Gaming mainboard. The MSI Krait motherboards stand out from other motherboards aesthetically with its use of a black and white color scheme. Although it is not decked in the standard red gaming colors that MSI banners fly, it is nonetheless infused with their gaming features. This includes a complimentary software suite for streamers, gamers or even just casual players looking to graduate to a full-blown gaming addict. The MSI X370 Krait is actually the first X370 motherboard released by MSI for the Ryzen launch. In late June, they have released the AGESA 1.0.0.6 BIOS update for the Gaming Krait that improves DDR4 performance. This increases module compatibility and lets users set the DDR4 beyond the original 3200MHz limitation.
[sc:sponsor sponsor="MSI" product_link="https://www.msi.com/Motherboard/X370-KRAIT-GAMING.html" product_name="X370 Krait Gaming" product_price_link="https://www.newegg.com/Product/Product.aspx?Item=N82E16813144023″ product_price="$149.99″ ]
Packaging
The box graphics is a lot fancier than previous Krait boards, with a glossy full-scale overlay reserving most of the text and graphics consisting of all the promotional material at the rear. Like most of MSI's other mainboard packaging, it flips open from the front bottom to reveal dual compartment area with the motherboard at the top and the accessories at the bottom. The motherboard is packed in an anti-static bag with foam padding underneath.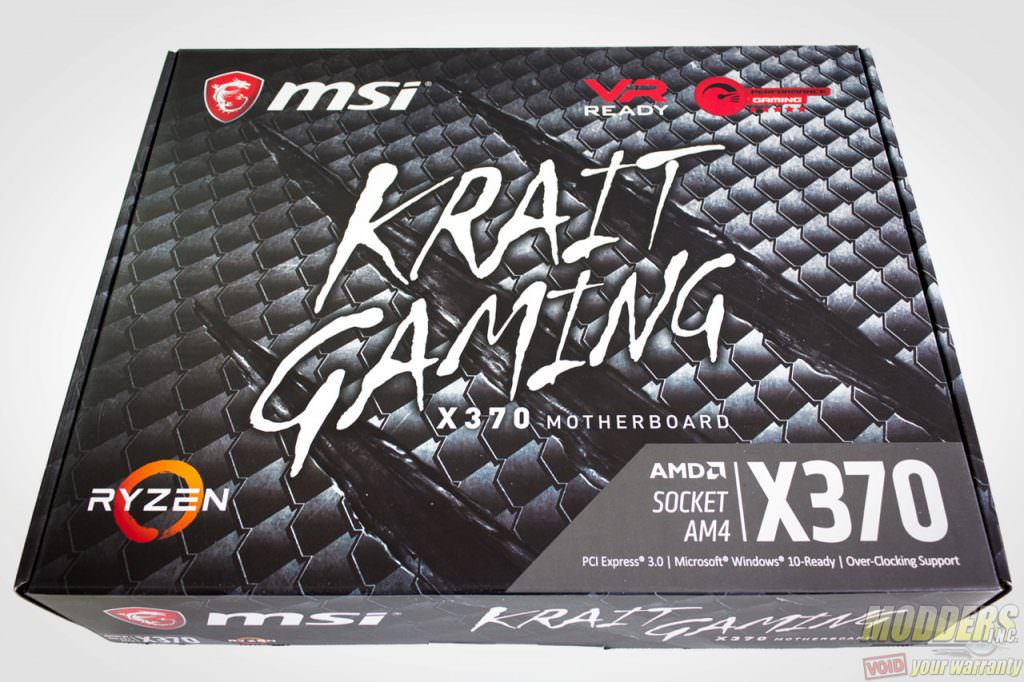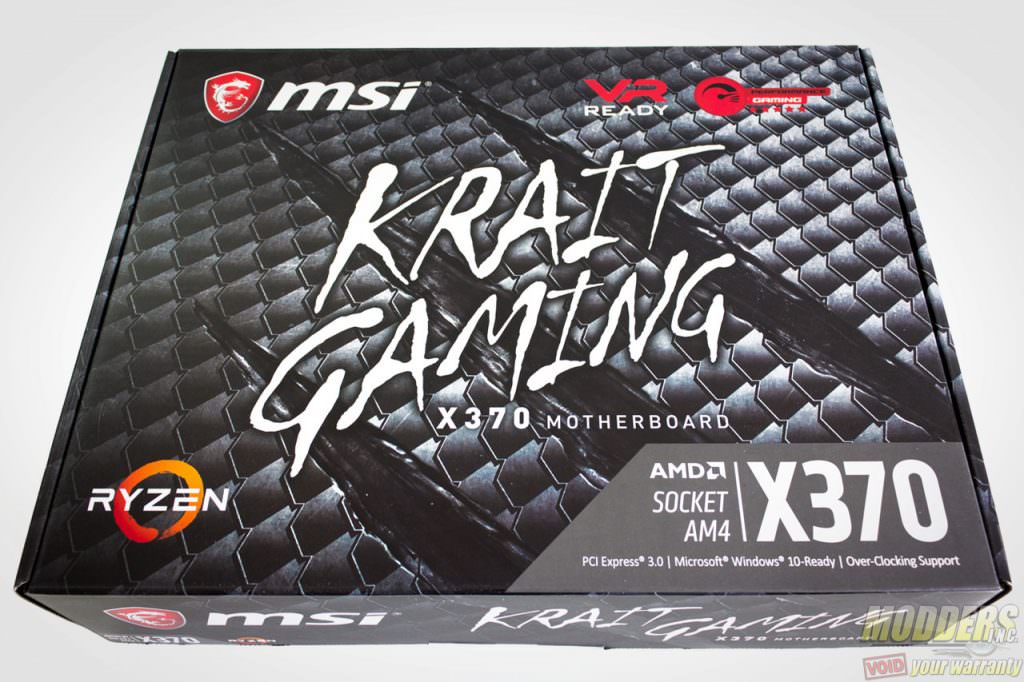 The top compartment is reserved for the motherboard while the bottom compartment contains the bundled accessories.
Bundled Accessories
The accessory pack includes an IO shield, a user manual booklet, a DVD driver disc, quick installation guide, a product registration card, AMD cooler/DRAM installation guide, and two SATA cables (one straight and one angled). MSI also throws in an SLI cable for the extended gap between the first and two PCIe x16 slots.
Form Factor and Chipset
The MSI X370 Krait uses the standard ATX form factor, measuring  30.4 cm x 24.3 cm. It uses a matte black 4-layer PCB with white silkscreen print on it. This print  has a three-claw scratch pattern, although the Krait is supposed to be a snake so this could be the teeth instead. But then again, why  three? Wouldn't there be four? Unless that snake lost a tooth at some point maybe.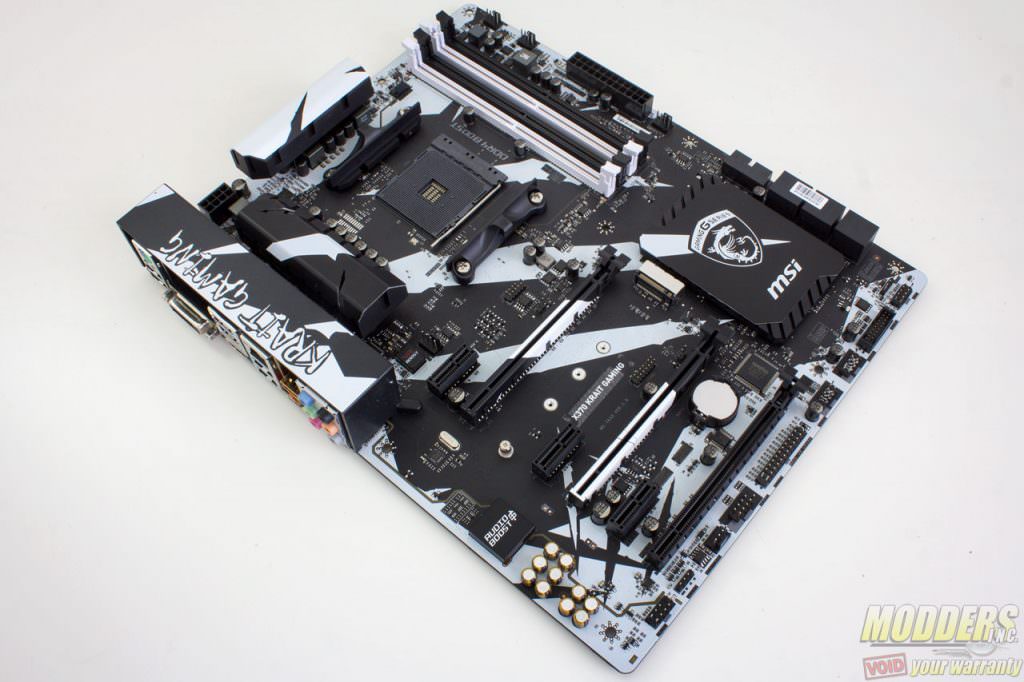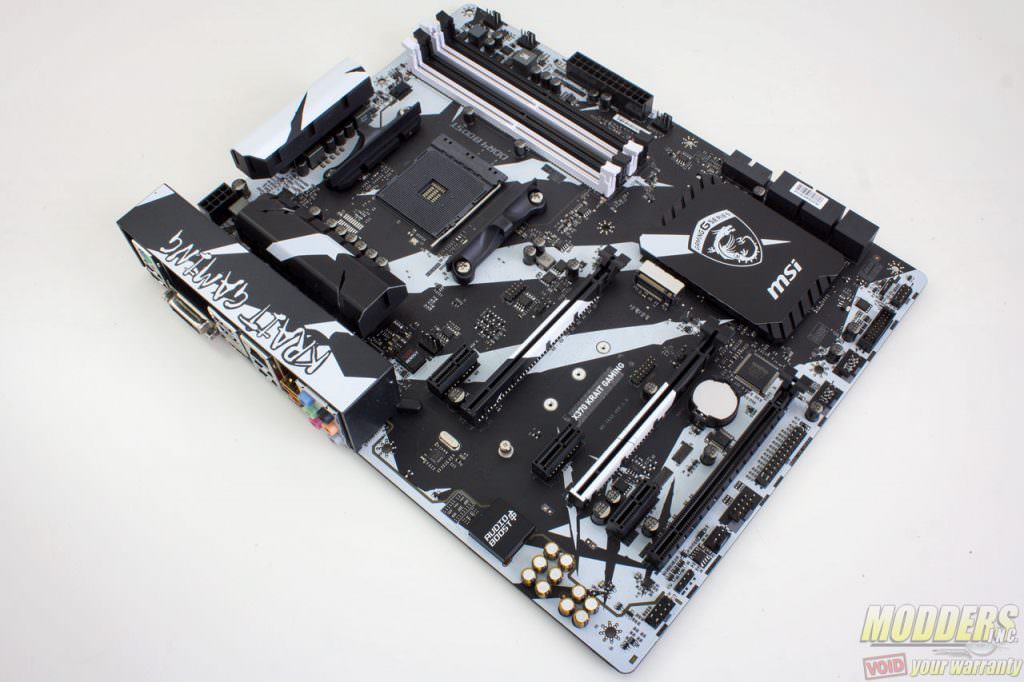 AMD X370 series motherboards are compatible with AMD Ryzen as well as upcoming Raven Ridge APUs. That is why there are video outputs onboard, even though Ryzen CPUs do not have built-in graphics. The X370 chipset has a few notable distinct features that the B350 and A320 chipset motherboards  do not have. SLI support for example is not available in B350 motherboards, even the higher end ones in the same price range as X370 motherboards. That is because NVIDIA requires at least a PCIe x8 2.0/3.0 for the secondary slot.
Aside from PCIe x16 bifurcation, the X370 chipset provides up to two native USB 3.1 Gen2 support, six USB 3.1 Gen1 support, six SATA3 6G ports in total, and eight additional PCIe Gen2 lanes for general purposes. Motherboard manufacturers can vary on how they want to use these of course, depending on the price point. The higher end models tend to add more through third-party controllers with switches to facilitate bandwidth sharing, similar to Intel's 200-series solutions.