« Sub-System Benchmarks (Storage, Audio, Network, Gaming)
Final Thoughts about the MSI X370 Krait Gaming Motherboard
There is a clarity when seeing things in black and white that is often lost in the noise of color. In the case of the MSI X370 Krait Gaming, there is no doubt that this is a gaming solution much like the majority of MSI's current motherboards despite the looks. Like the previously reviewed affordable MSI B350M Mortar, the X370 Krait Gaming is packed with software that compliments the gaming lifestyle well.
I am not a big believer in having a one-size-fits-all judgment when it comes to motherboards. Especially with the way motherboards are designed and marketed these days. That is primarily why I have refused to put a simple "pros" and "cons" summary in my reviews, despite reader suggestions. Although seeing things placed into that black and white context of good or bad, much nuance and context is lost.
Mid-range Expectations
With that said, there are certain expectations feature-wise whenever a motherboard reaches a certain threshold of price. The MSI X370 Krait Gaming has a retail price of $149 which is the middle-road for an X370 mainboard considering the lowest price is $109 on average (such as the Gigabyte AX370-Gaming and Biostar X370GT5-NF). Any X370 motherboard in the mid-range should have USB 3.1 Gen2, USB Type-C, M.2 22110 support, BCLK clock gen, SLI support (aside from ITX mainboards of course) and just because everyone else wants and has it, an RGB LED header.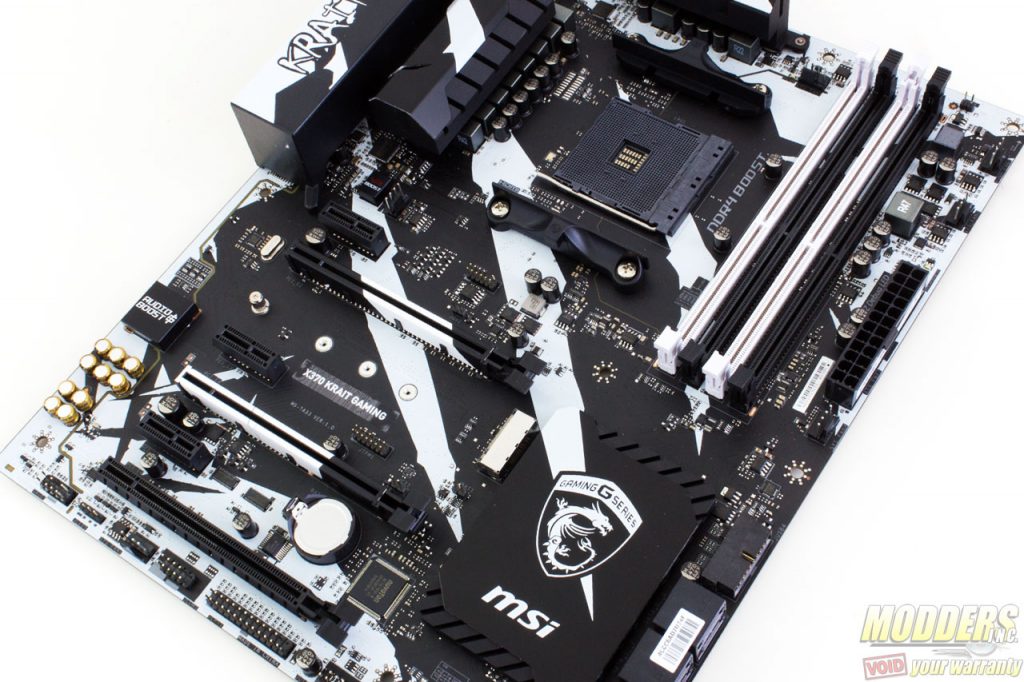 Thankfully, the MSI X370 Krait Gaming does have support for most of these. The USB 3.1 Gen2 in particular is a strong point as it is provided via an ASMedia ASM2142. It is newer and faster than the ASMedia ASM1142 on the more expensive ASUS Crosshair VI Hero for example. Although not all storage devices can take advantage of the full bandwidth afforded by this controller, it is still a nice "future-proof" feature to have.
The RGB LED limitation is a bit disappointing since it is limited to only seven colors, like the B350M Mortar. The RGB LED control is also tucked all the way inside the MSI Gaming App instead of just something selectable in the UEFI.
The lack of BLCK clock generator is somewhat excused with the availability of the AGESA 1.0.0.6 microcode update via the latest BIOS verison. This allows users to set up to 4000MHz if their kit supports it on the X370 Krait Gaming, whereas it was only limited to 3200MHz prior.
Overall, the MSI X370 Krait Gaming is a good gaming platform for $149 USD. As the color scheme suggests, just don't expect a full spectrum light show since the RGB LED implementation is limited to seven colors. However, it has well-spaced PCIe x16 slots for comfortably cool SLI gaming, fast USB 3.1 Gen2, M.2 NVMe support for up to long 22110 form factors, and highly functional fan control system. For gamers who want a unique non-rainbow colored gaming build, the MSI X370 Krait Gaming is easy to recommend.