Article Pages:
« System Benchmarks
|
Gaming Tests »
Subsystem Benchmarks (SATA3, USB3, Audio, Network, Gaming)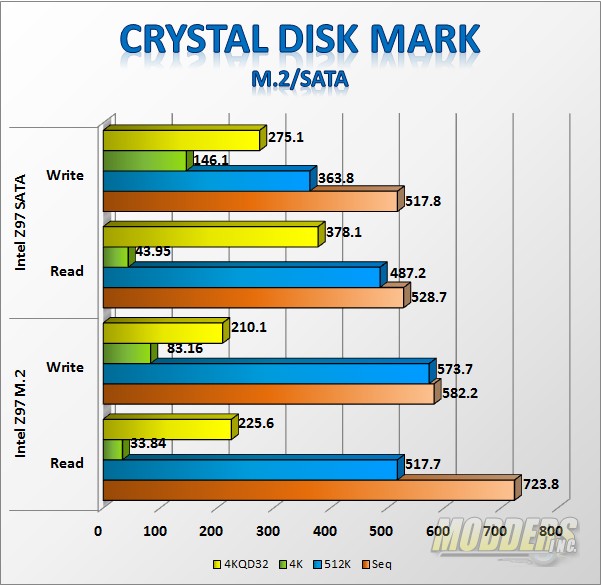 All SATA/M.2 ports are provided by the Intel Z97 chipset. SATA benchmarks with the Samsung Evo 840 SSD perform as expected. This is the 1st time I've had the opportunity to benchmark a M.2 SSD and I am impressed with what I've seen so far.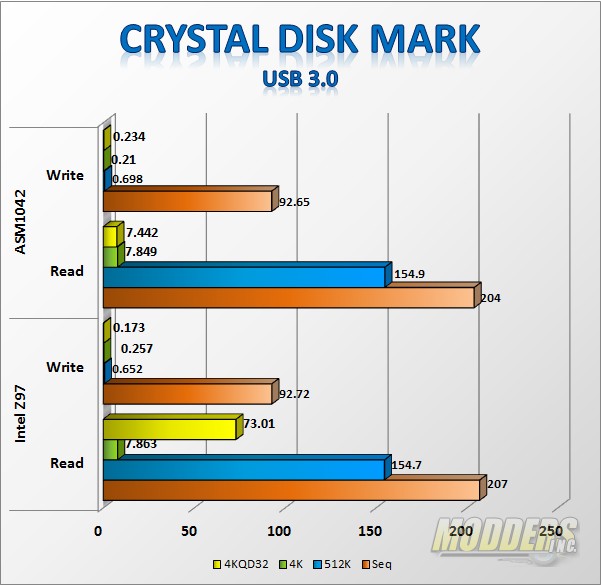 USB 3.0 is split between the Intel Z97 and the ASMedia 1042A controller.
On-board Audio
Before proceeding with audio benchmarks, Deferred Procedure Call latency must be first checked to make sure that the system is capable of producing useable results when the Rightmark Audio Analyzer benchmark was run. DPC is a Windows function that involves prioritizing tasks within the OS and high DPC latencies can be caused by several things including hardware
device conflict. The DPC checker graphically displays the latency level of the system in real time so as long as the bars are in the green, the system should be able to handle audio and video streaming without drop outs or stutters.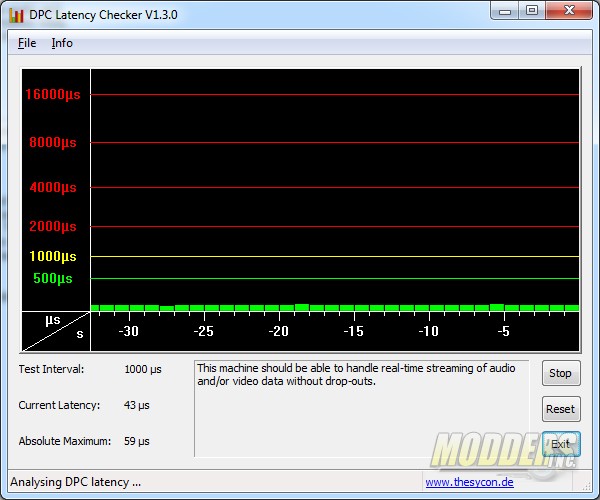 Absolute maximum peaked at 222 while the system for the most part stayed well below that. This means that there should be no hardware related issues or interruptions in terms of audio/video streaming performance while running the motherboard. Now we can run RightMark Audio Analyzer tests using a short 3-inch 3.5mm audioloop cable that goes in the line-in and line-out ports for a loopback test to objectively test internal audio performance.
Rear Audio: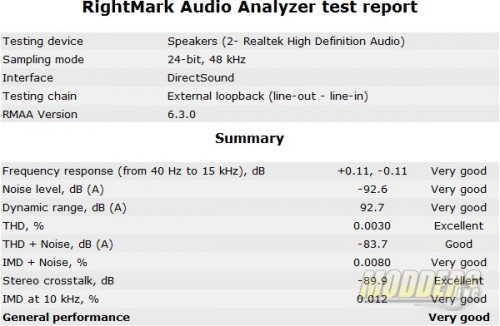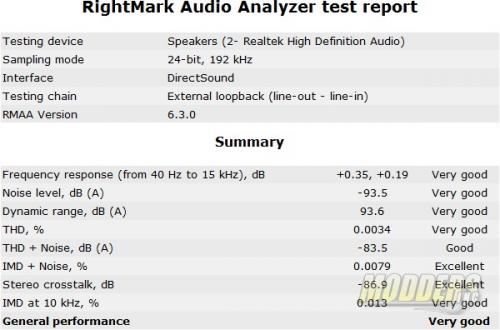 Network testing was conducted with a 8-port Cisco 2960G Desktop switch in an unconfigured state and a pair of 6 ft long Cat6 cables connecting the server PC and the test motherboard. The server system is running an Intel Core i5-4670K processor on an Gigabyte GA-Z87x-UD4H motherboard with an Intel i217v Gigabit LAN Controller. Interrupt Moderation was disabled.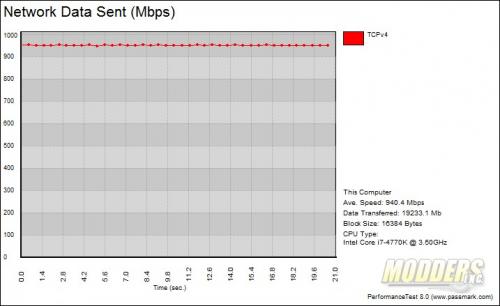 This is almost a perfect result which surprises me coming from the Killer NIC. Back in the day with Killer was an add in card they had pretty good performance. In the past what I've seen from the killer NICs is a lot of peaks and valleys. This line is almost flat coming in at 940 Mbps.