Mushkin has expanded their REACTOR series SSD which is now available in 256GB, 512GB and 1TB capacties, but the fun does not stop there. The Austin-based memory/storage company is also feeling mighty generous as they are offering a $30 Ghost Recon Phantoms value game code for a limited time when purchased from NewEgg. On top of that, users are also entered in a sweepstakes for a chance to win a custom built Mushking Extreme Gaming PC! For more details, check out the official press release below:
Mushkin Announces REACTOR Series Expansion with UBISOFT's Ghost Recon Phantoms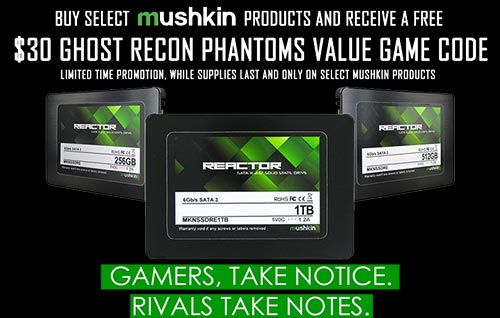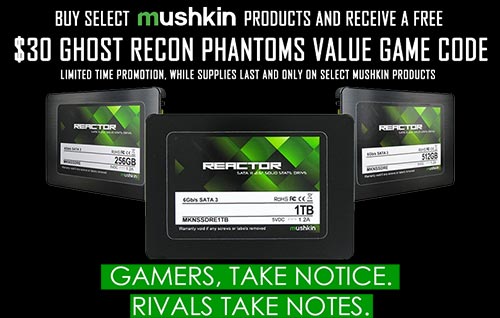 Austin, TX — May 2015  — Mushkin Enhanced MFG, an industry leading designer and manufacturer of high performance and mission critical computer products, announced today its expansion of its popular REACTOR series SSD, on May 11th, 2015  enthusiast will now be able to purchase the REACTOR Series in 256GB, 512GB and 1TB capacities, perfect for professionals and tech enthusiasts who want the best possible computing experience.
"At Mushkin we have always focused on not only helping enthusiasts push the limits of their PCs, but we've taken it to the next level, by providing quality solutions that deliver levels of performance that have earned Mushkin its place as one of the top SSD manufacturers," said Brian Flood, Director of Product Management at Mushkin Enhanced MFG.
"To celebrate the expansion of our very popular REACTOR SSD starting May 1, 2015, gaming fans can enter our Ghost Recon Phantoms Sweepstakes for a chance to win up a custom built Mushkin Extreme Gaming PC and much more." Said Nicolas Villalobos, Director of Global Marketing at Mushkin Inc. "As part of the celebration fans who purchase select Mushkin products through Newegg.com will also receive a Ghost Recon Phantoms $30 Value game code – free*"
Mushkin's REACTOR series SSDs feature Silicon Motions SM2246EN controller that maximizes PC performance for increased reliability. With data transfer speeds that reach up to 560MB/s read and 460MB/s write, with random 4K performance of up to 74K/76K read/write IOPS, the REACTOR 1TB SSD is an ideal tool for gamers, professionals, and consumers in need of high capacity storage solutions. 
For more information on Mushkin's REACTOR series SSD modules, please visit: http://www.poweredbymushkin.com/index.php/products/solid-state-drives.html

For more information on where to purchase REACTOR series SSDs, please visit: http://www.newegg.com/Product/ProductList.aspx?Submit=ENE&DEPA=0&Order=BESTMATCH&Description=mushkin+REACTOR&N=-1&isNodeId=1

For more information on Mushkin's Ghost Recon Phantoms Sweepstakes, please visit: http://www.poweredbymushkin.com/GhostReconPhantoms/
*Game codes are equal to $30 (Retail Value)worth of game upgrades and are a while supplies last promotion. Codes only available at select e-tailers and retailers worldwide. Check with your e-tailer/retailer for more information.
**NO PURCHASE OR PAYMENT NECESSARY TO ENTER OR WIN THIS SWEEPSTAKES. A PURCHASE WILL NOT INCREASE YOUR CHANCES OF WINNING. ODDS OF WINNING WILL DEPEND ON THE TOTAL NUMBER OF ENTRIES RECEIVED. VOID WHERE PROHIBITED BY LAW. ONLINE ENTRY ONLY AND INTERNET CONNECTION REQUIRED. AFFIDAVIT OF ELIGIBILITY / RELEASE OF LIABILITY / PRIZE ACCEPTANCE FORM MAY BE REQUIRED.