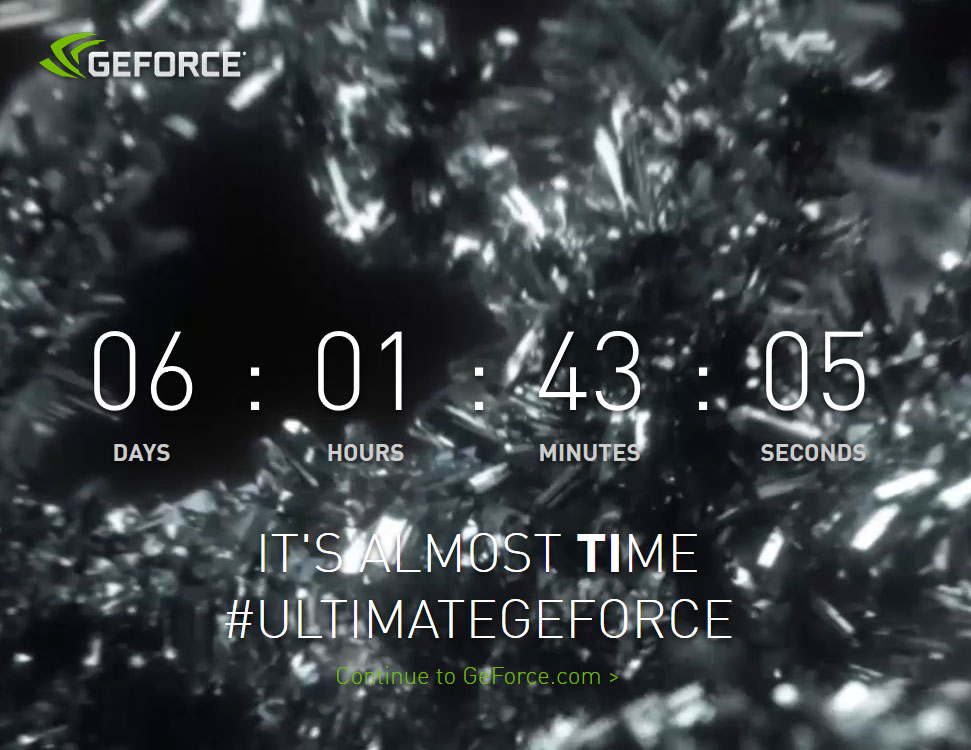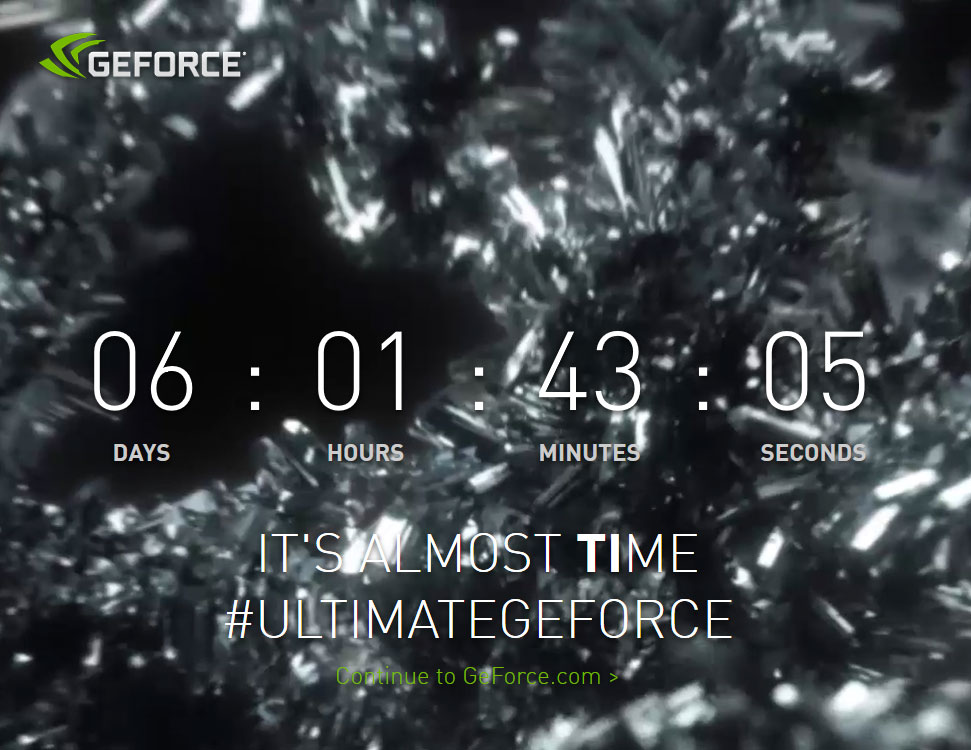 The front page of NVIDIA's GeForce.com received a slight facelift today with a counter counting down a week away and teasing with the hashtag #ULTIMAGEGEFORCE. The tease also highlights the letters TI in the word TIME so this is most definitely about the impending release of the new flagship GeForce GTX 1080Ti graphics card to be unveiled at the Game Developers Conference in San Francisco scheduled to begin on February 28. Rumours of the cards release has been swirling around online for some time now and NVIDIA reps themselves denied it when we reached out earlier last week, stating that a celebration was in order at the event but did not disclose that it is going to be a launch party of some sort.
AMD is also expected to make an announcement during the same time period regarding their next generation and much awaited VEGA GPUs which will also include Polaris rebrands so it is completely understandable for NVIDIA to try to keep the launch a secret until necessary to take away from AMD Radeon's thunder. AMD's Vega is expected to succeed the Fury series with its new naming scheme and expected to undercut NVIDIA's top of the line performance directly as well as offer better value. AMD actually has been cutting the prices of their RX 480 series lately with many offers of $20 rebate on top of the lowered price further, some speculate in preparation for the new line. Hopeful enthusiasts are expecting the NVIDIA GeForce GTX 1080 Ti to deliver near Titan X performance at a much more affordable price, which will most likely be the case if they are forced to by AMD's upcoming video cards.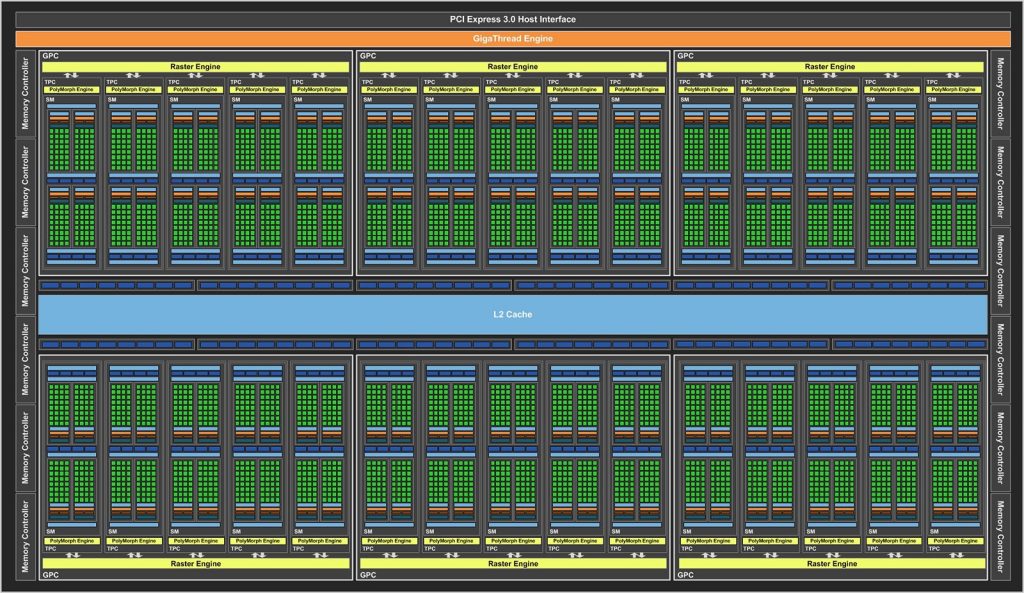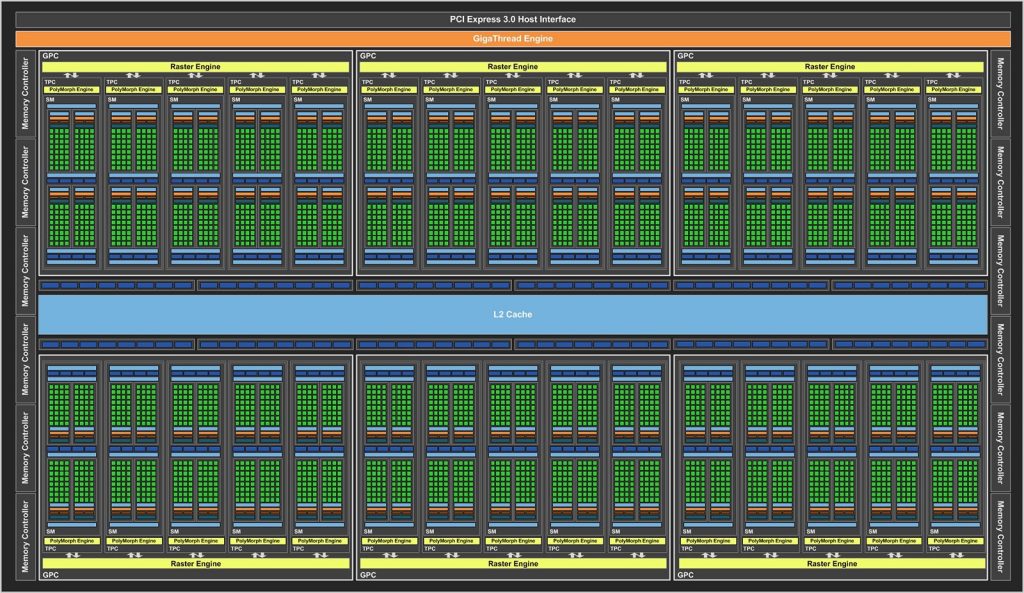 The NVIDIA GTX Titan X is a 384-bit 12GB GDDR5X monster using the GP102 Pascal GPU equipped with 3,584 CUDA Cores. The Titan X is priced at $1,099.99 while the Founder's Edition GTX 1080 is priced at $699.99. There is room to slot the GTX 1080 Ti in between those two price points at just under $1000 which is the most likely launch price but hopefully, AMD's Radeon will bring those prices down sooner if performance is within range with the GTX 1080 Ti offered at a much affordable price point and the rest of the 1000 series lowered in price accordingly.