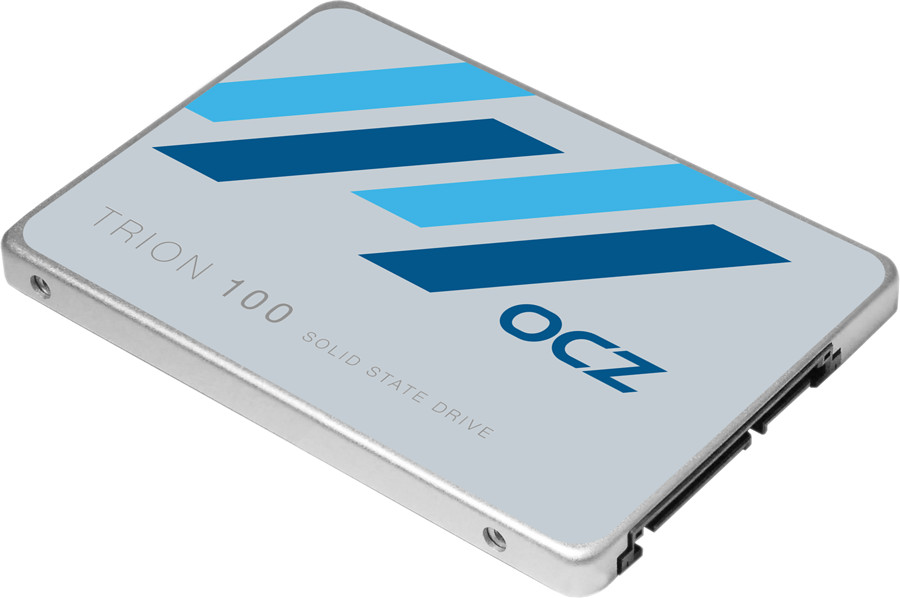 OCZ has released their new Toshiba TLC-based SATA III SSD dubbed the Trion 100. The goal of the Trion is to deliver affordability to those who needs fast storage with its 550MB/s sequential read and 530MB/s sequential write, the Trion 100 series SSD is not short on speed. The Trion SSD series is available in 120GB, 240GB, 480GB and 960GB capacities and various reviews online are available from our affiliates:
Official Press Release:
OCZ Releases Value-Oriented Trion 100 SSD Series with Premium Toshiba TLC NAND Flash
New TLC-based SATA III SSD offers an affordable and reliable performance upgrade for mainstream notebooks and desktops
SAN JOSE, CA – July 9, 2015 – OCZ Storage Solutions, a Toshiba Group Company, today announced the availability of the Trion 100 SSD series. Leveraging Toshiba Triple-Level Cell (TLC) NAND flash and Toshiba controller technology, the Trion 100 series was designed to deliver a superior balance of performance, reliability, endurance and value, providing an easy and affordable way for entry-level users to enhance their mobile or desktop systems.
With the aim of offering a superior computing experience over today's hard drives, the Trion 100 series demonstrates that "value" doesn't have to mean low performance. Rated for excellent sequential read speeds up to 550MB/s, sequential write speeds up to 530MB/s and random read I/O performance up to 90,000 IOPS, Trion 100 SATA III SSDs help maximize system responsiveness and optimize storage operations enabling increased multitasking and productivity for end users.
Designed for mainstream users with varying storage needs, the Trion 100 will be available in capacities of 120GB, 240GB, 480GB, and 960GB. Additionally, Trion 100 SSDs provide ample endurance with up to 240TB total bytes written (TBW), providing peace of mind for users.
"As the market for solid state drives continues to mature the need for high quality yet affordably priced drives has only grown, and we are pleased to be able to provide exactly that with our new TLC based Trion Series SSDs," said Daryl Lang, CTO of OCZ Storage Solutions, a Toshiba Group Company. "To deliver more robust endurance, the Trion has been optimized with extremely tight coupling between the premium Toshiba TLC NAND flash and firmware, making it an ideal solution for value-conscious users seeking an improved computing experience for both desktop and mobile applications."
Trion series solid state drives are also able to take advantage of SSD Guru, OCZ's new, easy to use and feature-rich SSD management software tool which is designed to help users unlock the full potential of their drives and enables end-user control of drive maintenance, monitoring, SSD tuning, OS optimization and more.
Stringent reliability and quality procedures are incorporated into every OCZ drive; however, in the unlikely event that a drive needs to be replaced, Trion 100 is protected by OCZ's ShieldPlus Warranty for 3 years. This industry-leading approach to service provides peace of mind with an elite, worry-free customer service experience which eliminates all the hassle and cost surrounding traditional support and warranty claims consumers often have to deal with.
For more information on the Trion 100 series, visit our product page here.
About OCZ Storage Solutions
OCZ Storage Solutions – a Toshiba Group Company is a leading provider of high performance client and enterprise solid-state storage products and is a wholly-owned subsidiary of Toshiba Corporation. Offering a complete spectrum of solid-state drives (SSDs), OCZ Storage Solutions leverages proprietary technology to provide SSDs in a variety of form factors and interfaces to address a wide range of applications. Having internally developed firmware and controllers, virtualization, cache and acceleration software, and endurance extending and data reliability technologies, the Company delivers vertically integrated solutions enabling transformational approaches to how digital data is captured, stored, accessed, analyzed and leveraged by customers. More information is available at www.ocz.com.
All trademarks or brand names referred to herein are the property of their respective owners.