Storage Devices
Patriot LX Series micro SDXC Class 10 256 GB Flash Memory Review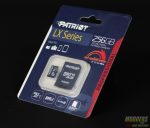 Much like Mary Poppins bag of wonders, Patriot too has a method of fitting a substantial amount of goodness in a small space with the release of their 256GB LX Series SDXC class 10 memory card. Featuring an impressive 256GB of storage and boasting this as an "ultra high speed" card for QHD video production and high resolution photos. However, is this just a marketing ploy or does Patriot's high storage, high performance card boast enough performance to make other offerings from competitors bow their heads in defeat?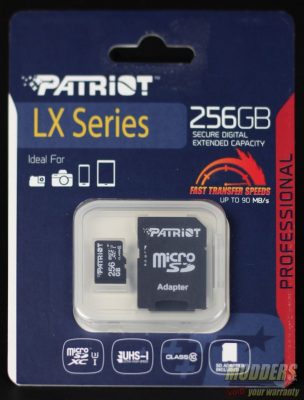 Packing is quite simple, rather than making the consumer cut the SD card out like some ill-gotten tumor, Patriot went with a split cardboard frame, and plastic housing to hold the SD card with its adapter in place.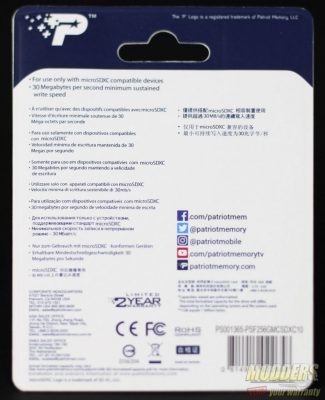 The back of the packaging is mostly compliance certificates, a brief paragraph on the write speed being a minimum of 30 Mb/s in several languages, warranty and social media pages.
Neither the adapter nor the actual card have any distinct markings, just a black form with white text. At the top of the SD card, is the Patriot logo with the specs and class below.
Specifications
| | |
| --- | --- |
| Capacity | 256GB |
| Form Factor | MicroSDXC /SDXC with adapter |
| Weight | 32g |
| Dimensions | 10 x 13.2 x 1 cm |
| Class Rating | Class 10 |
| Warranty | 2 Years |
| Certifications | RoHS, FCC, CE |
| Country of Origin | Taiwan |
| Packing Type | Blister Pack |
| Unit Dimension Width | 1 |
| Unit Dimension Height | 0.1 |
| Unit Dimension Length | 1.5 |
| Unit Weight | 0.02 |
Testing and Benchmarks
For our testing purposes, two different benchmarks were used. ATTO disk benchmark as well as the crowd favorite CrystalDisk. By using these two different benchmarks, we can get a better feel for an average of performance since each benchmark may favor certain features on the media being tested. For testing purposes, the Kingston Mobilelite G4 card reader was used with the SD micro slot used on the reader, and was connected directly to the motherboards I/O panel to cut down on possible interference.
Specifications
| | |
| --- | --- |
| CPU | Intel i7 5960x |
| Memory | 16GB Hyper X DDR4 |
| Motherboard | Asus x99 WS-M |
| SSD | Hyper X 240GB M.2 |
| GPU | EVGA 1080 SC |
| Case | Fractal Design Define C |
| PSU | Silverstone 1200 Watt Strider |
ATTO Disk Results
The test was run three times for the sake of consistency, which resulted in an almost ten to fifteen Mb/s difference between test one and three. Test two and three were much closer with a maximum of 83.3Mb/s write and 96.9Mb/s for the read speeds.
CrystalDisk Mark
On the CrystalDisk benchmark an average of 97Mb/s were recorded on the read and for the write there was a very slight variance of +/- 1mb for an average of 83Mb/s. Overall on CrystalDisk the only major variance was on test two where the write speed on the sequential portion jumped twelve Mb/s. However I was unable to reach the "Up to 90Mb/s transfer" full spectrum that was posted on the packaging for the write, but averaging the 97Mb/s read and 83Mb/s we are left with exactly 90Mb/s as a collected performance. Patriot however was very careful with the "up to" which is better than other competitors that promise certain speeds only to fall short.
Final Thoughts
To most people an SD card is simply just a way to save pictures and movies for their next vacation abroad, however for us in the tech industry, the right card can make or break the quality of your work. From someone that has felt the blight of cheap/budget friendly cards that promised large capacities in exchange for performance, I can greatly appreciate a card that although expensive at $199.99 backs the price up with not only capacity but speed as well.
In preparing for a long flight for an upcoming trip I was able to transfer my Soul Eater season one episodes (4.03Gb) to the Patriot 256gb SD card in under a minute, compared to my standard card which would take closer to five minutes, since I always seems to think to do this at the last minute, the boost in speed is a gift from the silicon gods. In short, despite the premium price being a deterrent for most, for those that are looking for a quality card, that boast speed as well as capacity, I not only recommend the Patriot LX series micro SDXC class 10 256 GB flash card, it gets the Modder's Inc, recommended award.