For sensitive information such as corporate data, Patriot has a new line of Supersonic flash memory drives which deliver high performance and data encryption together in a small package. The new Supersonic Bolt XT offers sequential read performance up to 150MB/s and sequential writes up to 30MB/s and boasts 256-bit AES hardware encryption. The secure USB drive is also complimented by protection on the outside with a ruggedized rubber housing. The secure Supersonic Bolt XT is available in 16GB, 32GB and 64GB variants with the 16GB model having an MSRP of 49.99 USD. The full press release is available below for more information: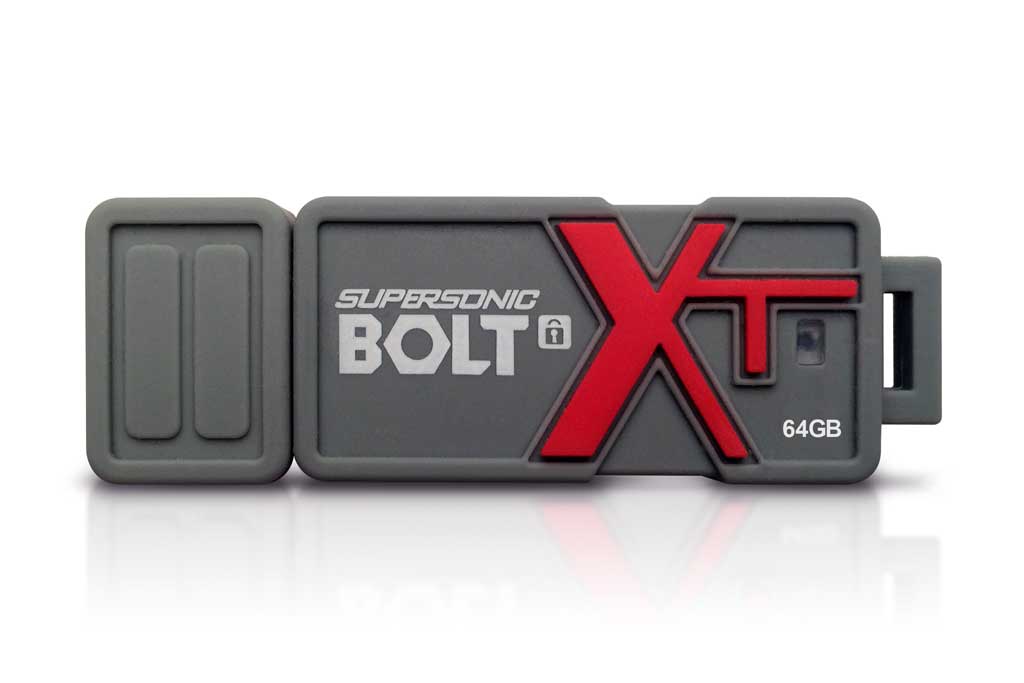 Press Release:
FREMONT, CALIF., USA – November 3rd, 2014 – Patriot, a leader in computer memory, flash storage, and premium mobile accessories announces a leap forward in its Supersonic flash memory family with the launch of Supersonic Bolt XT. Supersonic Bolt brings high performance and hardware encrypted data security together like never before.
In a society with an ever growing need for data security, Patriot's Supersonic Bolt XT offers protection inside and out. Using built in FIPS 197 compliant hardware-based 256-bit AES security, the Supersonic Bolt XT is like having a personal Fort Knox in your pocket. The drive locks down and reformats after 10 consecutive failed password attempts. The security does not stop with the hardware. A ruggedized, rubber housing protects your data from common day drops and bumps.
Lightning fast transfer speeds round out this powerhouse flash drive. With transfer speeds up to 150MB/s, the Supersonic Bolt XT will give you performance needed for accessing and moving large files quickly. A high speed USB 3.0 compatible connection, that is backwards compatible to USB 2.0, provides users with the performance they crave and the security they need. The Supersonic Bolt XT is available in 16GB, 32GB, and 64GB capacities to meet every user's needs.
"Patriot Supersonic Bolt XT offers user superior transfer speeds with security to offer peace of mind," said Meng J. Choo, Product Manager at Patriot. "The rugged housing and 256-bit AES security protects priceless data. The large capacity and fast transfer speeds allow users to take their data with them without having to worry about their security being compromised."
Features
Hi-Speed USB 3.0 Compatible (backwards compatible to USB 2.0)
Up to 150MB/sec Read; Up to 30MB/sec Write
LED Light Indicator
Extremely Secure – drives locks down and reformats after 10 consecutive failed password attempts
256-bit (Advanced Encryption Standard) AES Hardware encryption
The rubberized housing provides a durable and rugged exterior that safeguards the drives from the elements. It is protected from any shock and physical damage as well as water resistant offering protection from various elements.
Compatible with Windows® 8/8.1, Windows® 7, Windows Vista®, Windows XP®, Windows 2000®, Windows® ME, Linux 2.4 and later, Mac® OS9, X and later
Availability
The Supersonic Bolt XT is available now and pricing starts form an MSRP of $49.99 for the 16GB model.
About Patriot
Patriot designs, manufactures and markets high performance, enthusiast memory modules, flash memory, and mobile accessory products. Patriot products have become world renown for their extreme performance, reliability and innovation. Patriot sells its products through original equipment manufacturers, retailers, e-tailers and distributors throughout the world with operations in North America, Asia and Europe. Patriot Memory LLC was founded in 1985 and is headquartered in Fremont, California, USA.
All company and/or product names may be trade names, trademarks and/or registered trademarks of the respective owners with which they are associated. Features, pricing, availability, and specifications are subject to change without notice.