The first PowerColor Devil13 video card was a revamped HD6970 featuring the highest clocks at the time and custom cooling, but PowerColor stepped it further once the Radeon HD7000 series hit the market with their own custom HD 7990 Devil13, a dual-GPU monster first to market from PowerColor until AMD and ASUS released their own versions. This continued to the HD200 series with the Devil13 dual R9 290x and now the Devil13 Dual-core R9 390. The dual-grenada core GPU packs 16GB of memory and is ready for VR and DirectX12 gaming, clocking in at 1000MHz Core and 1350MHz Mem with impressive 15-phase PWM featuring 50A IR PowIRstages for reliable power and overclockability.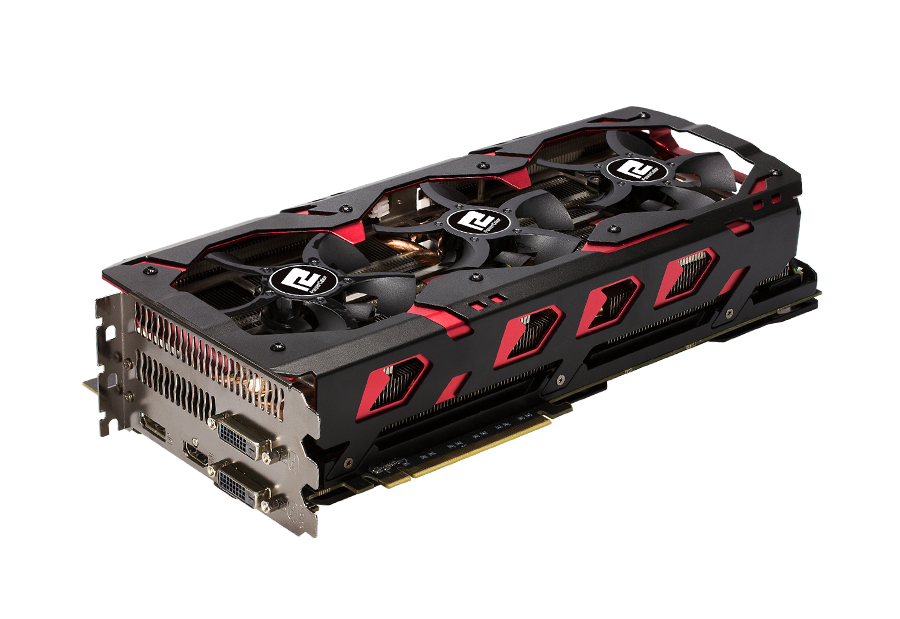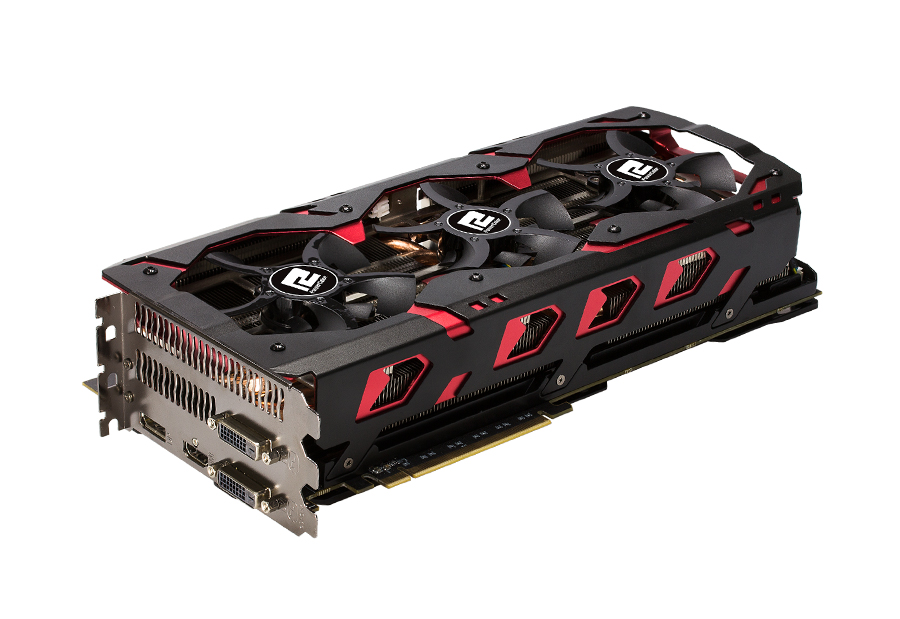 Taipei, Taiwan – September 4th, 2015 – TUL Corporation, a leading and innovative manufacturer of AMD graphic cards since 1997, has proudly announced a new and most powerful graphics card in the world among AMD Radeon R9 390 series. The PowerColor Devil 13 Dual Core R9 390 is packed with dual GRENADA core, designed to tackle the most demanding high end gaming titles on the market. It utilizes 16GB of GDDR5 memory with a core clock speed at 1000 MHz, and 1350 MHz for memory clock speed which is connected via a new high speed 512-bit X2 memory interface.
Platinum Materials, Double Blades Fan Design
PowerColor Devil 13 Dual Core R9 390 is built with carefully-designed Platinum Power Kit and ultra-efficient thermal design. It consists of massive 15-phase power delivery, PowerIRstage, Super Cap and Ferrite Core Choke that provides the stability and reliability for such high-end graphics solution. To support maximum performance and to qualify for the Devil 13 cooling system, 3 Double Blades Fans are attached on top of the enormous surface of aluminum fins heatsink connected with total of 10 pieces of heat pipes and 2 pieces of large die-cast panels. This superb cooling solution achieves a perfect balance between thermal solution and noise reduction. The PowerColor Devil 13 Dual Core R9 390 has the LED backlighting that glows a bright red color, pulsating slowly on the Devil 13 logo.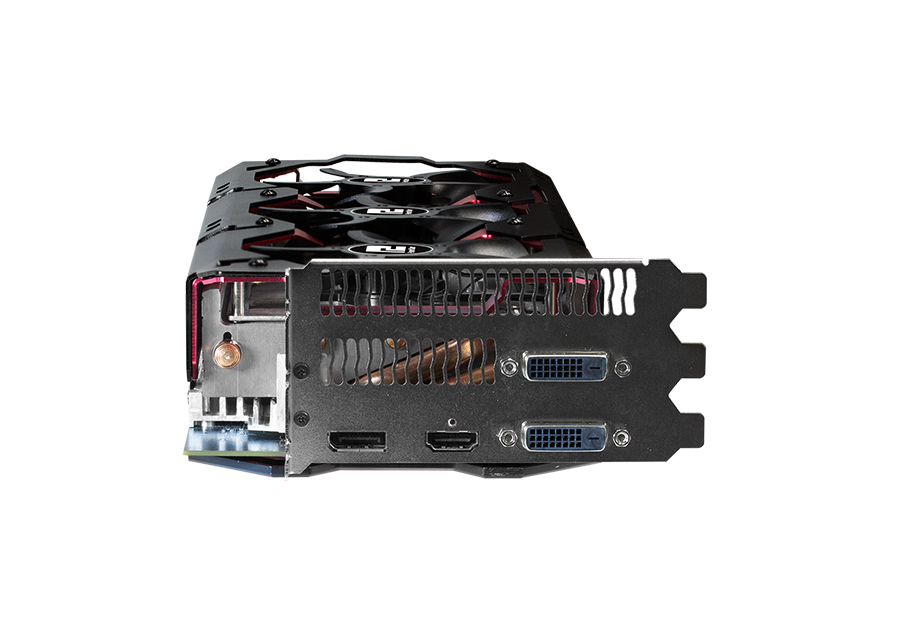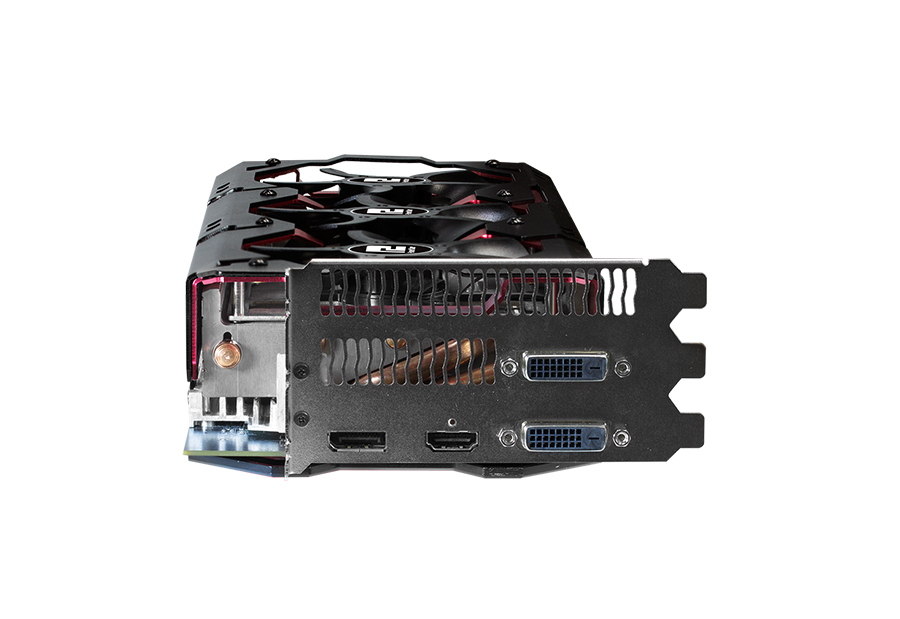 Luxury Packing and Bundling
The Dual BIOS button design allows gamers to pursuit extreme performance in the easiest way to control. Four units of 8 pin PCI-E power connector draws more power offering constant and stable power input. What's more, to honor Devil 13 users, we have included the top-notch gaming mouse, the Razer Ouroboros, as a free gift inside the box. Why? Simply because we strongly believe our Devil 13 users deserves to have the best of the best.
The PowerColor Devil 13 Dual Core R9 390 graphics card supports for AMD LiquidVR™, GCN Architecture, Mantle, Exploit DirectX© 12, AMD CorssFire™, Virtual Super Resolution, HD3D technology, Frame Rate Target Control, and AMD FreeSync™ technologies. Once more, the Devil 13 has risen from Hell and will once again dominate the extreme gaming world with ease.