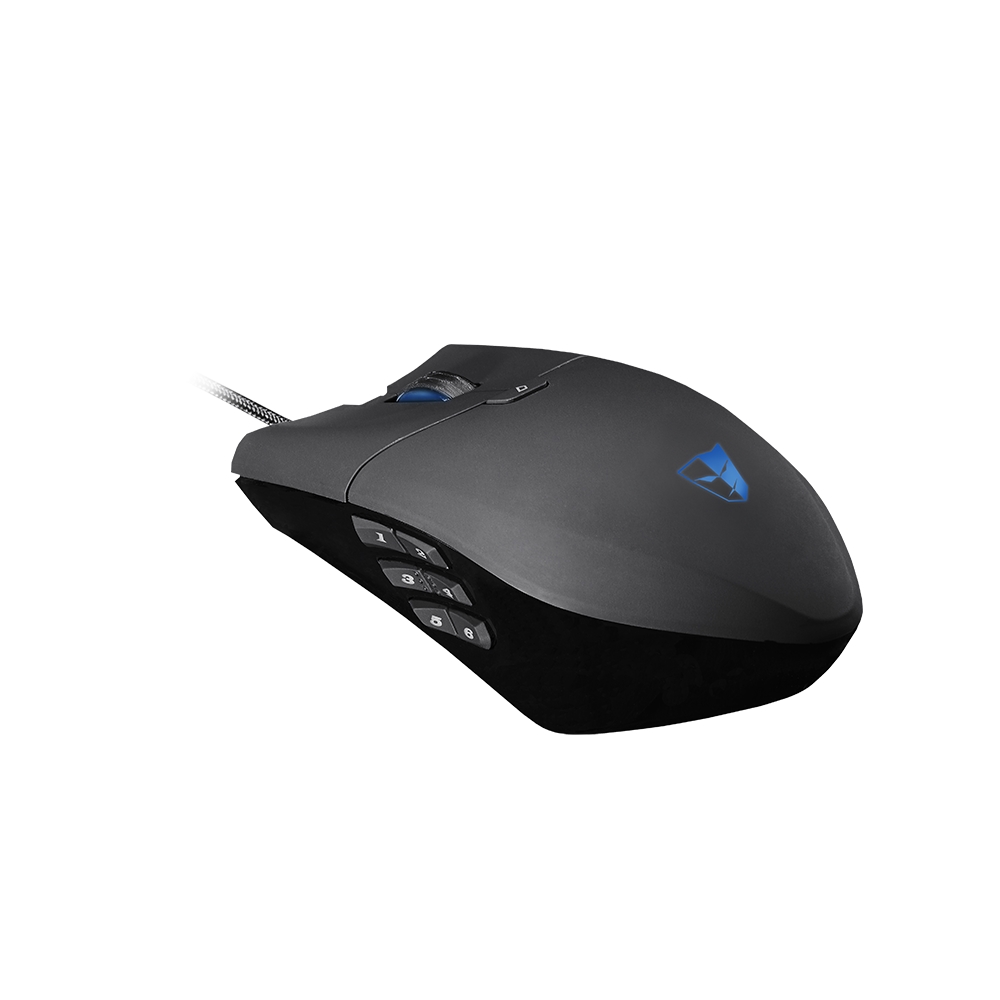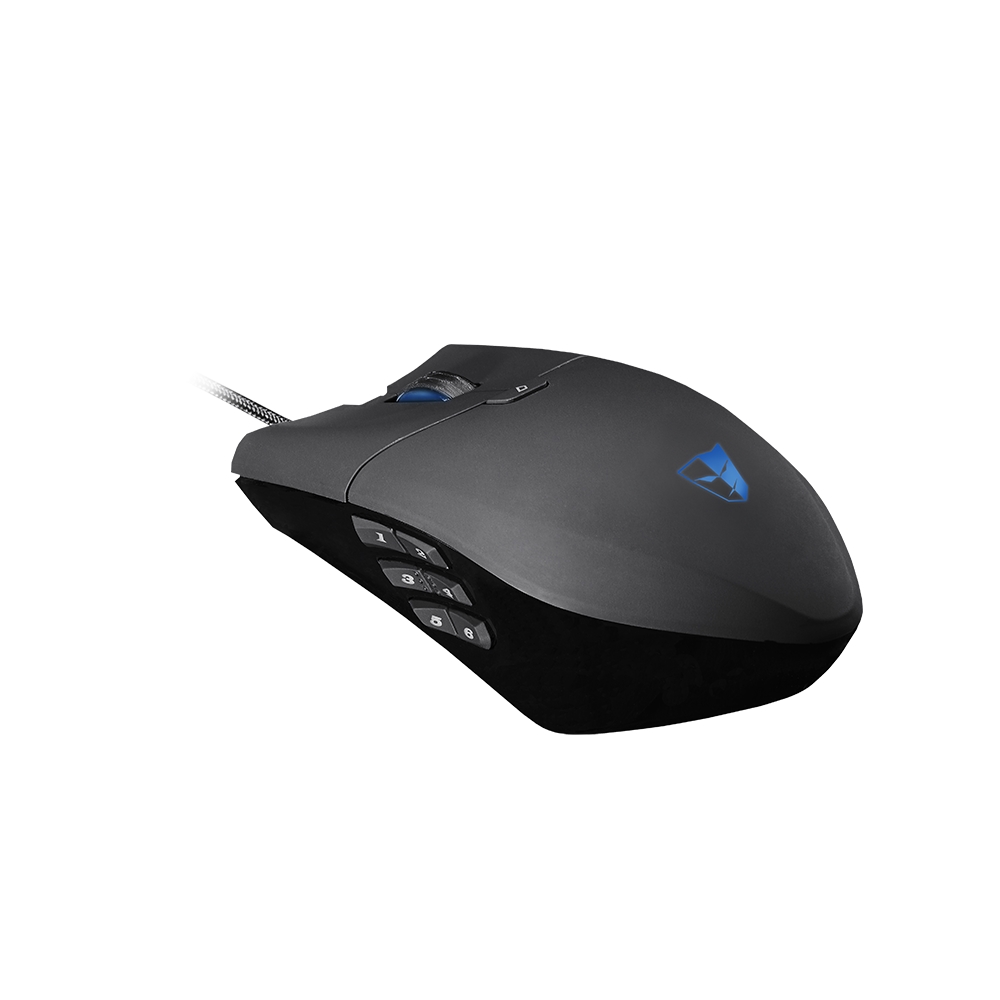 MMO and MOBA enthusiasts who want to keep their APM high and their win-loss ratio great are always looking to get the edge over their opponents so peripheral manufacturer Tesoro has created the new Thyrsus optical mice for exactly this scenario. With six programmable thumb buttons readily accessible, the Thyrsus optical is able to dispense command after command with just one finger. Up to five gaming profiles, 35 macro keys and 1600 recordable actions are available via software so it is completely up to the gamer to use to its full potential. For more information, photos and specification, check out the official press release below:
Tesoro Announces The Thyrsus Optical MMO and MOBA Mouse With 6 Thumb Buttons
Keep a hand on the mouse at all times
Milpitas CA, USA – Tesoro Technology USA Inc., a manufacturer of high-tech gaming peripherals, announces the Thyrsus optical gaming mouse. Named after the staff of Dionysus, the Thyrsus features comfortable, ergonomic design, a high-precision optical sensor, and 6 fully programmable thumb buttons for MMO and MOBA games.
6 Programmable Thumb Buttons for Macro Control
Instead of the ordinary 1 or 2 thumb buttons, the Tesoro Thyrsus has 6 buttons positioned for thumb control, making a total of 10 fully independent and programmable buttons. The 64Kb of onboard memory allows users to configure up to 5 gaming profiles, 35 macro keys and 1600 recordable actions. The Tesoro Thyrsus is easy to control in the new, specifically designed software. Gamers can adjust the DPI, polling rate up to 1000Hz, and the multicolor LED illumination as well as program the 6 thumb buttons.
Comfortable and Confident Control
Omron switch technology gives the Thyrsus added durability, tactile feedback and satisfying clicks. The ergonomic design and rubberized coating on both sides give maximum comfort and grip. Gamers can pick from 6 levels of sensitivity adjustable up to 8200dpi. Accuracy is assured with 150 ips (inches per second) motion detection and 30g acceleration. A braided, 2 meter gold-plated USB cable lends added durability and prevents fraying.
New Tesoro User Interface (UI)
The Thyrsus utilizes Tesoro's new UI which has been redesigned to be more user-friendly. Gamers can easily adjust the DPI, record macros, set profiles, and change the illumination color.
Technical specifications:
10 million click duty cycle Omron switches
6 levels of sensitivity adjustable up to 8200 dpi
64 KB Built-in Memory
6 fully programmable thumb buttons for MMO/MOBA
Total of 10 fully programmable keys
Full speed processor with 1000 Hz polling rate
Customizable multicolor lighting
Soft-touch finished surface
2 meter braided cable with gold plated USB plug
150 ips (Inches per Second) motion detection and 30 g acceleration
New TESORO Thyrsus Software
Model number: TS-H8L
MSRP and Availability
The Tesoro Thyrsus will be available this August in North America for the suggested retail price of $ 69.
Product photos and detailed specs are available at: http://www.tesorotec.com/Thyrsus/
About Tesoro Technology USA Inc.
Established in 2011, Tesoro Technology USA Inc is a team of multinational gaming enthusiasts with over 30 years industry experience with one objective – make ultra-durable products that give the best gaming experience. To achieve this, Tesoro conceptualizes products from the input and feedback from the gaming community, and then builds them using the highest grade components. As a gamers company, Tesoro continues to expand into new horizons and push the limit further with each product unveiling. To learn more visit Tesoro's website: http://www.tesorotec.com.