The £25 Raspberry Pi now has fully open-source drivers for its ARM System on a Chip (SoC) — paving the way for new operating systems like the Risc OS and Bell Labs Plan 9 to be brought to the board.
The Raspberry Pi Foundation on Wednesday released previously closed-source graphics libraries under the open-source BSD 3-Clause license. These graphics libraries allow the board's ARM11 CPU to interact with its VideoCore IV GPU to manipulate 2D and 3D graphics.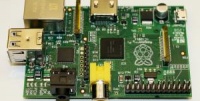 Raspberry Pi primed for new OS after drivers are fully open sourced | ZDNet.