A Closer Look »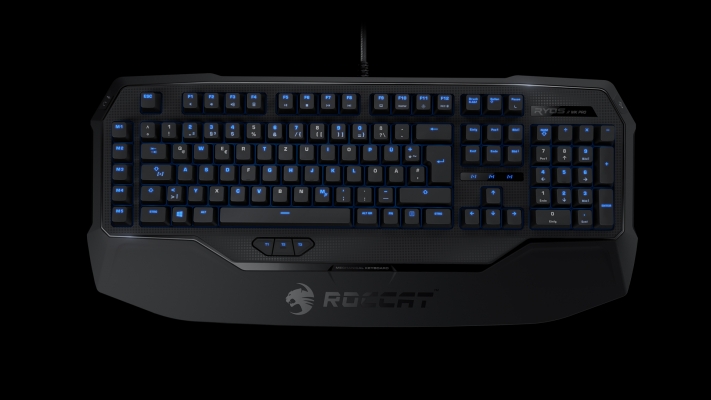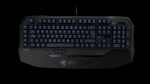 In a world of emerging touchscreen devices, the keyboard is still the main input device for a "traditional" PC. Comfort, ease of use and features; not gimmicks, make up a great keyboard. I know personally I switch out my GPU more than I do my keyboard. I think that I have used the same keyboard on my daily rig for the last four years and within that time I've switched out my graphic card at least four times. So for me at least, when I find something that I really like, I tend to stick to it for a long time. It takes a lot for me to move to a different product.
Roccat (pronounced rocket) is a name that fairly recently has started making their way into the hearts and minds of gamers here in the U.S. Roccat has a large market of peripherals in Europe. I have heard quite a few people say they are the "Razer of Europe" At CES we got an opportunity to sit down with the folks at Roccat and take a look at some of their offerings. The Roccat Ryos MK Pro immediately grabbed our attention. The Ryos MK Pro is a mechanical keyboard that features per-key LED lighting that can be customized as the user sees fit. The keyboard also features dual 32-bit ARM Cortex processors and sports 2MB of flash memory. Dual processors and 2mb of ram coupled together with a wealth of features should make the Ryos MK Pro a force to reckon with.
[sc:sponsor sponsor="Roccat" product_link="http://www.roccat.org/Products/Gaming-Keyboards/ROCCAT-Ryos-MK-Pro/#crb_1″ product_name="Ryos MK Pro Mechanical Keyboard" product_price_link="http://www.newegg.com/Product/Product.aspx?Item=N82E16823436007&cm_re=roccat_ryos_MK_pro-_-23-436-007-_-Product" product_price="169.99″ ]
Technical Specifications
Per-key illuminated mechanical keyboard with 113 keys
Advanced anti-ghosting with N-key rollover
Choice of four CHERRY MX key switches
3 programmable thumbster keys (T1 – T3)
5 programmable macro keys (M1 – M5)
94 other programmable keys
1000 hz polling rate, 1 ms response time
1.8 m rear-exit braided cable
1 x audio in, 1 x audio out, 2 x USB 2.0 ports
Additional Info
Dimensions
23.4 cm X 50.8 cm
System Requirements
Windows® XP/Windows Vista® 32/64-bit/Windows® 7 32/64-bit
Windows® 8 / Windows® 8 Pro
USB 2.0 port
Internet connection for driver installation
In the package
ROCCAT™ Ryos MK Pro
Quick-Installation Guide
Features
PER-KEY ILLUMINATION
insane customization possibilities
EASY-SHIFT[+]™ BECOMES EASY KEYBOARD
assign a secondary function to virtually any key
N-KEY ROLLOVER
means advanced anti-ghosting
HIGH-POWERED HARDWARE
two 32-bit ARM Cortex processors + 2 MB of flash memory
ROCCAT™ ACHIEVEMENTS DISPLAY
keep track of your vital statistics
KEY SWITCHES TO SUIT EVERY GAMER
CHERRY MX key switchs in blue, black, brown, and red
SMUDGE-PROOF GLOSSY LOOK
killer look – with no fingerprints
INTEGRATED MEDIA HUB
audio in/out and two USB 2.0 ports
COMPLETE COMFORT, ROCK SOLID
jumbo-size integrated wrist rest
CLUTTER-FREE, SUPER-STABLE SUPPORT
in-built cable channel and five rubber feet
ROCCAT™ TALK® – SET BONUS
get more out of your ROCCAT™ devices by combining their functions
Roccat Ryos MK Pro First Look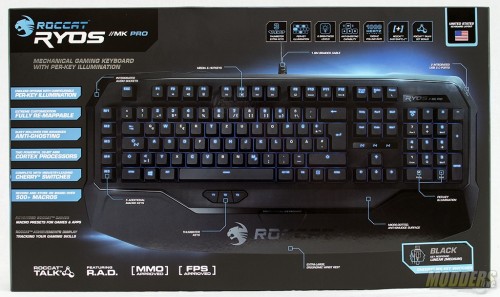 The marketing team at Roccat does a nice job with the packaging. The box details out all the features and specifications of the Ryos MK Pro. The front of the box has a ton of information on the keyboard as well as a nice large graphic of the product.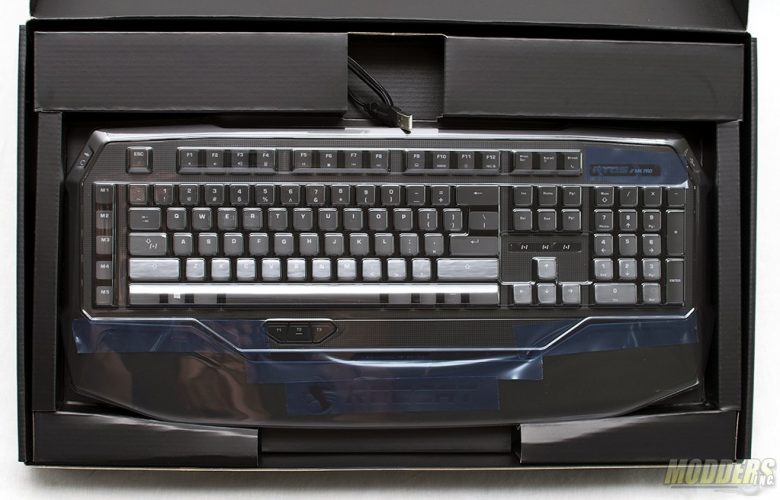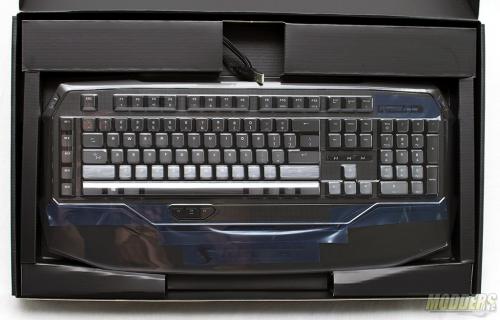 The box is in reality two boxes;  a thin outer shell with the graphics and marketing materials and an inner, thicker box with the keyboard nestled away inside. The Ryos MK Pro is protected from scratches and damage by a hard plastic shell that sits over the keyboard while it sits in the box.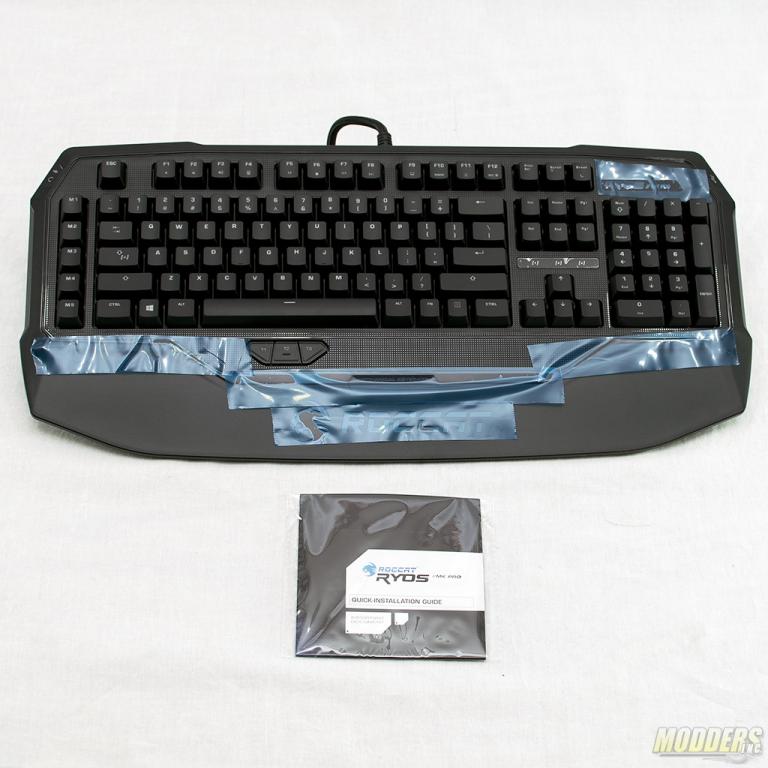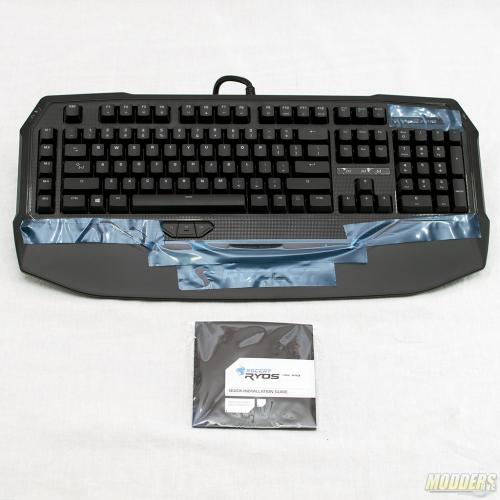 There is not much included in the box other than the keyboard and a quick start guide. Roccat doesn't include a driver CD. A quick trip to the Roccat site is necessary for the Roccat driver and software. To protect the shiny parts of the Ryos MK Pro essentially static cling wrap is applied to those areas.