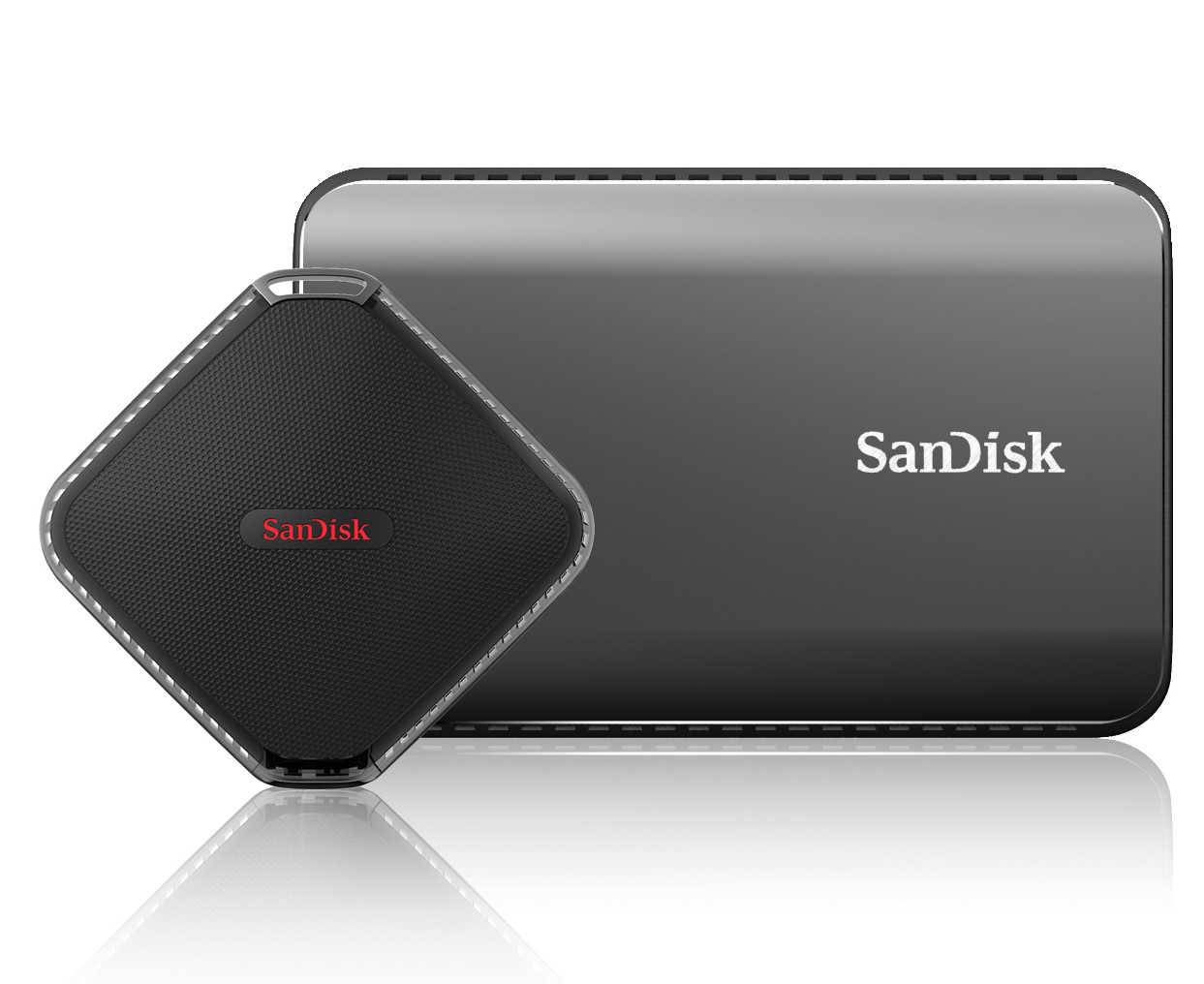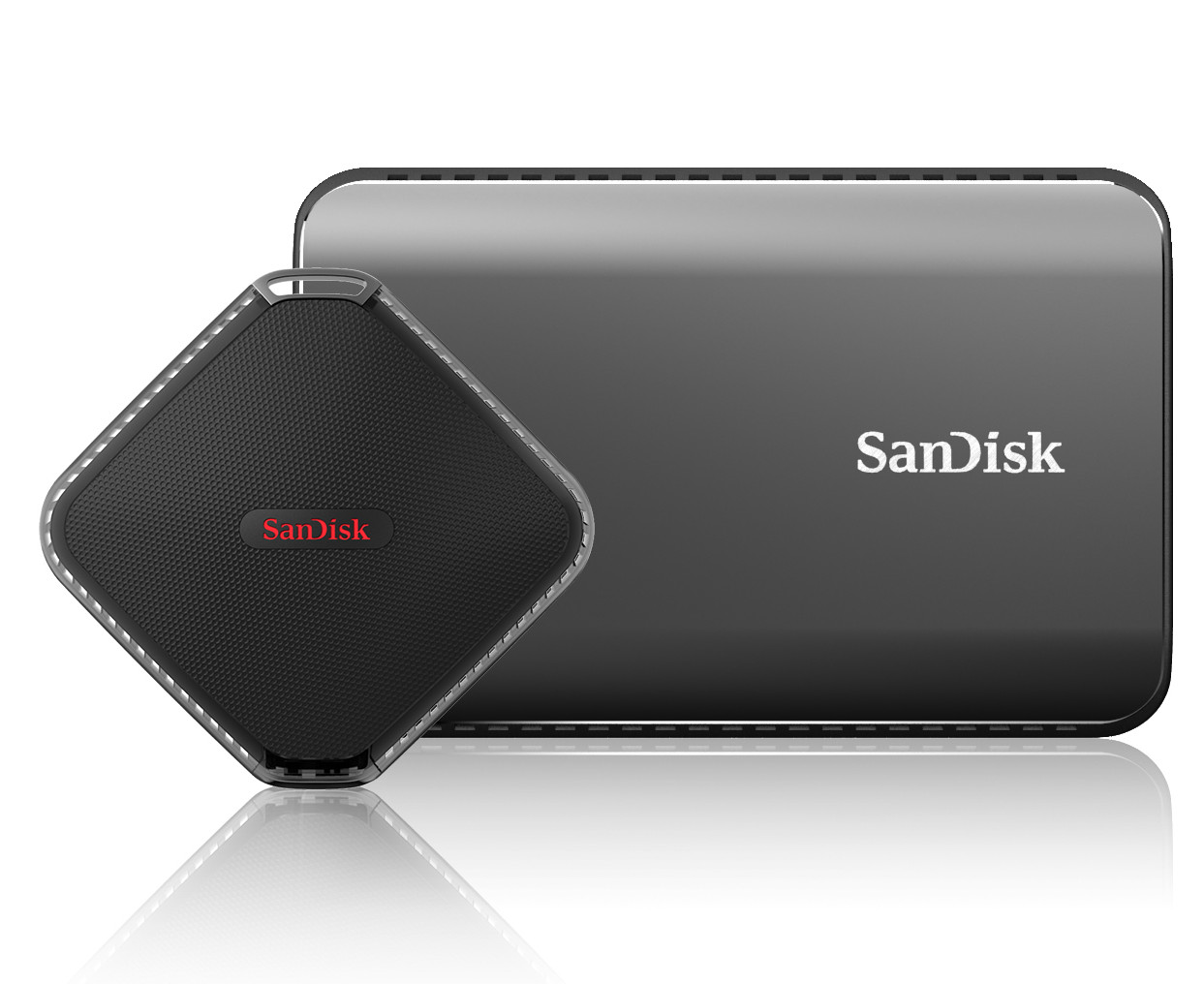 COMPUTEX 2015 — TAIPEI, Taiwan – June 1, 2015 – SanDisk Corporation (NASDAQ: SNDK), a global leader in flash storage solutions, today entered the portable SSD market with a family of high-performance drives, including the SanDisk Extreme® 900 Portable SSDs, the world's fastest line of Type C-based portable SSDs; and the SanDisk Extreme 500 Portable SSDs, the company's new pocket-sized, rugged drives. The SanDisk Extreme 900 drives feature speeds of up to nine times faster than a portable hard drive1, while the SanDisk Extreme 500 drives offer speeds up to four times faster1. These powerful solutions are ideal for photographers, videographers, creative professionals and tech enthusiasts looking to move massive files at phenomenal speeds, helping them save time and simplify work processes at the office or out in the field.
"As a recognized leader in developing solutions for professional photographers and videographers, we designed this game-changing family of offerings to provide our customers with even greater speeds and capacities to keep up with rapidly increasing demands for high-quality content," said Dinesh Bahal, vice president, product marketing, SanDisk. "Whether a professional or amateur, this level of portability, speed and capacity is exceptional, and we believe it will transform the way people create and produce high quality video content—ultimately saving them time and money."
World's Highest-Performing, Next-Generation Portable SSDs
The SanDisk Extreme 900 Portable SSDs are all about performance and capacity. Available in up to 1.92TB*, the new drives features transfer speeds nine times faster than a portable hard drive1, giving users a significant advantage when they are working with 4K video, taking detailed high-res photos or creating large graphics files.
With its compact, durable aluminum case, professionals can take the SanDisk Extreme 900 Portable SSD with them wherever they go, allowing them to carry a massive digital portfolio they can access and share in just seconds. With superfast speeds of up to 850MB/s**, the SanDisk Extreme 900 Portable SSD dramatically reduces wait times, instantly accelerating user work flow regardless of file size. These new drives come with both USB Type-C and Type-A cables to provide the ultimate flexibility when working between systems.
Pocket-sized, Yet Powerful
The SanDisk Extreme 500 Portable SSD is less than half the size of your smartphone and delivers more than four times the speed of a portable hard drive1. The new pocket-sized drive allows users to transfer big videos and photo libraries at up to 415MB/s**. Available in up to 480GB* capacity, this light-weight yet durable drive is a high-performance solution suitable for anyone looking for a fast, reliable storage on the go. Designed for ultimate portability and durability, the SanDisk Extreme 500 Portable SSDs feature a sleek black finish with unique rubber bumpers, and a metal ring that easily clips into a bag.
"We are now shooting with as many as twelve 4K cameras at once, so on set I need the most reliable and cutting-edge technology available to access, share and transfer enormous files. Every minute counts when we are on location, so with these new, extraordinarily fast, portable SSDs from SanDisk, I can spend less time waiting on file transfer, and more time on creativity," said Sam Nicholson, CEO of Stargate Studios and member of the American Society of Cinematographers.
Professional photographers and videographers around the world turn to SanDisk to provide state-of-the art products. These new portable SSDs are built to sustain the most rugged environments, featuring both temperature and impact-resistant materials2, ideal for many work environments. The new family of SanDisk Extreme Portable SSDs also feature SanDisk SecureAccess™ software with 128-bit encryption to secure files3.
Pricing and Availability
The SanDisk Extreme 500 Portable SSDs will be available worldwide in capacities of 120GB, 240GB and 480GB, at MSRPs of $99.99, $149.99 and $239.99 respectively. The SanDisk Extreme 900 SSDs will be available worldwide in capacities of 480GB, 960GB and 1.92TB at MSRPs of $399.99, $599.99 and $999.99, respectively. Both new SSD lines feature a three-year warranty4.
About SanDisk
SanDisk Corporation (NASDAQ: SNDK), SanDisk Corporation (NASDAQ: SNDK), a Fortune 500 and S&P 500 company, is a global leader in flash storage solutions. For more than 25 years, SanDisk has expanded the possibilities of storage, providing trusted and innovative products that have transformed the electronics industry. Today, SanDisk's quality, state-of-the-art solutions are at the heart of many of the world's largest data centers, and embedded in advanced smartphones, tablets and PCs. SanDisk's consumer products are available at hundreds of thousands of retail stores worldwide. For more information, visit www.sandisk.com.
---
1TB=1,000,000,000,000 bytes. 1GB=1,000,000,000 bytes. Actual user storage less.
**Based on internal testing; performance may be lower depending on drive capacity, host device, OS and application. 1MB=1,000,000 bytes.
1 As compared to 500GB portable hard drive based on internal speed performance tests.
2 Shock resistant (up to 800G) and vibration resistant (5.35gRMS, 50-2000 HZ), Temperature (from -200 C to +700)
3 Password protection uses 128-bit AES encryption and is supported by, Mac OS X v10.6+, Windows Vista®, Windows®7 and Windows 8.
© 2015 SanDisk Corporation. All rights reserved. SanDisk and SanDisk Extreme are trademarks of SanDisk Corporation, registered in the United States and other countries. SanDisk SecureAccess is a trademark of SanDisk Corporation.