Perfect, (a) complete in all its parts, (b) full grown, of full age. Named after the Greek word meaning "mature", Teleios is the signature brand of sleeving offered by Mainframe Customs. Introduced to the market in late 2013 stemming from a partnership between Lutro0 Customs (now Mainframe Customs) and E22, it was introduced as the affordable option for high quality sleeving, in a time where quality sleeving went for ten plus dollars for roughly 25ft.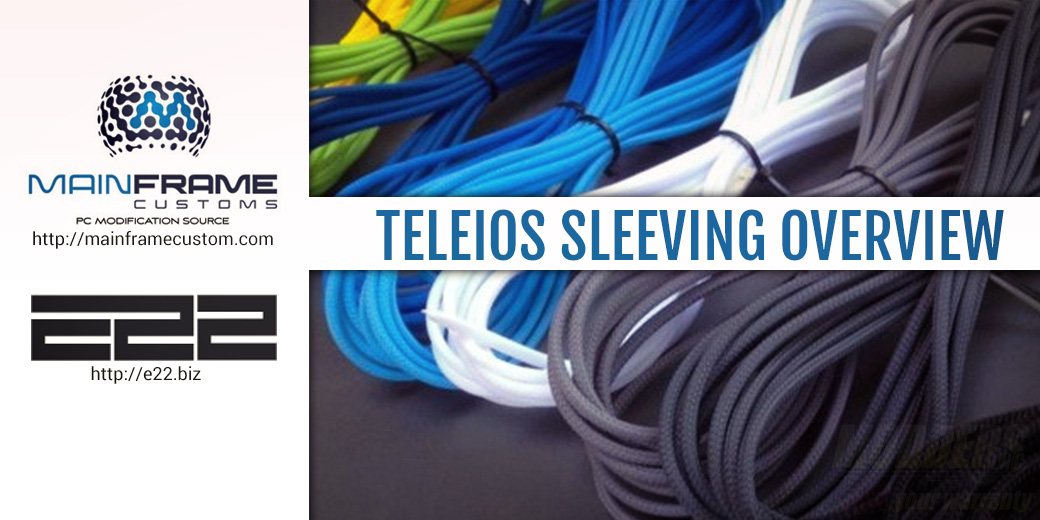 The initial goal of Teleios was to offer a selection of colors to match the colors motherboard vendors used on their boards, such as ROG red, Gigabyte green and Asus light blue. The Teleios line features thirteen solid colors and four fusion colors. The fusion line of sleeving, is an alternating blend of black and another primary color, creating a carbon fiber/Kevlar aesthetic. For those interested in using Teleios but are not sure on the color combination they wish to use for their project, Mainframe offers a sample pack for $2.50 that includes a foot of each color.
Teleios does use a triple weave mono filament design like many other sleeving solutions on the market, but the strands used are much thicker and have a tighter weave. What this translates to, is a much easier sleeve to work with for beginners. The tighter weave which can still be stretched for the more advance users but provides great coverage and is more forgiving on the casual modder, looking to dress their cables.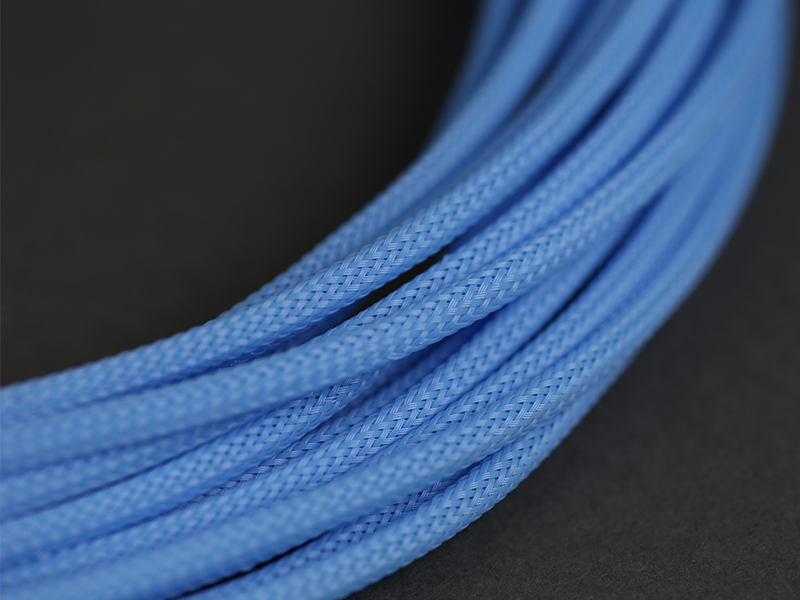 Photo from https://mainframecustom.com/shop/cable-sleeving/lc-teleios-sleeve/lc-teleios-aqua-blue-25ft/
A noticeable feature of Teleios is that the four millimeter weave is round, where other sleeving is flat. This is what allows for the tighter weave and ease of use. While it can be used for heatshrinkless style cables, its tight weave makes using the heatshrink style method rather difficult, as the sleeving is resistant to being compressed by the heatshrink. Keep in mind that the heatshrink method is very rarely used, due to its level of difficulty across all sleeving. One of the strengths of this material is its neutral tolerance to heat, which allows for a controlled melt, and resistance to discoloration and burning.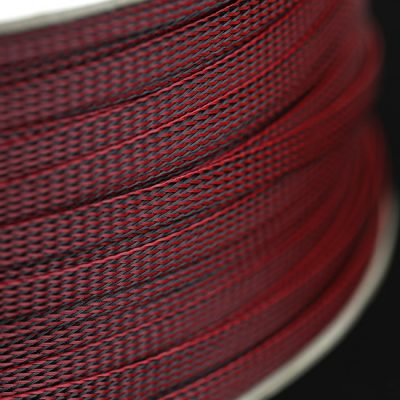 Photo from Mainframe Customs

Teleios also comes in an eight millimeter weave for SATA data cables and other thicker cables. Thirteen solid colors are available in this size and two are available in the fusion line. Unlike the smaller four millimeter sleeving, the eight millimeter sleeving is flat, despite this I am able to stretch the sleeving enough for coverage on a round SATA data cable or front panel USB/audio cable.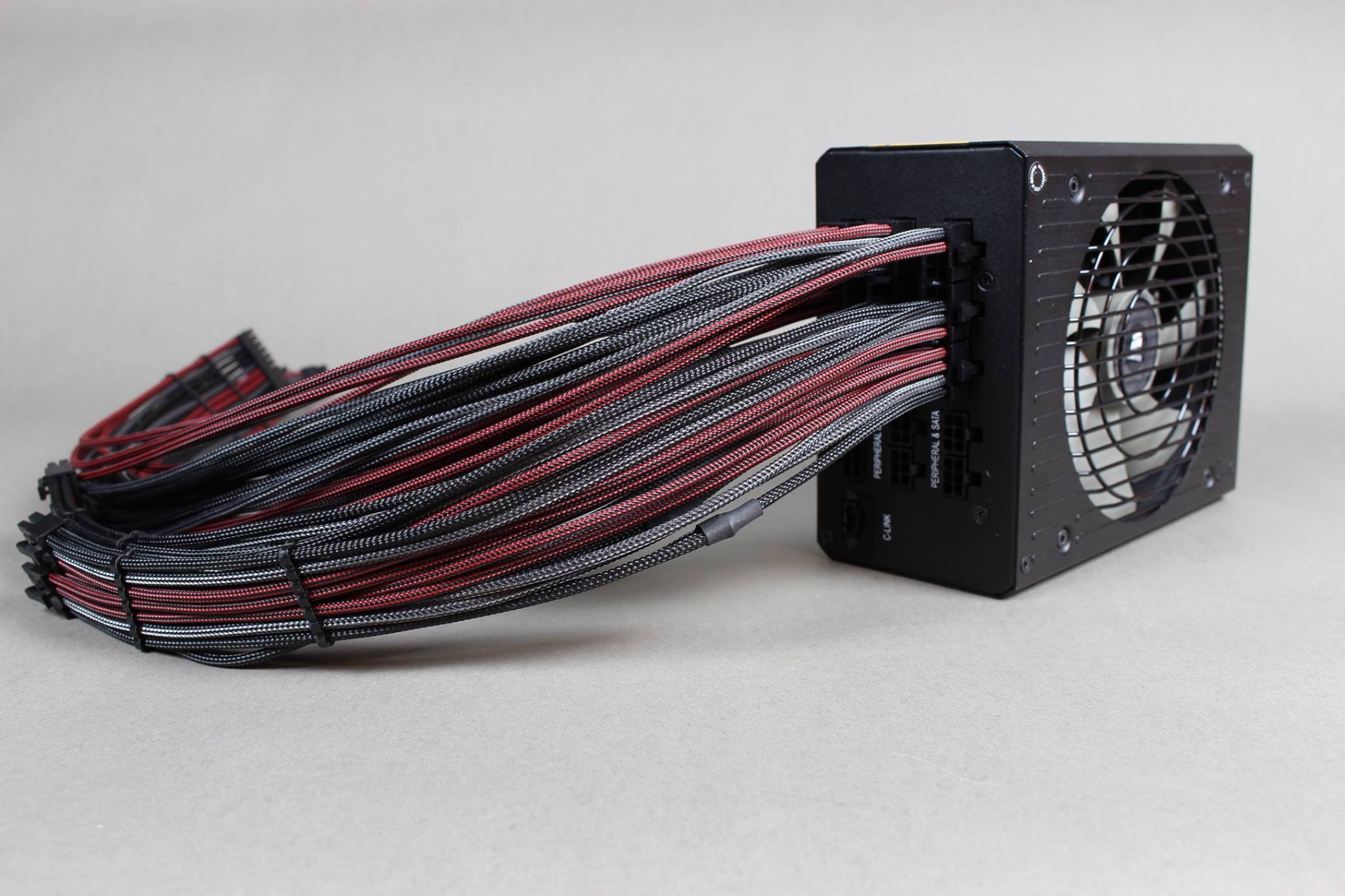 Photo from Sanctum Sleeving
Overall I am extremely pleased with my experience using Teleios, with my only negative mark against it being the limited color selection, which I have been told by the owner of Mainframe Customs, David Miller, that more colors will be available soon. It is a great sleeving material for beginners looking to start advancing their cable management skills and even more advance modders looking to try out a new material.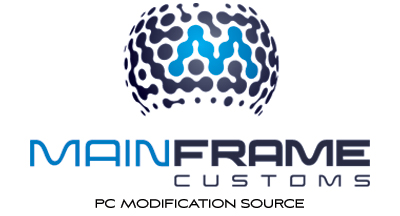 Teleios is available from Mainframecustom.com located in the US, and E22.biz located in the UK.