News and Articles
VIPER GAMING launches Viper VPN100 PCIe M.2 SSD
for the extreme gameplay experience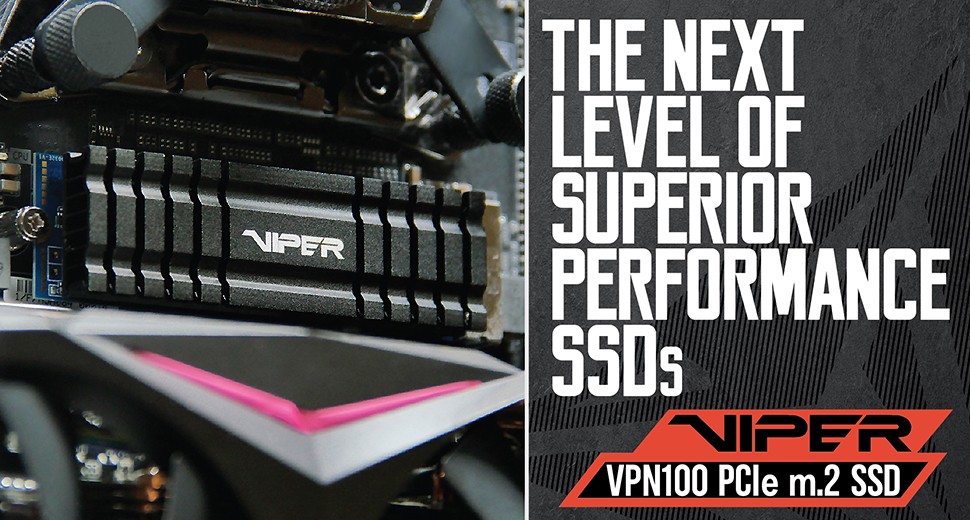 Viper Gaming announces the launch of the Viper VPN100 PCIe M.2 SSD!  
You've got the fastest CPU and GPU!  You have a top of the line Motherboard!  Your case is decked out in the best cooling system money can buy!  But your NVMe just doesn't seem up to the task.  Games take a while to load?  4K video giving you fits?  Too many screens open for your video editing slowing you down?  Well the new Viper VPN100 might just be what you need.  Meet the newest kid on the block!  The Viper VPN100 PCIe M.2 SSP from Viper Gaming!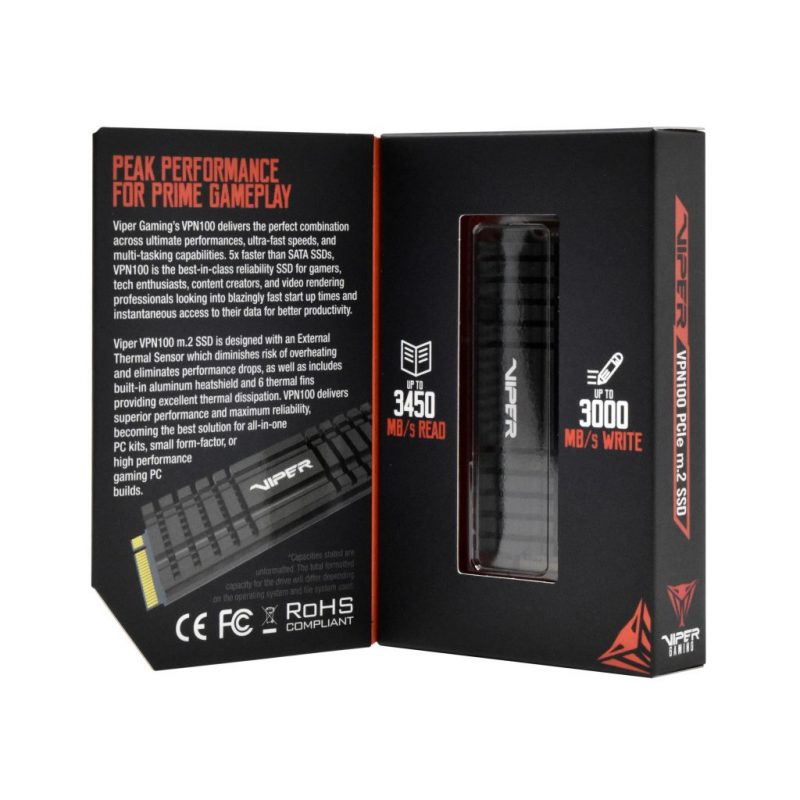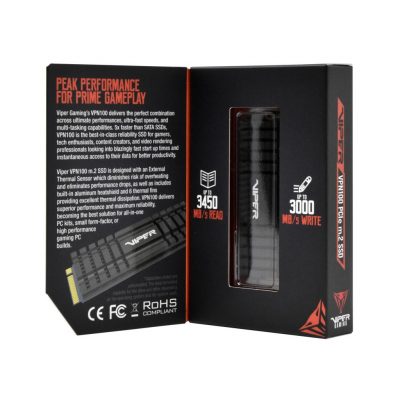 Viper Gaming a division of Patriot is making available the new Viper VPN100 PCIe M.2 SSD with some of the fastest Read/Write speeds in the industry.  The Viper VPN100 is built with the latest Phison E12 PCIe Gen 3 x 4 NVMe Controller.  This means super-fast Read and Write speeds that we have all dreamed about.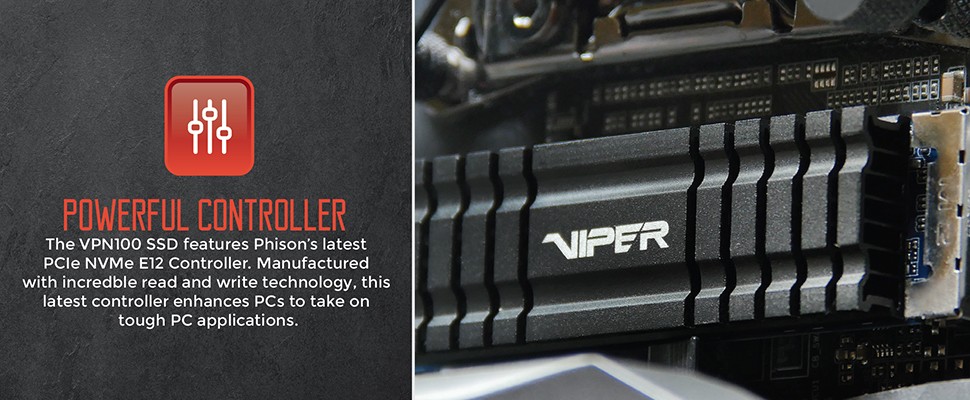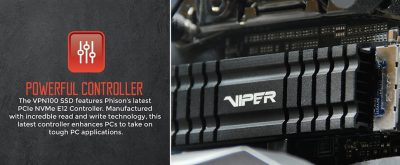 One of the dangers of a super fast NVMe is heat.  The Viper VPN100 features a 6-fin aluminum heatshield.  Viper Gaming is the only one in the industry that has this feature to date. Viper Gaming claims the VPN100 is 5 times faster than a traditional SATA SSD.  With such speeds comes heat.  With heat comes death, usually.  The VPN100 also has a built-in Thermal Sensor
This sensor monitors internal temperatures and prevents overheating of the VPN100.
Multitasking, Hardcore Gaming, Intense Video Editing!  All should be no problem for the Viper Gaming Viper VPN100 PCIe M.2 SSD!  Available in 4 sizes and price ranges, there is a VPN100 that meets your storage needs and fits your wallet.  Check out the entire press release below and look for the VPN100 to be on shelves soon!
VIPER GAMING launches Viper VPN100 PCIe M.2 SSD for the extreme gameplay experience
Ultra-fast transfer speeds, multi-tasking capabilities, and outstanding reliability for delivering excellent gaming experience for PC enthusiasts.
FREMONT, CA — March 27th, 2019— VIPER GAMING, a trademarked brand of PATRIOT and a global leader in performance memory, solid state drives and flash storage solutions, today announced the release of its ultra-performance Viper VPN100 PCIe m.2 SSD (Solid State Drive) and has available capacities up to 2TB. The VPN100 is built using the latest Phison E12 PCIe Gen 3 x 4 NVMe controller to generate super-fast sequential Read and Write speeds. The VPN100 has been developed with a built-in aluminum heatshield with 6 single thermal fins to provide splendid heat dissipation under fierce PC workload.
The quality build GPU and CPU are needed to get the most from a modern gaming PC. While the latest games are putting a significant demand for storage, a faster SSD indeed ensures smooth gameplay and faster data transfer. Read and Write speeds are critical metrics for computer performances, especially when directly booting up to a 4k video editing workload. The VPN100 delivers the perfect combination across ultimate performances, ultra-fast speeds, and enhanced multi-tasking capabilities.  Blasting transfer speeds allow gamers to access their games and get back into the game much faster while accelerating the overall responsiveness of your system. 5 times faster than traditional SATA SSD speeds, the VPN100 is a top-of-the-line reliability SSD for hardcore gamers, PC enthusiasts, content creators, and video rendering professionals who are looking into blazingly fast startup times and instantaneous access for better productivity.
Traditional NVMe SSDs have a performance restriction to maintain a workable operating thermal condition which can limit Read and Write data transfer speeds. To address this, the VPN100 M.2 SSD is designed with an External Thermal Sensor to monitor internal temperatures and prevent the risk of overheating. Aiming to decrease performance drops, VPN100 features a built-in aluminum heatshield with 6 thermal fins for providing excellent thermal dissipation under any heavy loads. The VPN100 is equipped with superior performance and maximum reliability, becoming the best solution for the all-in-one PC kits and high-performance gaming PC builds.
Viper VPN100 delivers exceptional sequential Read and Write performance with up to 3,450 MB/s Read speed (for 1TB model) and 3,000MB/s Write speed. The drive also provides up to 600K random-read and random-write IOPs (for 1TB model) for massive throughput, such as 4K Aligned Random Read and Writes optimize the SSD for multi-threaded and data-intensive applications when the system is accessing multiple applications at once and even loading game data.
Backed by VIPER GAMING's 3-year warranty, the VPN100 delivers one of the most reliable choices in performance class SSDs.
Pricing and Availability
Viper VPN100 PCIe M.2 SSD is expected to be available at major retailers for a suggested retail price of $79.99(256GB). $137.99(512GB). $244.99(1TB). $499.99(2TB).
For more product information:
Product images and data sheet download:
About VIPER GAMING
VIPER GAMING is a trademarked brand of PATRIOT, a global leader in performance memory, SSD and flash storage solutions. Established in 2007 with the unveiling of the well-known, top-tier line of computer memory. Since then, the VIPER GAMING has become synonymous with elite performance and reliability among gamers worldwide. In 2015, VIPER GAMING decided to expand its product categories to include gaming keyboards, headsets, and mice. Offering entry, mid-level and high-end solutions with rich feature sets, VIPER GAMING award-winning peripherals provide gamers everywhere the best price-for-performance and reliability that enables gamers to dominate in their sport.
 About PATRIOT 
PATRIOT is a leading manufacturer of high performance, enthusiast memory modules, SSDs, flash storage, gaming peripherals, and mobile accessories. Founded in 1985 and headquartered in Fremont, CA, USA, PATRIOT is committed to technology innovation, customer satisfaction and providing the best price for performance on the market. PATRIOT products have become world renown for their extreme performance, reliability, and innovation. PATRIOT sells its products through original equipment manufacturers, retailers, e-tailers and distributors throughout the world with operations in North America, South America, Asia, and Europe. All company and/or product names may be trade names, trademarks and/or registered trademarks of the respective owners with which they are associated. Features, pricing, availability, and specifications are subject to change without notice.
Follow us
Facebook: https://www.facebook.com/vipergamingpatriot
Twitter: https://twitter.com/patriot_viper
Instagram: https://www.instagram.com/patriot_viper
YouTube: https://www.youtube.com/patriotviper