Article Pages:
Page 2 »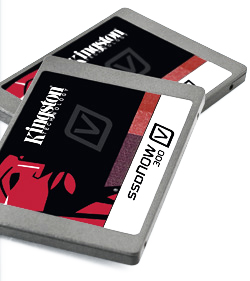 Upgrading to a Solid State Disk or SSD is one of the best performance enhancing upgrades that one can do to their PC. SSDs allow almost instant access to the stored data thanks to extremely low access times as well as high transfer rates. Essentially an SSD uses a similar technology that is used in USB flash drives. This technology combined with an onboard controller allows the SDD to act as a hard drive. As cost per gigabyte continues to decline, the market will see cheaper and higher capacity SSDs become available. Initially when SSDs were released on the market the cost placed them out of reach for the average consumer. Now a 120GB SSD can be purchased for around $100.00 USD.
Review Sample Provided by: Kingston
Product Name/Link to Website: SSDNow V300
Product was given in exchange for work done to produce this review.
Specifications of the Kingston SSDNow V300 240G
Form factor:  2.5″ Interface: SATA Rev. 3.0 (6Gb/s) – with backwards compatibility to SATA Rev. 2.0
Capacities1: 60GB, 120GB, 240GB
Sequential Reads2: SATA Rev. 3.0 up to: 450MB/s
Sequential Writes2: SATA Rev. 3.0 up to: 450MB/s
Maximum Random 4k Read/Write2: 60GB — up to 85,000/ up to 60,000 IOPS 120GB — up to 85,000 / up to 55,000 IOPS 240GB — up to 85,000 / up to 43,000 IOPS
PCMARK® Vantage HDD Suite Score: 60GB: 39,000 120GB: 49,000 240GB: 57,000
Power Consumption: 0.640W Idle / 1.423 W Read / 2.052 W Write
Storage temperatures: -40 to 85°C Operating temperatures: 0 to 70°C
Dimensions: 69.8mm x 100.1mm x 7mm
Weight: 86g
Vibration operating: 2.17G Peak (7–800Hz) Vibration non-operating: 20G Peak (10–2000Hz)
Life expectancy: 1 million hours MTBF
Warranty/support: three-year warranty with free technical support
Total Bytes Written (TBW): 60GB: 32TB 120GB: 64TB 240GB: 128TB
Features
Fast — 10x faster than a 7200RPM hard drive
High Quality — features an LSI® SandForce® controller customized for Kingston
Reliable — with no moving parts, solid-state drives are less likely to fail than standard hard drives
Economical — design optimized to make migrating to an SSD more affordable
Convenient — all-in-one kits with all the components for easy installation
Multiple capacities — to fit your workload
Guaranteed — three-year warranty, free technical support and legendary Kingston reliability