« Page 3
Testing & Conclusion
To test the Kingston SSDNow V300 240G Upgrade Kit I used ATTO disk benchmark and CrystalDisk Mark. These two programs give a pretty good indication of level of performance one can expect.
Testing Methodology:
| | |
| --- | --- |
| CPU | Intel Core i7 3770K @ 3.5GHz  |
| Cooler | Thermaltake Water 2.0 Pro |
| Motherboard | Gigabyte GA-Z77X-UD3H |
| Memory | Kingston HyperX KHX1600 12 GB Kit |
| Hard Drive | Primary: OCZ Agility 3 120 GB SSD Secondary: Kingston SSDNow V300 240 GB SSD |
| Case | Thermaltake Level 10 GT |
| GPU | Zotac GeForce GTX 650 TI Boost |
 Here are the results and the Kingston SSDNow V300 240G Upgrade Kit doesn't fail to impress. The ATTO benchmark shows a maximum read speed of about 517 MB/s and a write speed of 541 MB/s. CrystalDisk Mark's result in a sequential read speed of 495 MB/s and a write speed of 493. The 512K Block read and write speeds are 438 and 471. Both tests show the major advantages of SSDs.
However, I want to caution you on our results. The machine that I use to test on is not a PC that I use on a daily basis. The hardware is hand selected to give the best results within a specified budget. When you test your hardware you may not be able to replicate my results exactly but they should come close.

SSD drives have been around for a few years now and they are here to stay. The technology behind the drives is getting cheaper and cheaper and the reduction in costs are passed down to the consumer. The cost per gigabyte continues to fall. A few years ago a 60 GB SSD was well over $300.00 today a 120 GB SSD can be found at various retailers for around $ 100.00. The Kingston SSDNow V300 240G Upgrade Kit can be found online for as low as $200.00.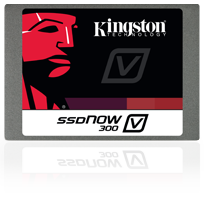 SSDs main advantage over traditional mechanical drives is data transfer speed. Mechanical drives are limited in speed by the mechanical components housed within the drive casing. SSDs are limited by the type and speed of the chips used in the build. Other advantages of SSDs include lower power consumption, shock resistance, reduction in noise and heat, as there are no moving parts. Windows 7 & 8 both support Trim which is a wear leveling algorithm to extend the life of the drives. Capacities are on the rise and prices are dropping and a SSD is a great way to breathe some new life into aging hardware.