Storage Devices
ADATA XPG SX8200 PRO 512GB NVMe SSD Review
Best Performance at Affordable Price
« Benchmarking
Final Thoughts
If you are looking for Enterprise level performance out of your storage then this is probably the best you can do without spending thousands of dollars. The ADATA XPG SX8200 PRO is an NVMe 1.3 based SSD that offers amazing read and write speeds. While having standard M.2 2280 form factor SX8200 PRO is packed with performance and new generation of 3D NAND Flash that helps to achieve higher capacity, durability, and efficiency. Judging by our benchmarks the SSD has great sustainability whether the drive is barely utilized or nearly full. In the benchmarks, we came pretty close to advertised sequential read speed (3.4GBps) and sequential write speed (2.3GBps).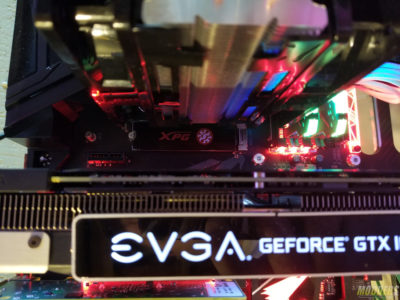 This SSD is specifically designed to offer gamers, enthusiast, and overclockers the best of the best in NVMe storage. Right now, ADATA XPG SX8200 PRO 512GB retails for $ 114.95 USD. The price is a little bit higher than some of the NVMe but it's very much worth the extra boost in reading and especially in write operations. The 256 GB version will run you about $ 75 USD and 1Tb version of SX8200 PRO is about $ 215 USD.
I highly recommend the ADATA XPG SX8200 PRO for any enthusiast or a gamer. Buy it, you won't be disappointed!