Storage Devices
AMD StoreMI Tiered Storage Review
Server Tested, Gamer Approved
« Introduction
|
Performance and Conclusion »
Our StoreMI setup will be using a Samsung 860 EVO 250GB m.2 SATA SSD, and pairing it with a Western Digital 2TB Blue 7,200rpm hard drive.  At the time of writing, the Samsung SSD is $83, while the 2TB WD Blue is $61 for a total of $144, compared to the $450 asking price of a 2TB SATA SSD.  The Test Bench is a Gigabyte X470 Aorus Gaming 7 WIFI paired with a Ryzen 5 2600 and 8GB of DDR4-3000 memory. I'm also using a 250GB Western Digital Blue m.2 nVME drive to test SSD and StoreMI performance, as this should prevent any potential bottlenecks during testing.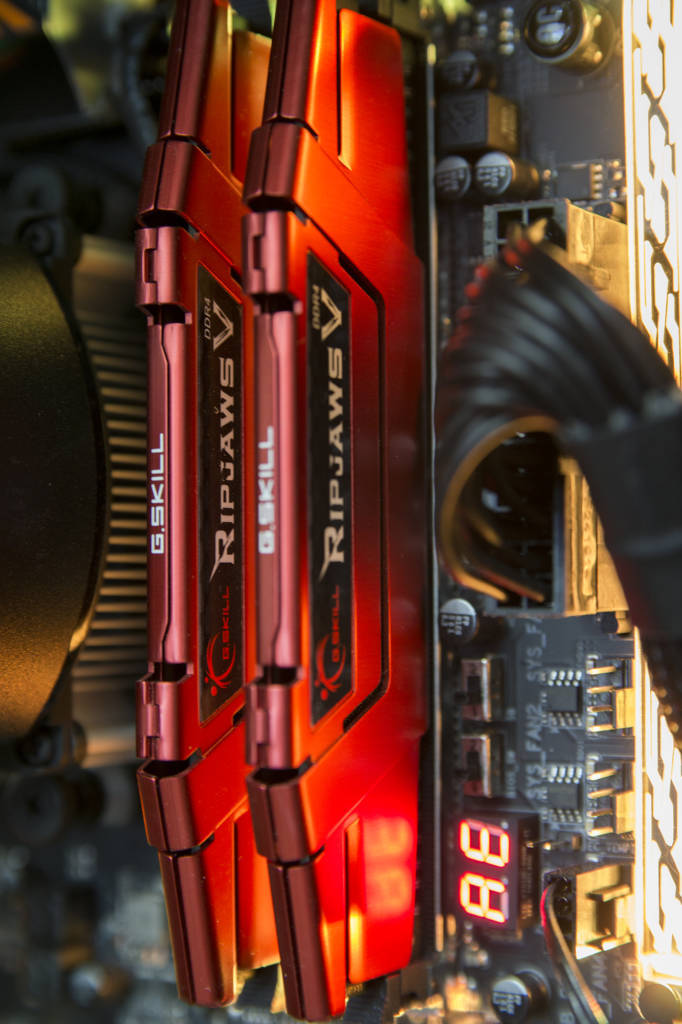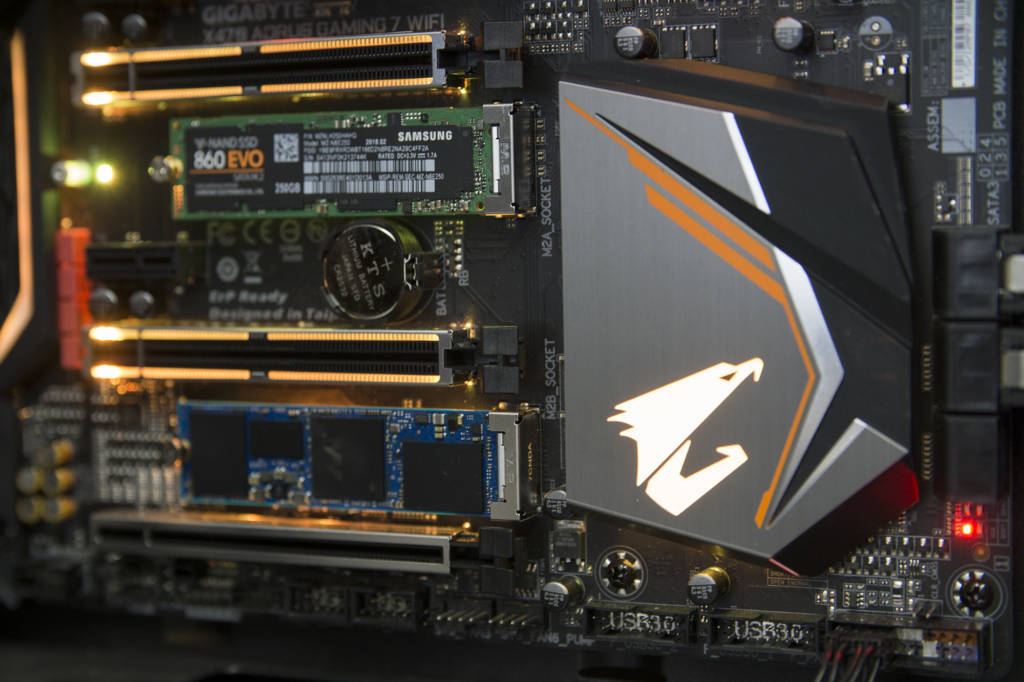 StoreMI has many different configurations and potential uses.  You can configure a StoreMI virtual volume as either the bootable drive, or as secondary high-speed storage.  This is particularly useful if you prefer to have a smaller nVME boot drive, then a StoreMI volume with a SATA SSD and Hard Drive.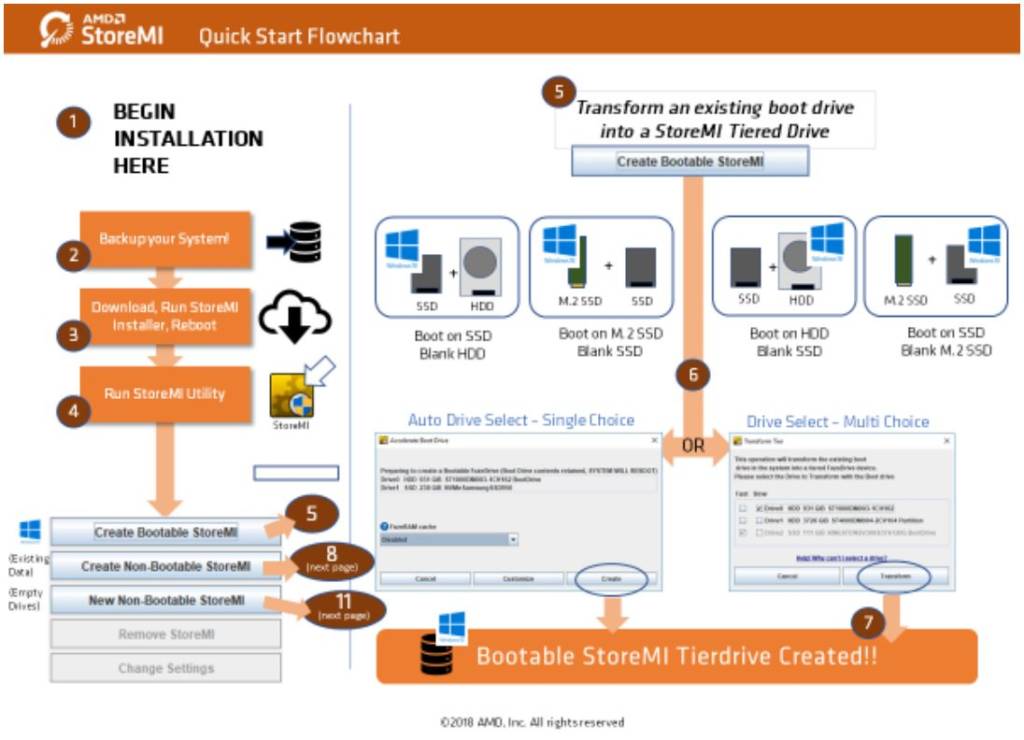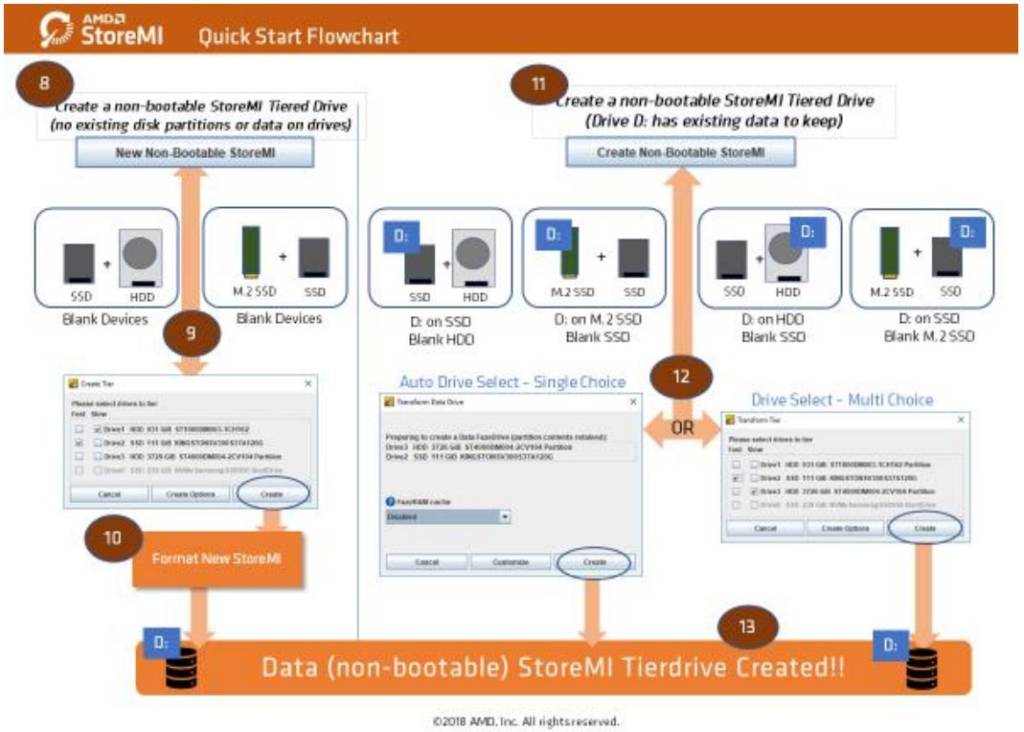 In this case, I'm testing StoreMI as a boot drive.  I've performed a clean install of Windows 10 1803 onto the 860 Evo SSD, ran baseline numbers on both the 860 Evo and WD Blue Hard Drive, then mated them together and tested again.
Installation was very straightforward.  It is a good idea before getting started with StoreMI to backup your system, as all boot and partition information is being moved around to for the new virtual storage drive.  Once you have a backup, install and launch StoreMI, and select the type of drive you'd like to create. In my case, I'm creating a bootable volume. Select the drives that will be added to the StoreMI volume, then sit back and let the installer do its thing.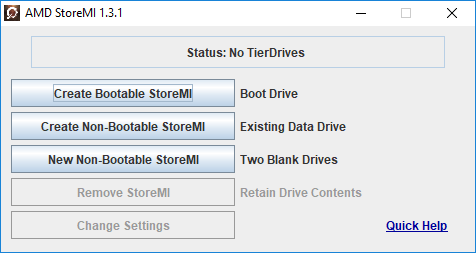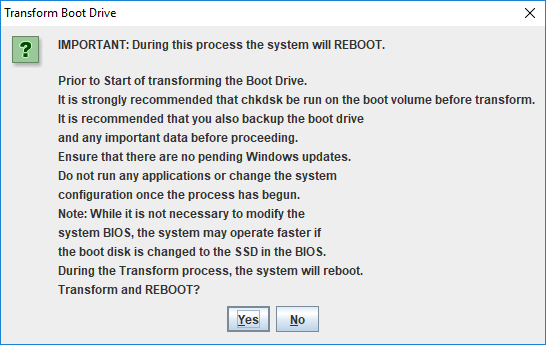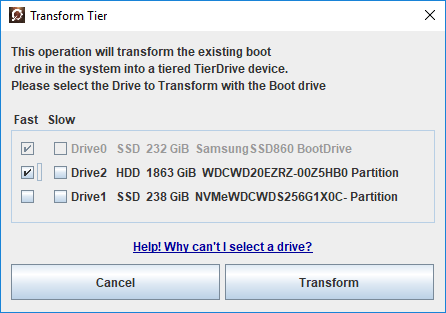 Your system will reboot a couple times, and should eventually launch an EFI Bootloader with the AMD StoreMI logo.  Windows will then boot up, and you're good to start using your new and improved system.
As the whole point of setting up a StoreMI volume is to increase the access speed to a large mechanical drive, the following tests were ran on the Western Digital 2TB, and again on the StoreMI drive.  What we're looking for is improvements to general drive speeds, but at a price nearly everyone can afford for their systems. Now traditionally, we would run a complete suite of benchmarks to determine improvements from one drive configuration to another.  The problem is those tests are not going to yield real-world results in this situation.
StoreMI is a hybrid storage system, but unlike others we've seen before, it arranges your data in a tiered system, rather than just having your SSD serve as a data cache.  It is a distinct, yet important difference, as StoreMI is aiming to improve your system use as a whole by intelligently storing your most used files on the faster SSD. Cache-based hybrid solutions writes the file you're accessing at that moment onto the SSD, and then back onto the slower drive when you're done.  This takes time, can result in large files seeing little to no improvement in read speeds, and increases the write-cycles to your drives, potentially shortening their lifespans.
As such, rather than raw performance numbers, which would likely only show live data from the SSD-portion of the volume, I'm going to focus on real-world performance gains over using just a hard drive for your mass storage.