Keyboards
Aorus Thunder K7 Mechanical Gaming Keyboard Review
Article Pages:
A Closer Look at the Aorus Thunder K7 »
What do you look for in a keyboard? Do you look for items such as mechanical switches, dedicated macro keys, and LED backlighting? Do you want silent keys or loud keys? There are plenty of keyboards on the market with more features than you can shake a stick at. Some are useful, while others are gimmicky. The Aorus Thunder K7 Gaming keyboard is looking to make a mark on the current keyboard market. This is the top end keyboard from Aorus and features a simplistic design, per key adjustable LED lighting, and a modular ten-key pad. Do these features make the Thunder K7 stand out from the rest of the crowd?
Review Sample Provided by: Aorus
Product Name/Link to Website: Aorus Thunder K7 Mechanical Gaming Keyboard
Product was given in exchange for work done to produce this review.
The keyboard arrived in a surprisingly large package. Aorus took the time to layout the information on the box very carefully and it is presented tactfully. The packaging shows the keyboard on the front and goes into more details about the features of the Thunder K7 on the back.
After removing the outer shell, another box houses the Aorus Thunder K7. The keyboard and accessories are protected from damage by a semi-rigid compartmentalized plastic shell on the front and a thick closed cell foam pad in the back. Each individual part of the keyboard is wrapped in a plastic bag for further protection against scuffs and scratches.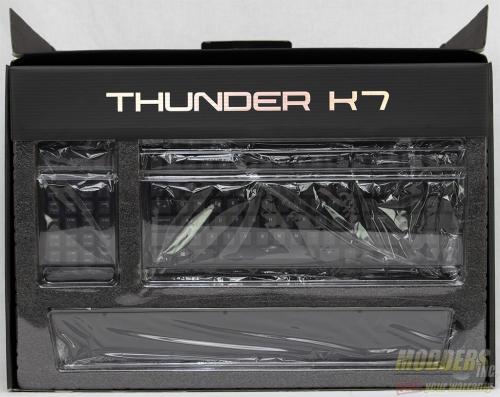 The contents of the package include: Aorus ten-key modular macro keypad, USB 2.0 cable for the keypad, the Aorus Thunder K7, wrist rest and the users guide. Software is not included in this bundle, but can be downloaded from the Aorus website here.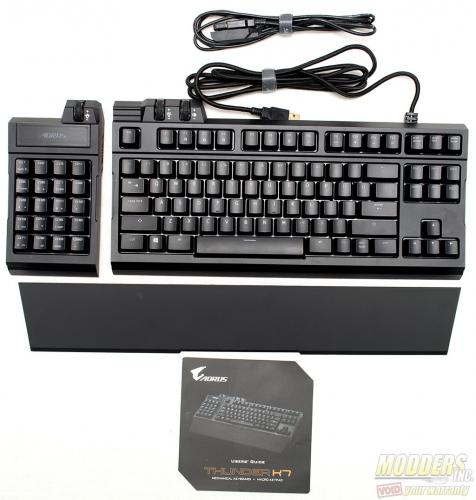 Specifications
Activation
Cherry MX Red Mechanical Switch
Switch Life
50 million times
Key Profile
Standard
Travel Distance
4mm to the bottom
Activation Distance
2mm to actuation point
Peak Force
45g
Weight
1500g ± 10%
Dimension
454(L)*257(W)*45(H)mm
Cable Length
OS Support

Windows XP/Vista/Windows 7/Windows 8

Certificate
Color