Keyboards
CM Storm QuickFire XT Mechanical Keyboard
Article Pages:
Page 2 »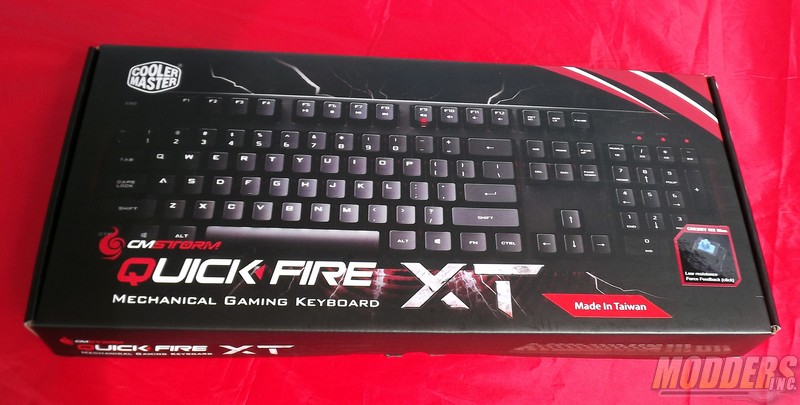 Cooler Master is taking the gaming scene by Storm. With its successful CM Storm series of products they are raining down on the gaming peripheral competition. This review takes a look at the Cooler Master CM Storm QuickFire XT Mechanical Keyboard.
Review Sample Provided by: Cooler Master - CM Storm
Product Name/Link to Website: CM Storm QuickFire XT SGK-4030
Product was given in exchange for work done to produce this review.
CM Storm ships this keyboard in a familiar CM Storm series style and class of box. Nestled in a thick strong box, a life size keyboard graphic sits on the top with the CM Storm markings and very little "splash" and effects. A small sticker with the mechanical key type is placed on the top of the box showing the keyboard switches are Cherry MC Blue stating Low resistance Force Feedback.

The front edging contains title and keyboard shot.

The right side of the box States CM Storm TACTICS with the Strength, Security and Control symbols.

On the left side we see the title, compatibility tags, stocking bar code and product ID SGK-4030-GKCL-US.

Along the back edge of the box has the message Mechanical Gaming Keyboard ~ QuickFire XT for more information, please visit our website in 21 languages.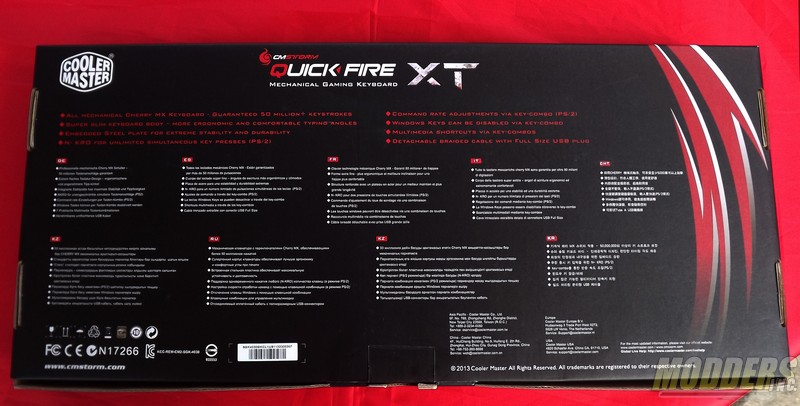 And finally the bottom that describes the features in English and 20 other languages. You can pretty much say that Cooler Master covered all the bases with the information presented on the box.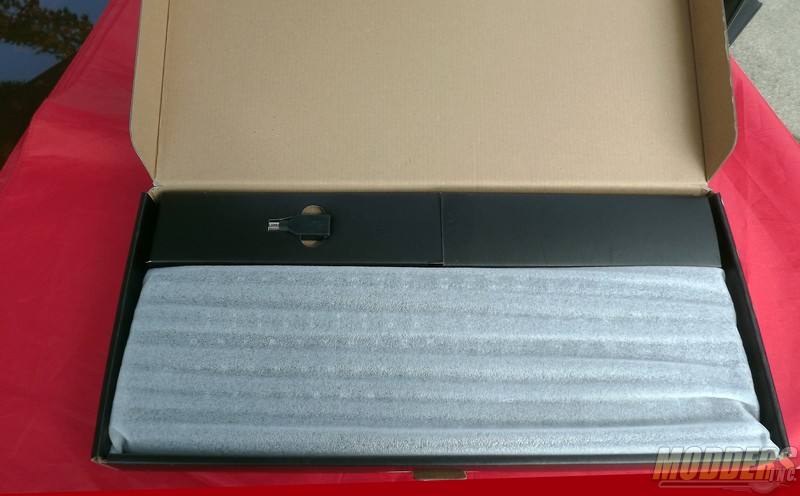 When you open the box your presented with a carefully wrapped product, the legacy adapter from USB to PS/2 and boxed accessory enclosures.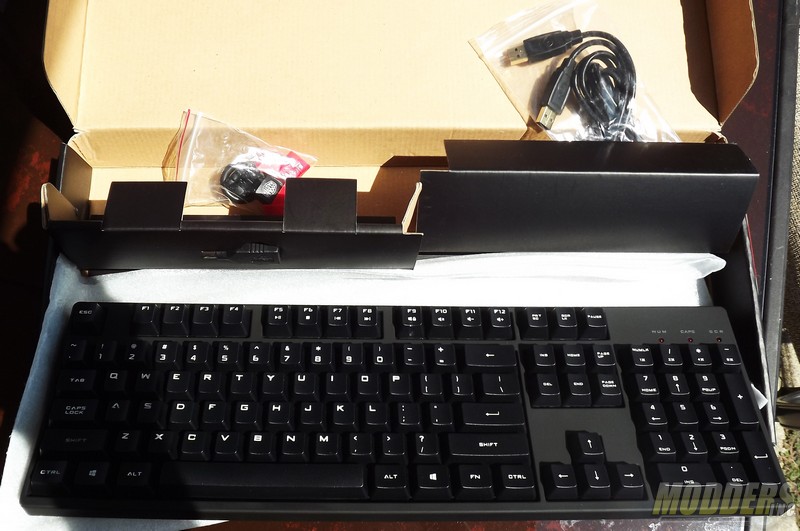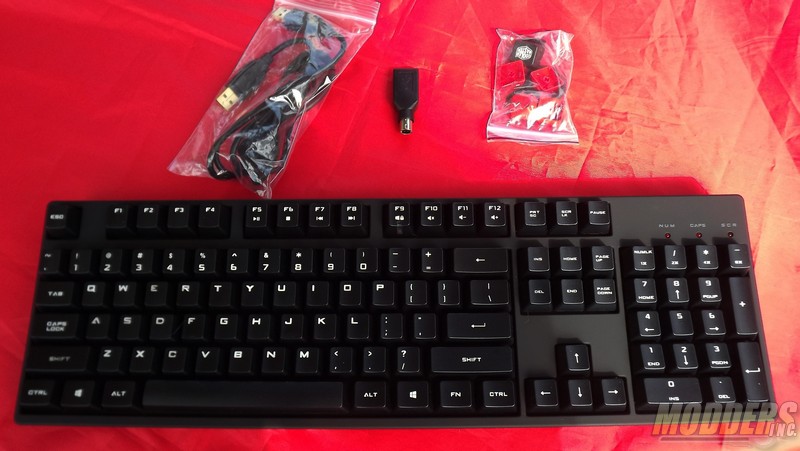 Here we see everything that is included in the box. The accessories included are the detachable braided cord, USB adapter. a bag of key caps and tool ; which we'll examine in detail in a moment.
CM Storm QuickFire XT Keyboard
Braided detachable USB cable
USB to PS/2 adapter
Keycap puller
Extra Keycaps
Quick Start Guide (not included in this sample)
Features:
Mechanical CHERRY MX keyboard ~ Guaranteed 50 million + keystrokes
Super slim keyboard body ~ More ergonomic and comfortable typing angles
Embedded steel plate for extreme stability and durability
N-KRO for unlimited simultaneous key presses (PS/2)
Command rate adjustments via key-combo (PS/2)
Windows keys can be disabled via key-combo
Multimedia shortcuts via key-combos
Detachable braided cable with full size USB plug
Model
SGK-4030-GKCL1-US (Blue Switch)
SGK-4030-GKCR1-US (Red Switch)
SGK-4030-GKCM1-US (Brown Switch)
SGK-4030-GKCG1-US (Green Switch)
Key Switch
CHERRY MX Blue / Red / Brown / Green
Back Plate
Black:
SGK-4030-GKCL1-US (Blue Switch)
SGK-4030-GKCM1-US (Brown Switch)
SGK-4030-GKCG1-US (Green Switch)Red:
SGK-4030-GKCR1-US (Red Switch)
N key Rollover
N key in PS/2 mode
Repeat Rate
4 levels (PS/2 mode only)
Interface
USB / PS2
Windows Key Disable
Yes, both sides
Media Keys
Yes (via F keys)
Extra Keys
6 pcs
Keycap Puller
Yes
USB Cable
Removable, USB A connector
Dimension
17.3(L)x5.2(W)x1.1(H) inch
440(L)x132(W)x29(H) mm
Weight
2.43 lbs / 1100 g
Warranty
2 years
UPC Code
884102021404 – Blue Switch
884102021411 – Red Switch
884102021299 – Brown Switch
884102022180 – Green Switch