« A Closer Look at the ASRock AB350 Gaming K4 Motherboard
|
System Benchmarks (CPU, Memory, Compression, Multimedia) »
Bundled Software
ASRock App Shop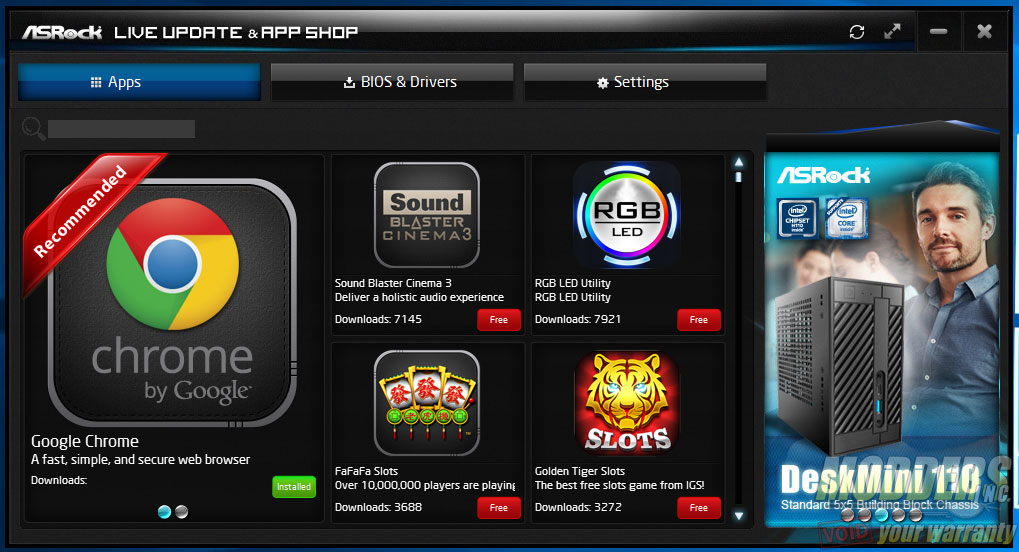 Taking design cues from mobile products, ASRock's AppShop is laid out in tile form with different free and extra apps associated with the AB350 Gaming K4 motherboard listed. The AppShop also doubles as a live update utility, keeping the installed applications up to date or keeps the user aware that an update is available for download. The program can be set to launch on startup so that updates can be checked before doing anything. It has plenty of ads and other sponsored software however such as slot games and even has banners for ASRock products. It just does not feel right when you buy a product and you are still getting these ads as if its a trial-software. There's a tackiness to it that leaves a bad taste. The software itself is otherwise easy to use and functional.
RGB LED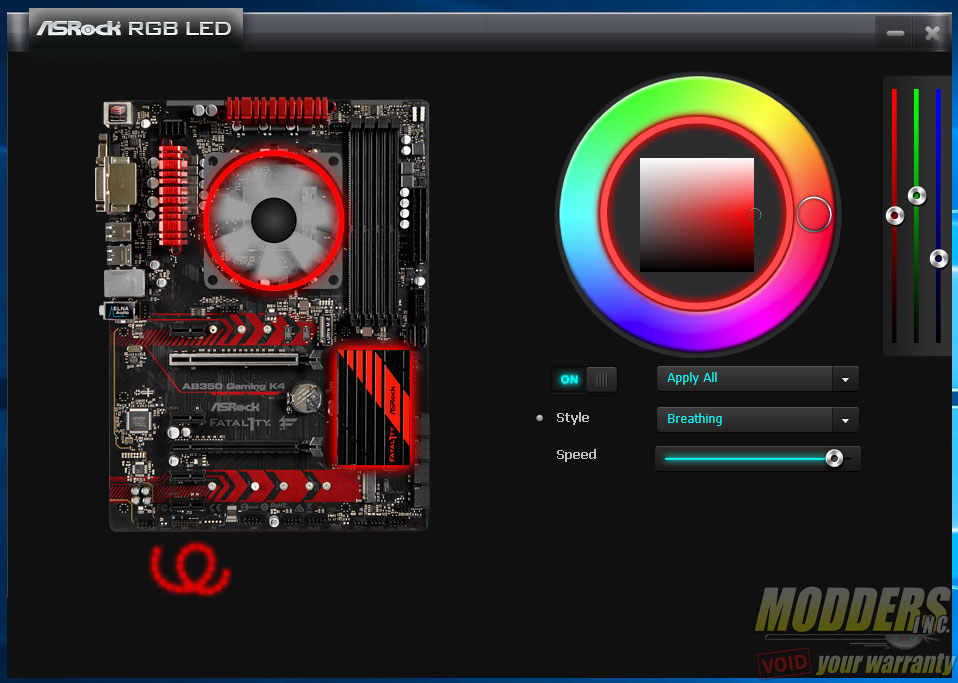 The RGB LED software is a dedicated application designed to control all on-board RGB LED functions. This includes application of various styles, selection of color, adjustment of speed etc. Similarly, there is an option in the UEFI as well under Tools in case the user does not want to install the desktop software. Users can also choose to disable the LED if they choose to do so.
Restart to UEFI
This is simple program for restarting to UEFI, useful for users with powerful CPUs and SSD that make it difficult to enter the UEFI despite mashing the delete key on start up.
ASRock KeyMaster
The ASRock KeyMaster is an essential tool for gamers, allowing for greater control via SniperKey and expanded functionality via customizable Macros. It also allows users to adjust the speed and tailor the settings depending on their requirements.
SoundBlaster Cinema 3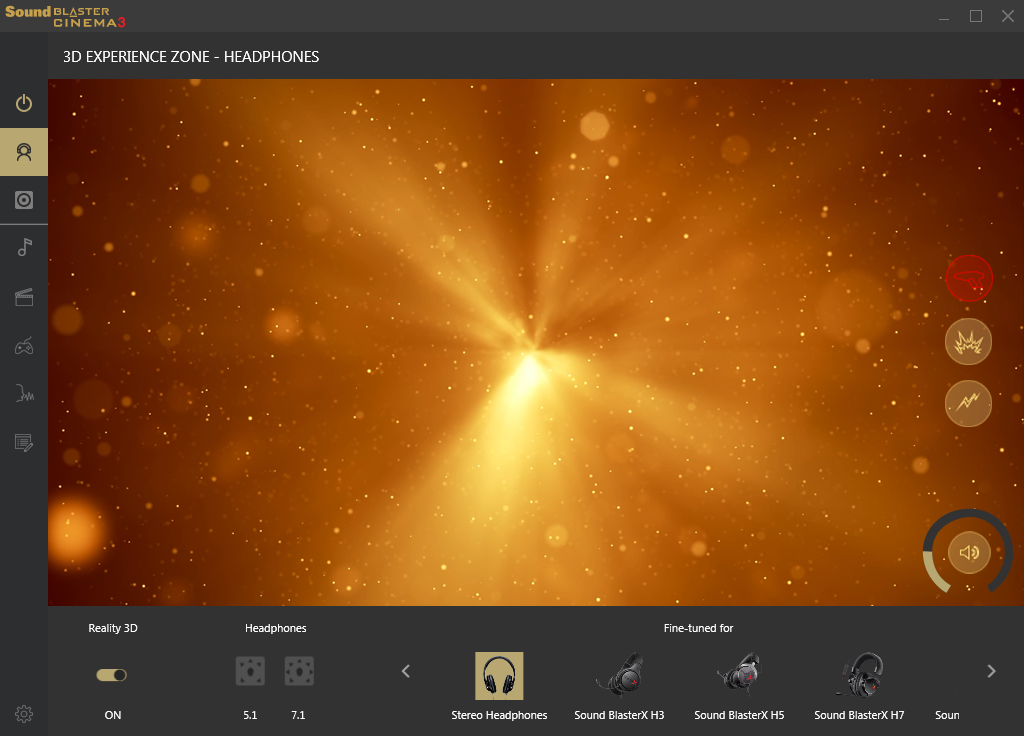 Sound Blaster Cinema 3 is a software suite of audio technologies, which provide much more depth via enhancements to on-board audio solutions. Users can customize the experience via presets, simulate 3D on stereo headphones and calibrate how the audio is processed for gaming, video or music.
F-Stream Utility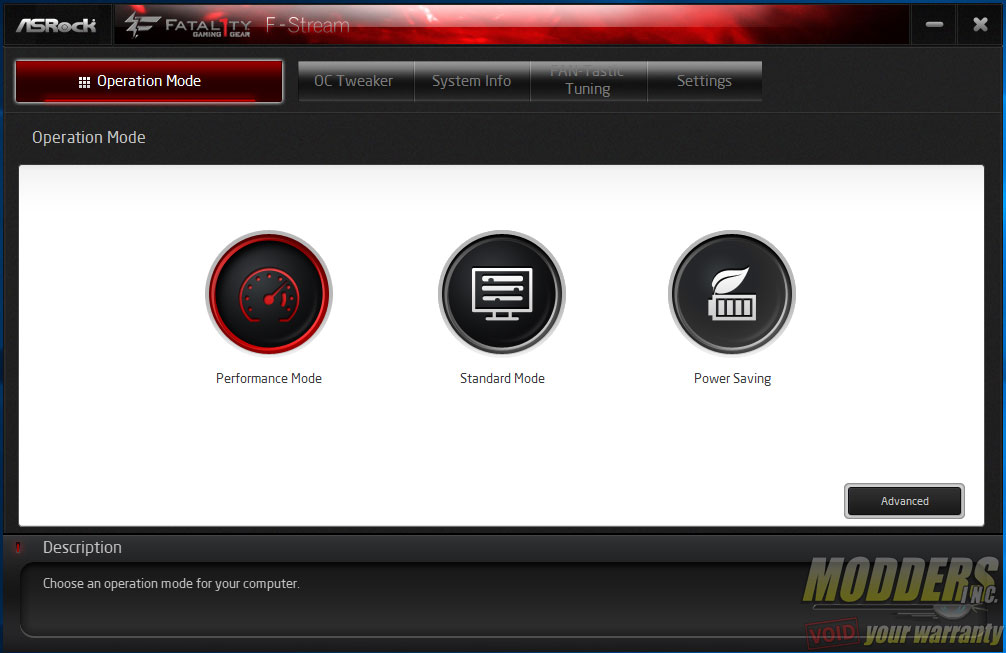 ASRock's F-Stream utility is an all-in-one suite that provides many features from the UEFI available while in a Windows desktop such as overclocking, voltage control, etc. but the F-Stream utility is able to provide more options through its set of tools bundled. The main window is the Operation Mode which is basically three pre-sets for quickly adjusting power-saving features and Windows performance mode with a single click.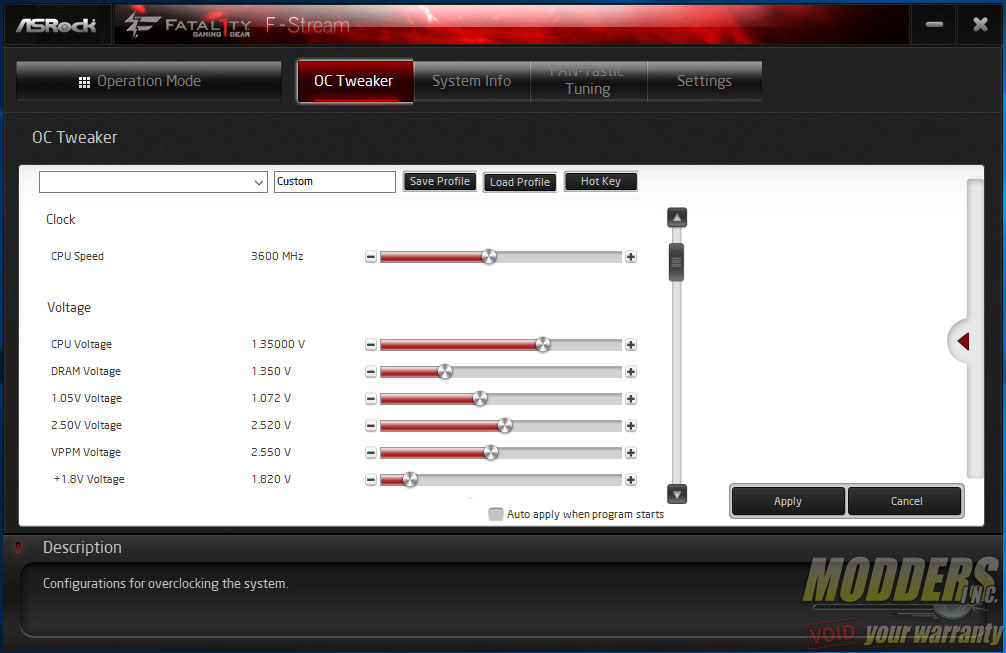 The OC Tweaker section is where changes that affect performance are set. Here users can overclock, change voltage, save and load profiles all on one page.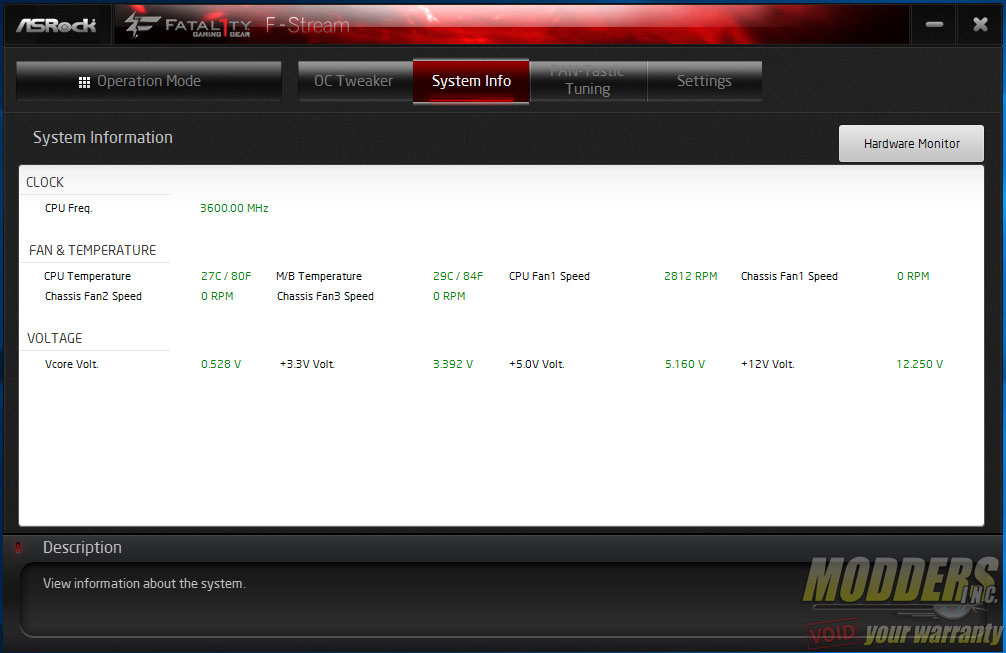 System Info has two sections. The first is the System Browser shows a text display of relevant system information such as CPU frequency, voltages, fan speed and temperatures. The Hardware Monitor is a graphical overview of the motherboard itself which shows what is plugged into which device.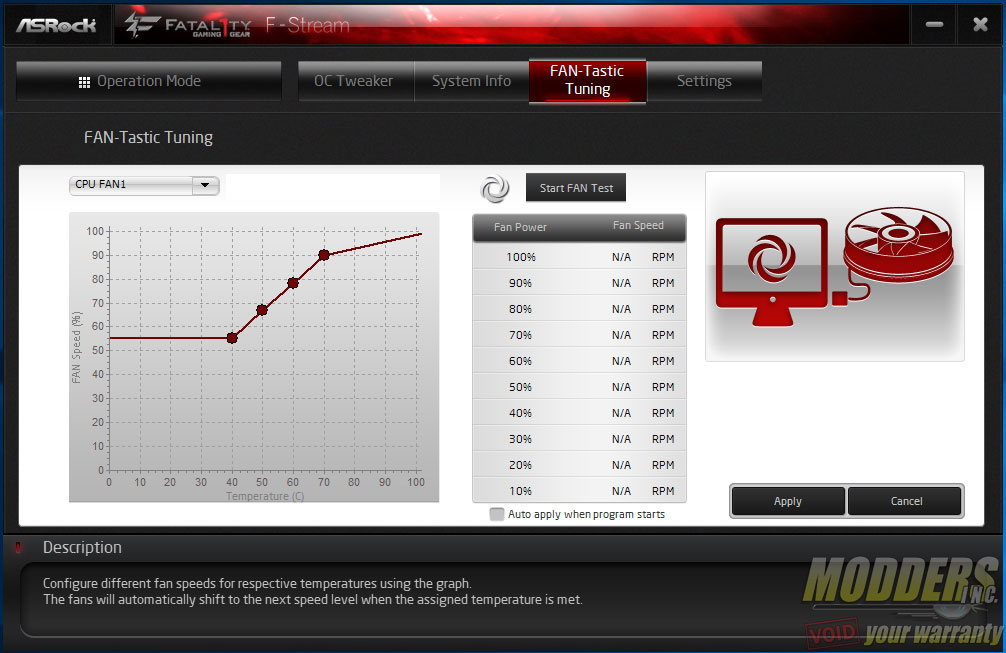 The FAN-tastic Tuning allows users to essentially "benchmark" the fans plugged into their motherboard and which in turn allows users to set fan control effectively. The utility creates a graph and chart of the fan speed (in RPM) related to fan power percentage and then the users can adjust the fan speed after that accordingly to their needs and also set it to load that preset when the A-tuning utility loads. Only 4-pin PWM fans can be benchmarked and automatically create profiles with. 3-pin fans have to be manually adjusted to create a profile.
UEFI Overview and Overclocking Options

By default, the UEFI starts on the MAIN page but users can change which page the UEFI opens up to including OC Tweaker, Advanced, Tool, Hardware Monitor, Boot and Security.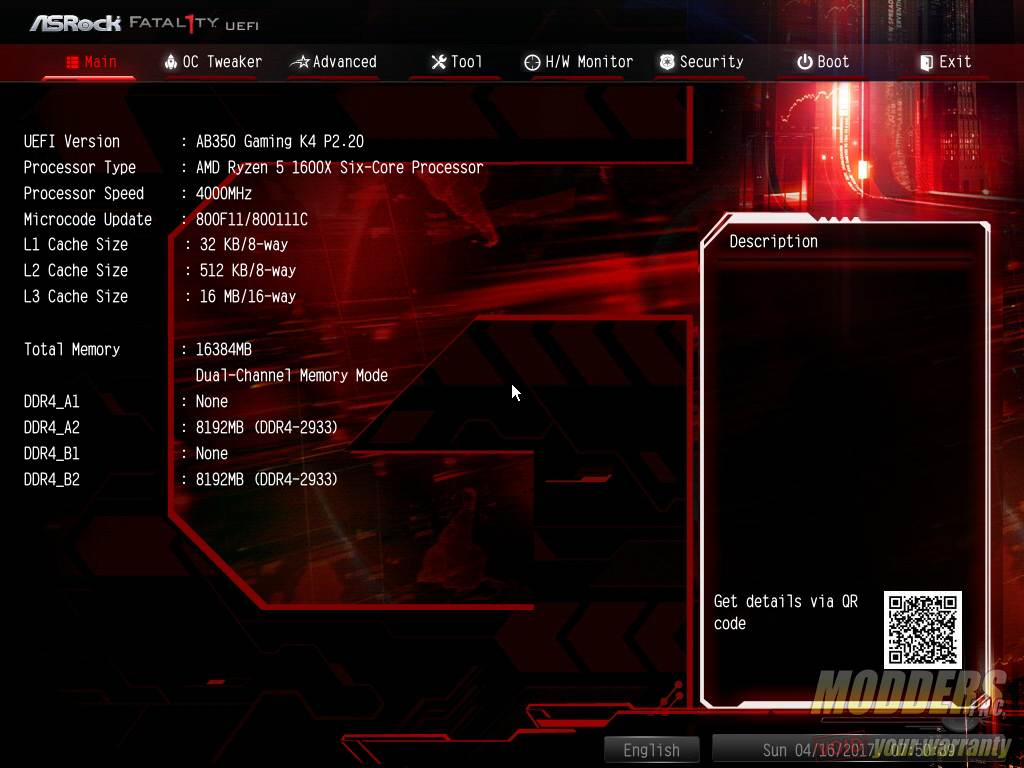 The OC Tweaker page is where users can overclock their CPU and memory all in a single page. By default, the CPU frequency and voltage change option at the very top is set to 'Auto'. Set it to 'Manual' to begin overclocking  the CPU. The memory is separate and users can overclock it with the options below without touching the default CPU settings. If you need additional voltage to feed the CPU_SoC however, the top option must be set to manual.
After setting the frequency and voltage change to manual, users can input the CPU frequency and voltage directly to the values they prefer. So for a 4GHz, 1.4V Vcore, the user will input the following for example:
B350 chipset motherboards do not have a separate clock generator for independent BCLK adjustment like the X370 mainboards so the RAM overclocking is limited to 3200MHz. The other voltage range options available are:
VPPM Range = 2.000 to 3.200 (0.050 increment)
2.5V voltage range = 2.000 to 3.000 (0.020 increment)
DRAM voltage range = 1.200 to 1.8 (0.005 increment)
+1.8 voltage range = 1.700 to 3.000 (0.020 increment)
VDDP voltage range = 0.805 to 1.190 (0.035 increment)
1.05V voltage range = 0.952 to 1.248 (0.008 increment)
Overclocking up to the 4GHz wall is not a problem, the memory boots properly at 3200MHz as well using Geil EVO-X although I could not boot with Corsair Dominators at 3200MHz. Running 3200MHz is not completely stable however compared to the Biostar B350 motherboard I previously reviewed, but was benchmark stable up to 2933MHz. This is with BIOS version 2.20, so hopefully the next update will bring further stability.
Other UEFI Settings
The Advanced section contains the bulk of the options.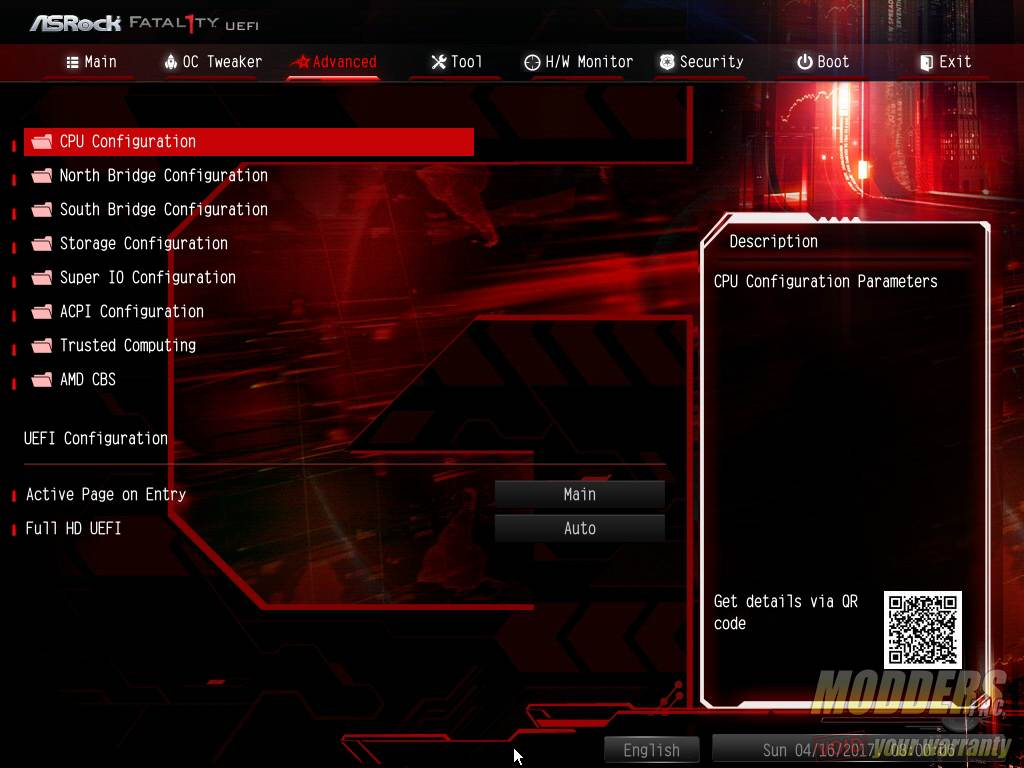 The Tool section contains some extra sub-software such as adjusting RGB LED, RAID and driver installers, as well as BIOS flashing utility. Users can also update the BIOS via the Internet through here.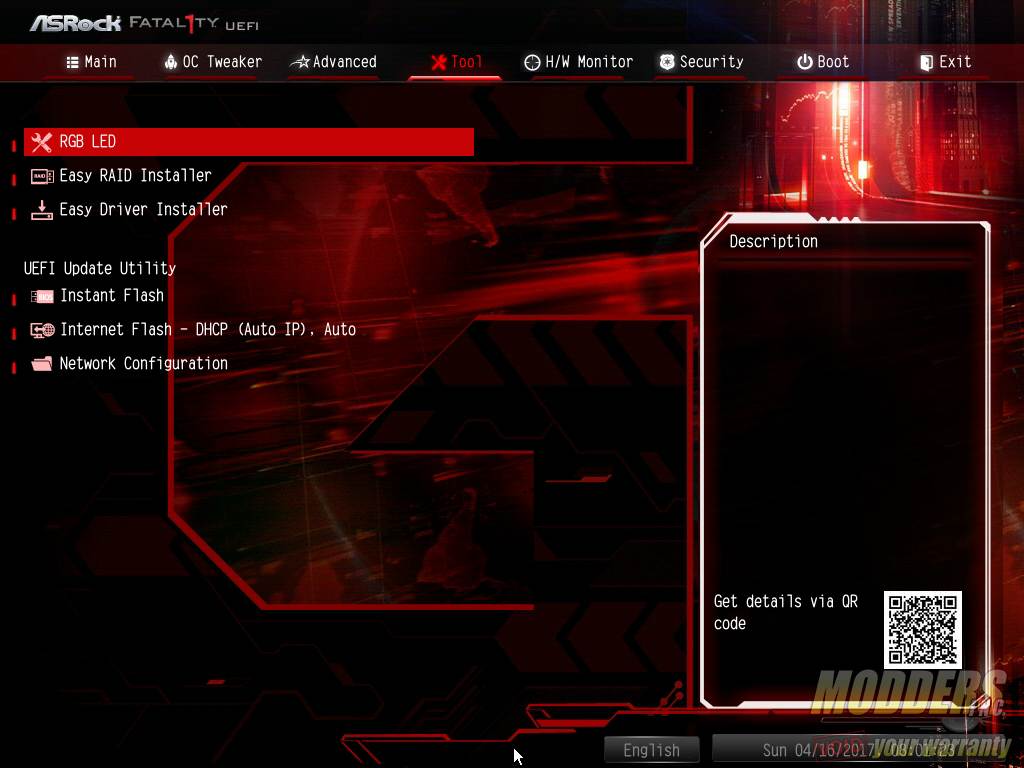 The fifth tab is the Hardware Monitor which provides options for fan control settings. It is rather rudimentary, although it provides up to four plus a 5th critical temperature step for controlling fan speed value dependent on the CPU temperature. Hopefully, ASRock updates this to a fully graphic fan controller in the near future like what MSI, Gigabyte and ASUS have done. For the system fans, users can adjust whether to get base the temperature control with the motherboard temperature or with the CPU temperature.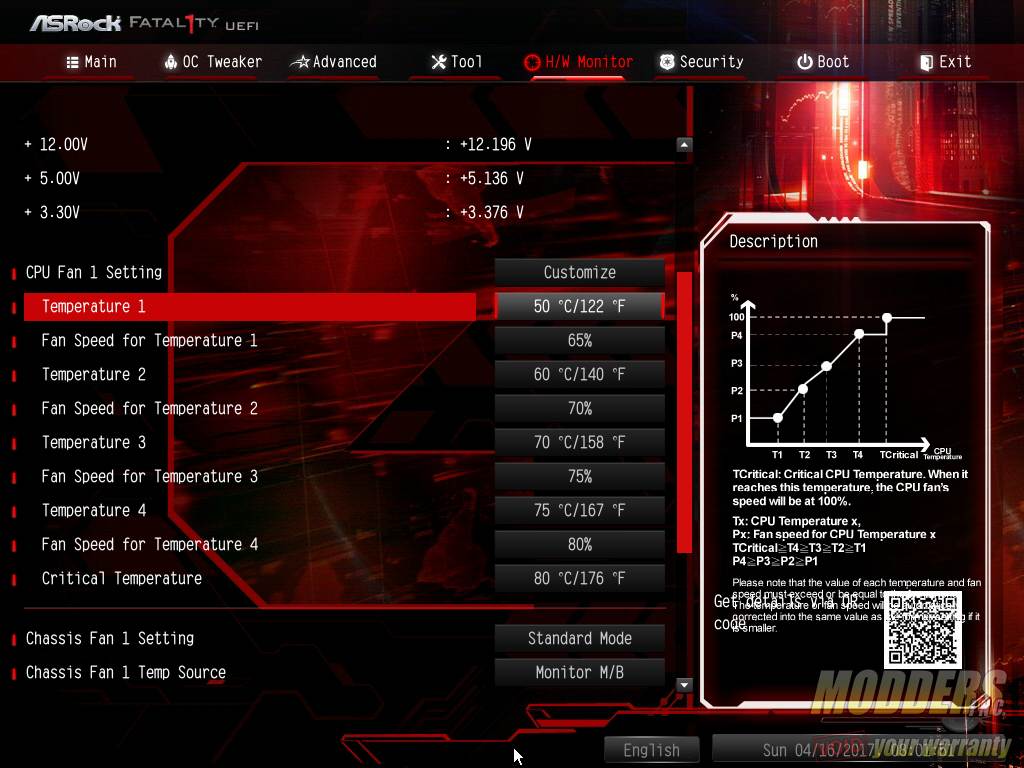 The sixth tab is the Security page which provides options for secure booting and setting supervisor passwords.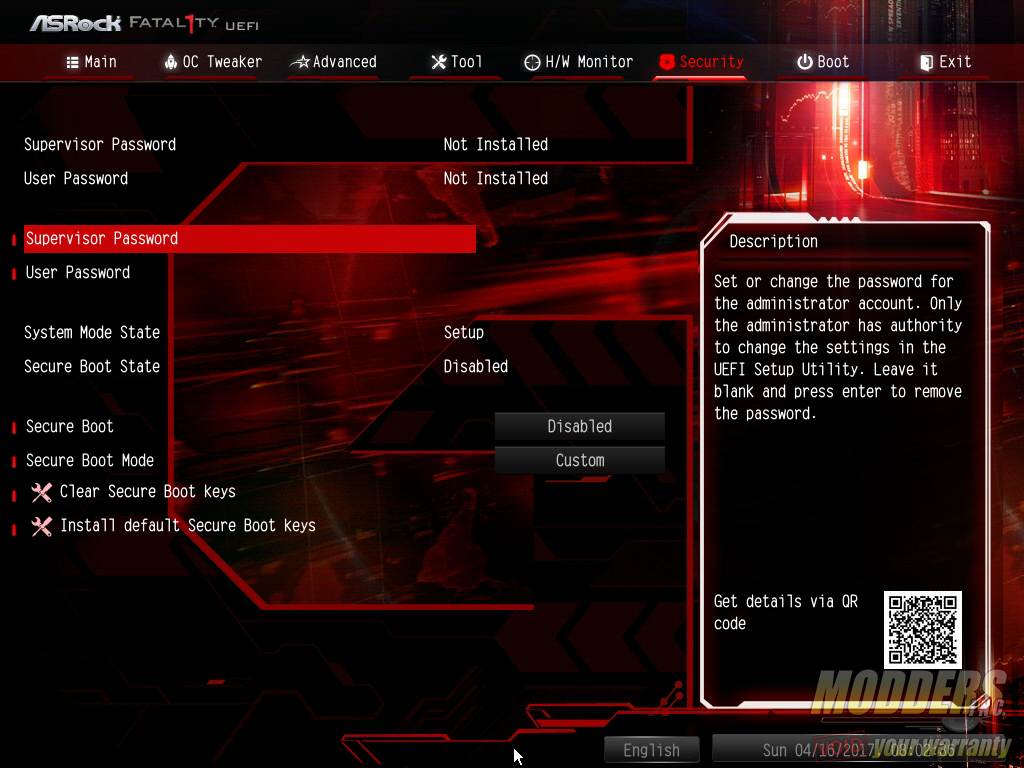 The seventh tab is the Boot page which lets users adjust boot priority options.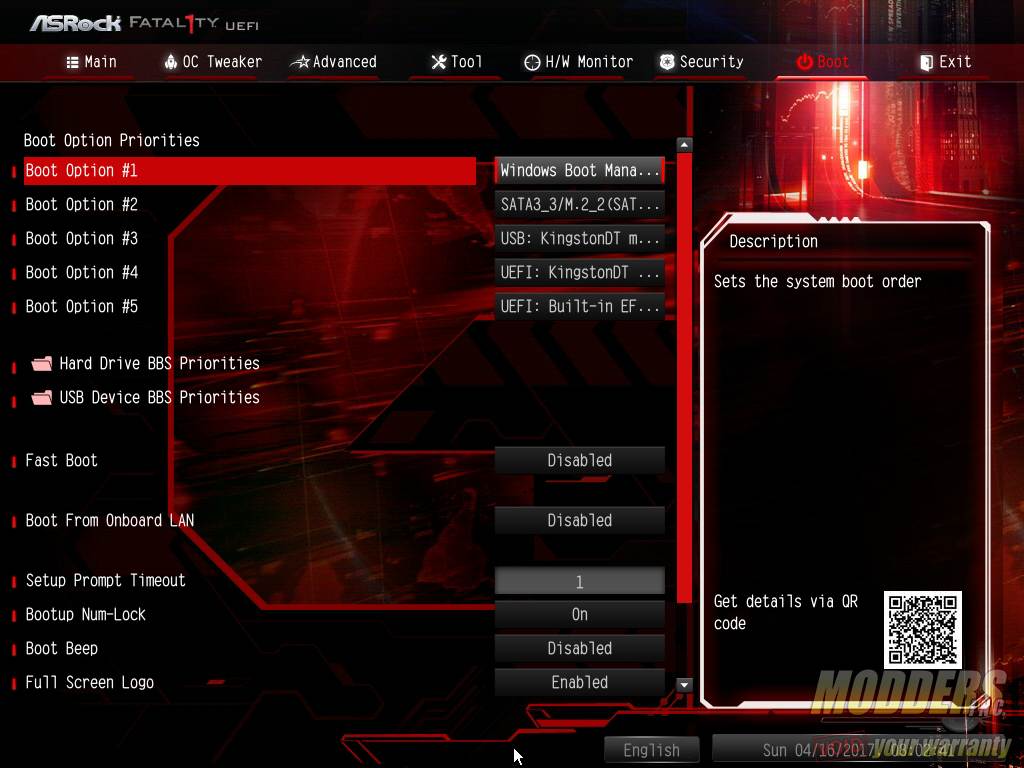 The last page is the Exit page where users can save and exit or save as well as load a profile locally. As with every decent exit page, there is a quick single-click boot override option.