« Sub-System Benchmarks (Storage, Audio, Network, Gaming)
Final Thoughts about the ASRock AB350 Gaming K4 Motherboard
B350 chipset motherboards are interesting as they all seem to be capped at around $109. I have only seen the Carbon series rom MSI priced higher. At $109 or lower, manufacturers have to choose which features they will omit and which features they will include that will most entice the user. Some of these features are mandatory such as m.2 NVMe support since that is the best speed upgrade users are currently entitled to. Some are ubiquitous such as RGB LED headers even if they are just for aesthetics.
On the Fatal1ty B350 Gaming K4, ASRock decided to include an extra M.2 port for SATA SSDs. This is good use of the extra ATX motherboard real estate since the B350 chipset can make use of the PCIe lanes better as other storage options. This SATA M.2 also supports 22110 form factors although the NVMe capable m.2 slot is limited up to 2280. It also has two bonus SATA 3 6Gb/s ports and a USB type-C port which some might argue is a necessity going forward. It also has a decent audio solution, despite only have three audio jacks. Although compared to the performance of the similarly priced and previously reviewed Gigabyte GA-AB350-Gaming 3 equipped with a Realtek ALC1220, it takes a back seat quite a bit.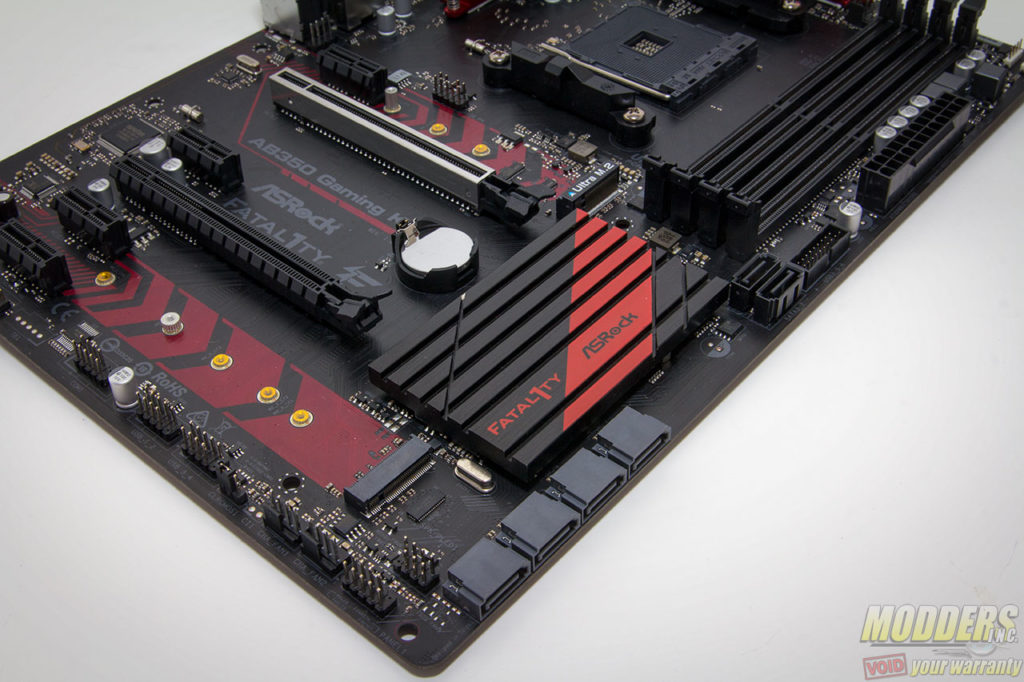 Overclocking options on B350 motherboards are also understandably kept basic. Only the higher-end X370 motherboards are really expected to have additional options such as BCLK control for overclocking memory beyond 3200 MHz. While I was able to boot with my 3200 MHz DDR4 modules, it was not as stable as other boards for now on the 2.20 BIOS. 4GHz 1800X with 2933 MHz CL16 works perfectly fine however.
Overall, the Fatal1ty B350 Gaming K4 is a decent option, although not the usual value-oriented ASRock offering since it seems to offer less extras than some B350 motherboards. It does not come with LED extension cables and it only comes with two SATA cables. There is also only one m.2 screw provided despite having two slots. I just expected a lot more, especially from the Fatal1ty brand.
Otherwise, it has solid fundamental B350 options and the secondary m.2 is really useful for those who prefer a build with less cables around. These are also positioned quite well away from the heat of the video card. Most other manufacturers place m.2 slots directly below the PCIe x16 slot which tends to dump heat on the drive and throttle it. Then again, ASRock has been providing fast m.2 solutions earlier than other motherboard vendors so it is not surprising that they have that feature figured out.