PC Case Modding News and Events
BATTLEMODS X PUBG – Case Mod Tour Comes To Asia
BATTLEMODS presents the first ever PLAYERUKNOWN'S BATTLEGROUNDS Modding Contest
Cooler Master, Nvidia GeForce Garage, MSI, APACER, Dremel and CableMod join forces to introduce the BATTLEMODS Asia Tour; the first ever PLAYERUKNOWN'S BATTLEGROUND Modding Contest that spans across Australia, Thailand, Philippines, India and Vietnam. Each country will be represented by a duo of the best modders in their country and given the challenge of making the world's first PUBG mods along with the brand they represent.


The alliance is an initiative to help develop the interest and appreciation for building PCs for gamers, content creators and anyone that uses PCs in general. The teams in each country will showcase how this is done with live streams and videos. The finished projects will be on display at events in each country. To stir things up, the public gets to vote which country did the best PUBG case mod.
"We are excited to have the top brands and PUBG working together to support the gaming and modding community. The synergy from this alliance will help more people gain a better understanding of PCs", Matteo Stracciari, General Manager – Case BU at Cooler Master
"Combine the best in PC performance hardware with the best modders to make an epic build with PUBG inspired, it doesn't get any better than this." Fred Chen, APAC Community Manager, NVIDIA.
"Gaming and Modding community and top brands coming together for a very special event, MSI is looking forward to making this a huge success for everyone involved, and bring more excitement into PC DIY Community" Ted Hung, Motherboard Desktop Sales and Marketing Director at MSI.
"So much talent and with so much interest on PUBG, we can't wait to see everyone battle it out with their mod showcase" Erin Chou, Marketing Director at APACER.
"CableMod is pumped to be a part of this year's BATTLEMODS Asia Tour. Partnering with the best-of-the-best in the case modding world with a theme featuring one of the hottest games on the market today, we can't wait to see the creations!" Matt Augsburger, Community Manager, CableMod.
The BATTLEMODS Asia Tour Kicks off at PAX Australia
BATTLEMODS Asia Tour kicked off with a series of livestreams starting October 20th by Team Australia. Designs by IFR flew into town to join Tech Modified to start their project. They gave themselves just 4 days to complete this challenge, to make sure it is ready to showcase at PAX Australia at the Cooler Master booth 1240 on October 27th-29th.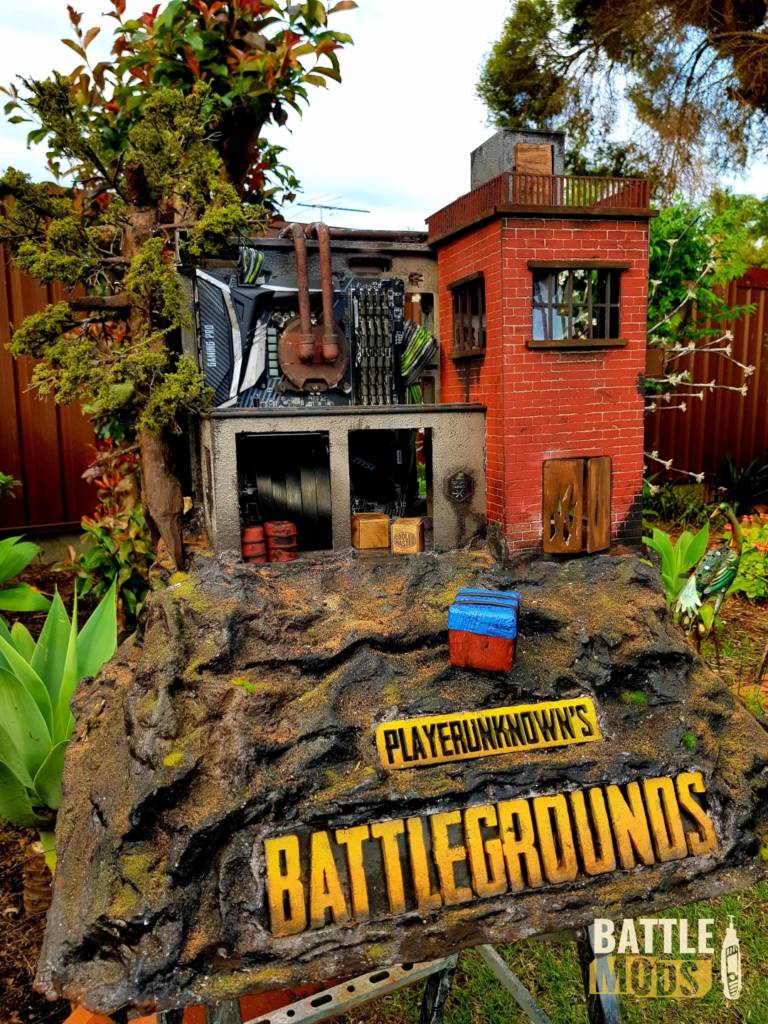 Next up will be Team Thailand, Modder Crow (3-time Case Mod World Series champion) and Waii will be at JIB's booth at COMMART November 2nd-5th to do a preview of their project.
Oct 27 – 29, 2017 – PAX Australia, Australia
Nov 2 – 5, 2017 – Commart, Thailand
Dec 9 – 10, 2017 – Gamers Connect, India
Jan 7, 2017 – Intel Extreme Masters, Vietnam
Jan 14, 2017 – Masters' Gathering, Philippines
Meet the Teams
An all-star team roster has been drawn out for this competition. There are five teams in total and each team consists of two modders from each country. Each team is also represented by one main sponsor.
Team Australia
Stephen Hoad aka Tech Modified and Cory Gregory from Designs by IFR – two of the best Modders in Australia with an avid gathering of fans behind their work.
Team Philippines
Mhike Samsin aka Tantricmodz and Mickee Lacerna aka MadMods PC, Philippines finest modders with a number of breathtaking builds throughout their careers.
Team Thailand
Siwasak Sirisomboon aka Modder Crow and Mr. Waii aka Waii EPIC two names that have always been on the top of many Modding competitions and a tail of blazing trophies behind their names (Modder Crow crowned 3 time winner of Cooler Master's Case Mod World Series)
Team India
Pramod Hambir and Vinay Agrawal, India's brightest prospects when it comes to Modding, prepared to give their best and secure team India a win.
Team Vietnam
Ban Dinh Nguyen aka nhenhophach and Son Gay, two famous modders from Vietnam whose produced many outstanding builds for countless competitions and events.