« Sub-System Benchmarks(Storage, Audio, Network)
Final Thoughts about the Biostar Hi-Fi Z97WE Gaming Motherboard

Whooping cough is not the only epidemic this season but gold color schemes and isolated motherboard audio as well. Not every implementation is the same for all motherboards however and between the two, I'm just glad the audio implementation is better than Biostar's use of gold and yellow. What's wrong with the traditional Biostar red? I am rather fond of that and red is easier to color match on the plastic pieces than gold so I do not know what prompted the change.
The Biostar Hi-Fi Z97WE Ver. 5.x is a curious little board that has piqued my interest even before I opened the box with its promises of "Hi-Fi" audio technology. Even after testing, I cannot make heads or tails of what "WE" stands for and I have no idea what Version 5.x means, especially since the motherboard just came out. None of that really matters however as its performance is a lot less of a mystery but rather somewhat of a revelation.
Despite the very competitive price range it is in, the Biostar Hi-Fi Z97WE carves out a comfortable spot in its segment by offering dual LAN capability and performing very well. Yes, it is a Realtek solution (expected at this price point anyway) but before you scoff at it, I suggest looking at the benchmark results again to see that Gigabit LAN performance is very impressive on this board. Realtek driver issues on non-Windows system notwithstanding, the graphs display performance that is better than more expensive boards.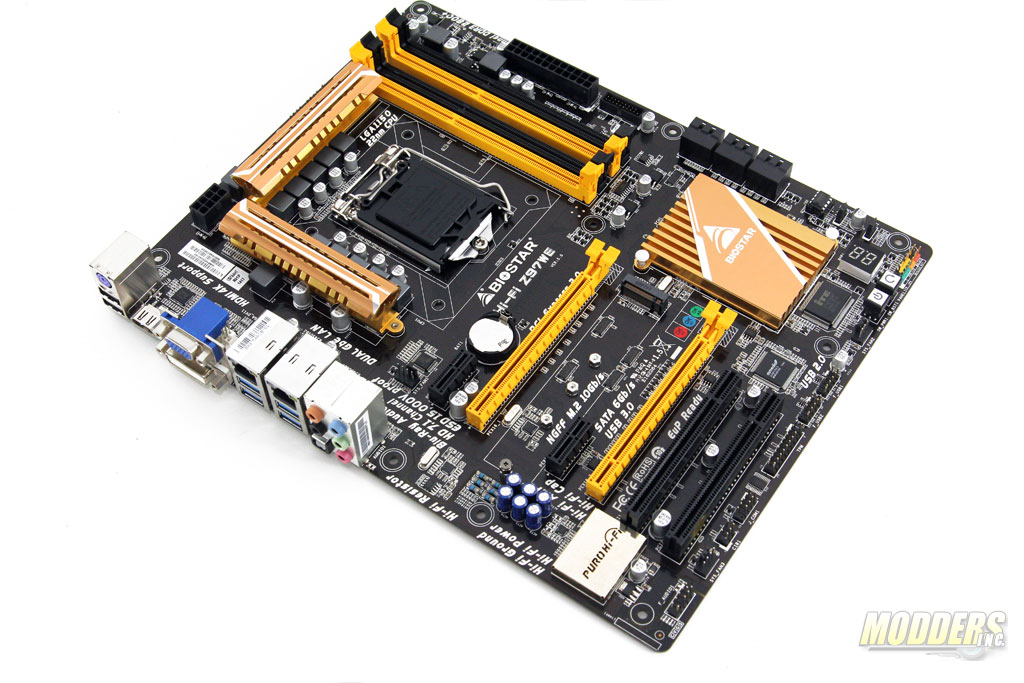 The physical layout is mostly issue free with my only minor complaint being the M.2 slot directly underneath the top-most PCI-E x16 slot, making the task of removing the graphics card a necessity when swapping out M.2 SSDs. There is a healthy gap between the two PCI-E x16 slots for even triple slot and other unreasonably thick video cards in dual-Crossfire mode.
CPU VRM is better than some boards on its price range, especially considering a lot have scaled back and many entry level and budget Z97 boards are now on 4-phase (IMO minimum for overclocking) designs. My first thought was that manufacturers are probably just going for more efficient implementations (hard to know without looking under the hood) but I suspect the other half of that reason is that so sales of budget and entry boards do not cut into their higher end models since Haswell air overclocking is largely CPU dependent due to the integrated voltage regulator rather than the motherboard VRM implementation compared to previous generations. i.e. you do not need an expensive board with monster VRM if you are just overclocking on air.
As for the highly touted Hi-Fi audio, Biostar did well but like I said, every single motherboard manufacturer has stepped up their game when it comes to audio subsystem implementation this round so it is harder for the Hi-Fi Z97WE to shine when everyone else is sparkling. Even among budget boards and some B85 motherboards now, a Realtek ALC1150 can be found which is a step up from the ALC892 on the Hi-Fi Z97WE. Headphone amplifiers have also become the norm, as well as the use of audio capacitors for filtering and EMI shielded codecs so while Biostar's audio makes the cut, they will require more to stand out.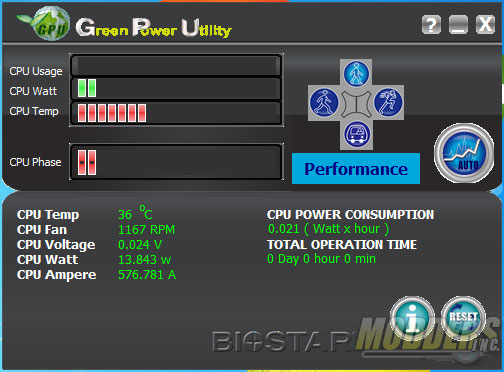 Like other motherboards, the Biostar Hi-Fi Z97WE also comes with its own collection of software for customizing and extending function. Unlike bigger companies that have independent design teams however, most if not all of the software look like it was designed by the programmer who coded the application. The Biostar Green Power Utility for instance, looks exquisitely awful despite its highly functional appeal. The buttons are low resolution and the alpha channel transparencies are poorly rendered. There also does not seem to be a through-line when it comes to design and each software looks unrelated to each other as if they came from different motherboards. As I am not one to criticize without offering a solution however, I propose to Biostar implementing customizable skinning capability in future software releases. There is untapped creative (and free) potential out there in the Internet and it has been used by many companies for their software including EVGA's Precision, WinAmp, etc. to improve their interface and engage the public with their brand.
Overall, the Biostar Hi-Fi Z97WE for $124.99 (at NewEgg.com) is a decent value option with some unique extras for a budget level Z97 board including dual Gigabit LAN, a 5-phase VRM and even LN2 mode. Some of the bundled software looks dated, but some applications such as Bio Remote and Bio Remote 2 are extremely handy for HTPC use and are welcome additions. She may not have the looks of a prom queen but she can definitely be effortlessly fun if given the chance and shines in other ways that you don't normally consider.
[sc:recommended_hardware_award ]