A Closer Look at the MSI B350M Mortar Motherboard »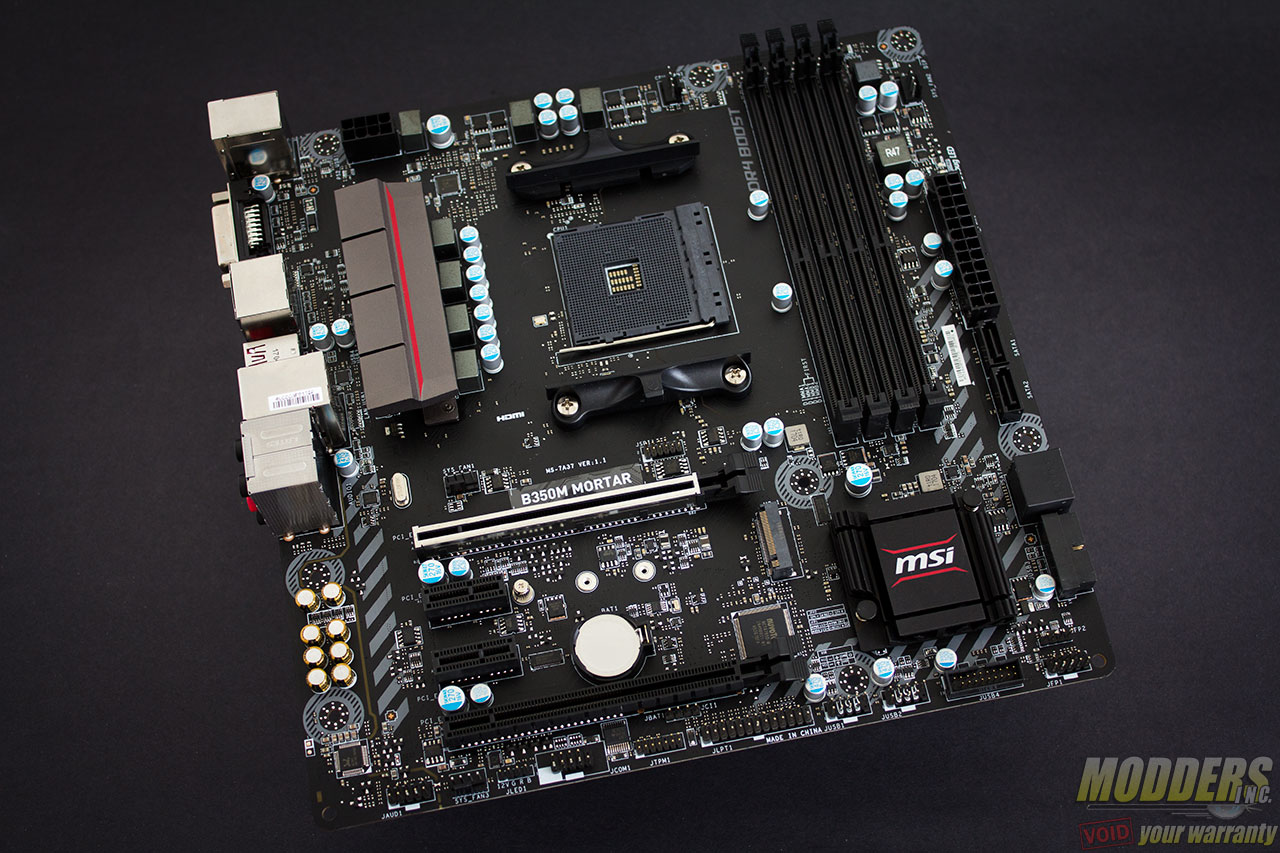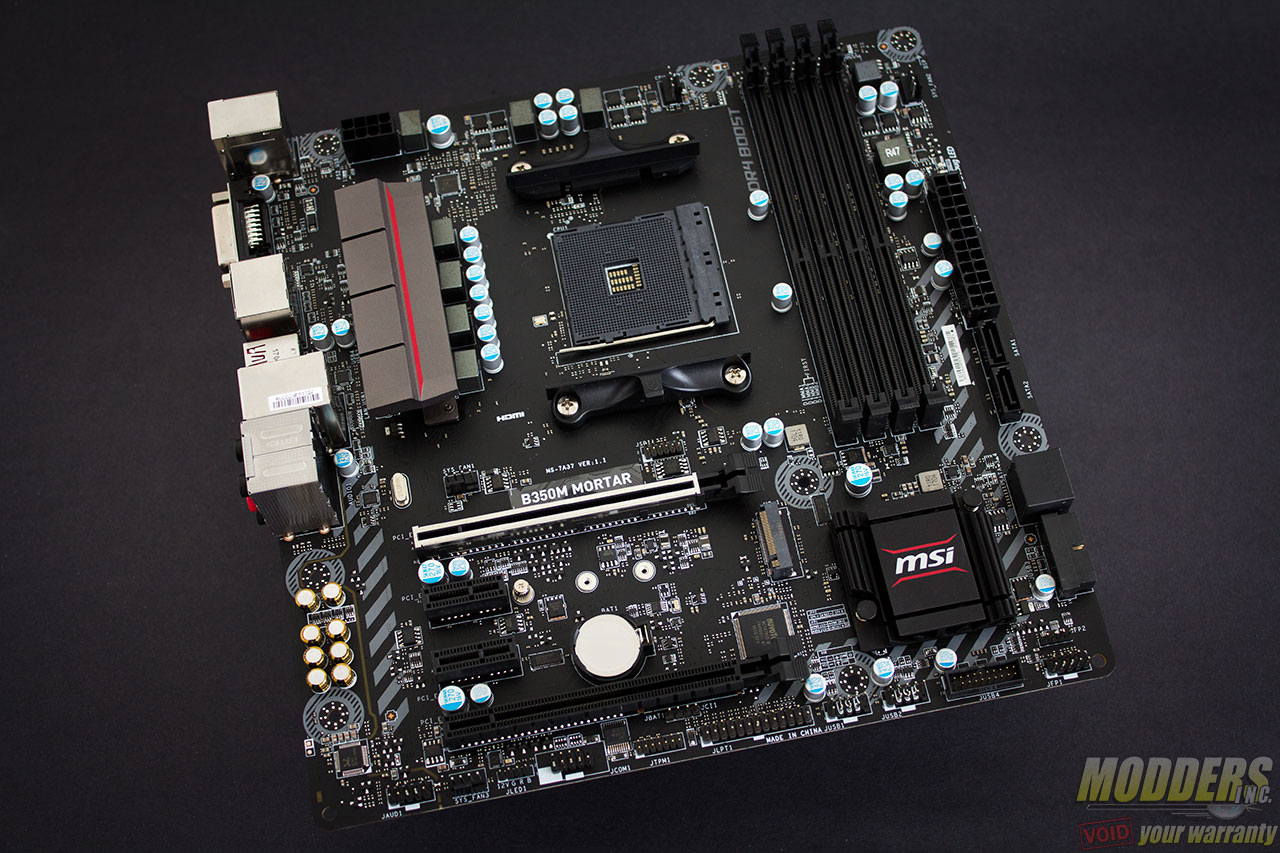 AMD's B350 chipset is challenging Intel's market dominance in a different subset that the chip giant did not expect: affordability. If AMD's Ryzen product releases sound too familiar with that of Intel's line, that is because it is deliberate. It is basically an aggressive move by AMD, challenging Intel directly that they can take over the naming scheme and do better at it. Case in point, a B250 motherboard vs a B350 motherboard. Intel's B250 line has been somewhat of a bastard child that is overlooked compared to its Z270 sibling. The Intel B250 chipset lacks overclocking features and has limited expansion options compared to the flagship Z270 chipset. So when it came to AMD's turn for their budget B350 chipset, they made sure to one-up the competition by providing overclockability and offering an even lower price.
Among budget boards, MSI's Mortar line has been the king for a while. This is because it is quite readily available almost anywhere around the world and is consistently priced anywhere as well. One of our the most popular reviews on this site is the B250M Mortar gaming motherboard for Intel's Skylake platform. The new B350M Mortar however is designed for AMD Ryzen CPUs and future Raven Ridge APUs in mind. For only $89.99, it offers budget builders a solid foundation for a gaming build that covers the modern essentials. It has RGB LED support (of course), PCIex4 M.2 NVMe support, Gigabit LAN, Realtek ALC892 HD audio and more.
[sc:sponsor sponsor="MSI" product_link="https://www.msi.com/Motherboard/support/B350M-MORTAR.html" product_name="B350M Mortar" product_price_link="https://www.newegg.com/Product/Product.aspx?Item=N82E16813144026&cm_re=B350M_mortar-_-13-144-026-_-Product" product_price="$89.99″ ]
The MSI B350M Mortar motherboard is packed in a square box in a relatively similar packaging as the MSI B250M Mortar, reserving most of the text and graphics consisting of all the promotional material at the rear. Like most of MSI's other mainboard packaging, it flips open from the front bottom to reveal dual compartment area with the motherboard at the top and the accessories at the bottom. The motherboard is packed in an anti-static bag with foam padding underneath.
The top compartment is reserved for the motherboard while the bottom compartment contains the bundled accessories.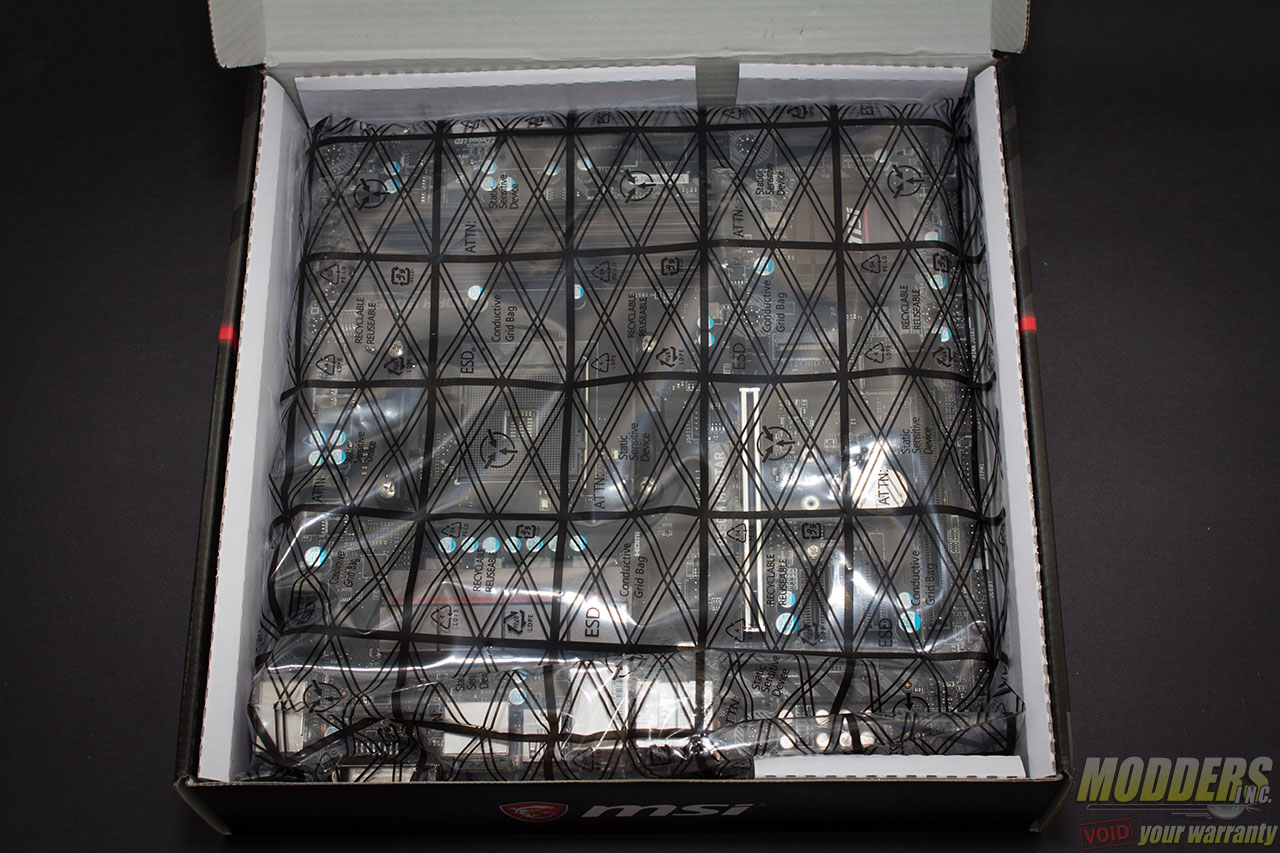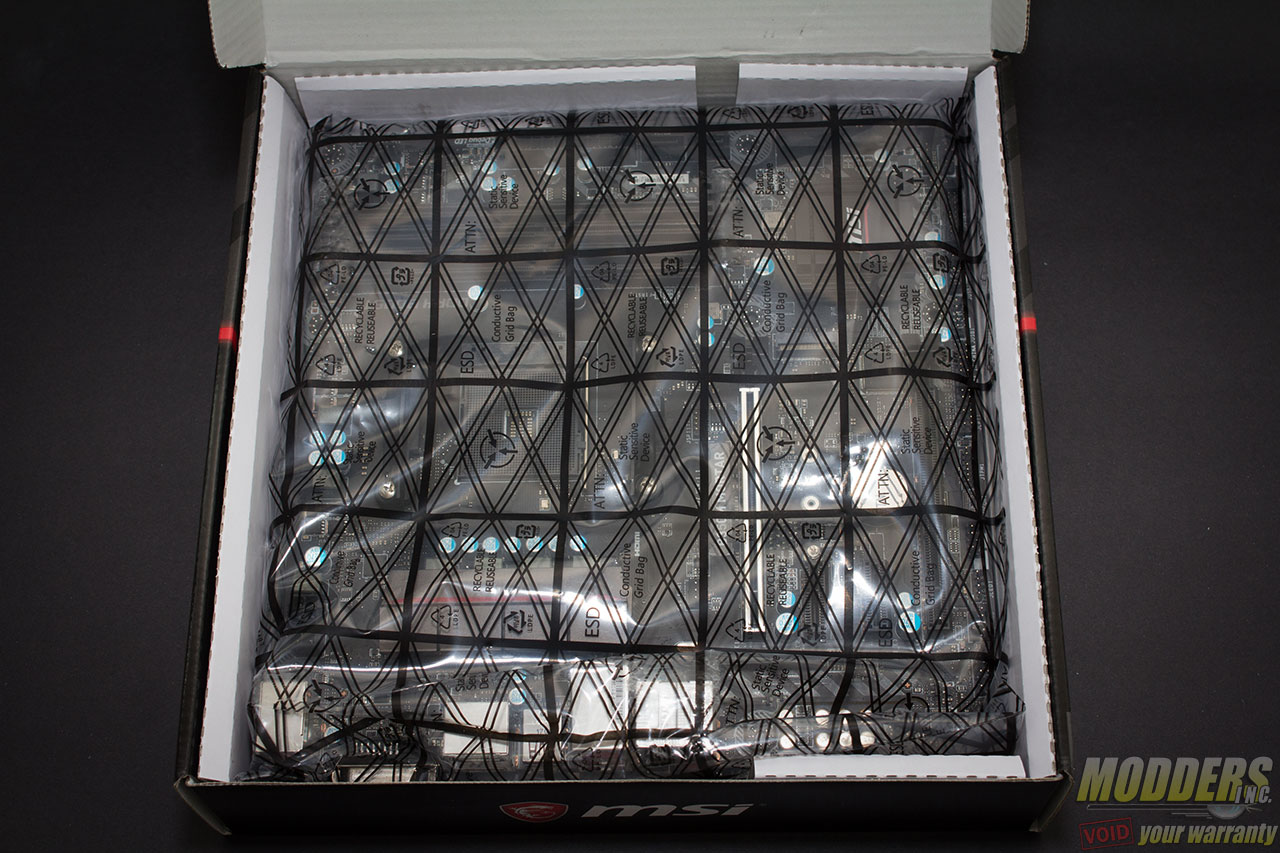 The accessory pack includes an IO shield, a user manual booklet, a DVD driver disc, quick installation guide, a product registration card, AMD cooler/DRAM installation guide,  and two SATA cables (one straight and one angled).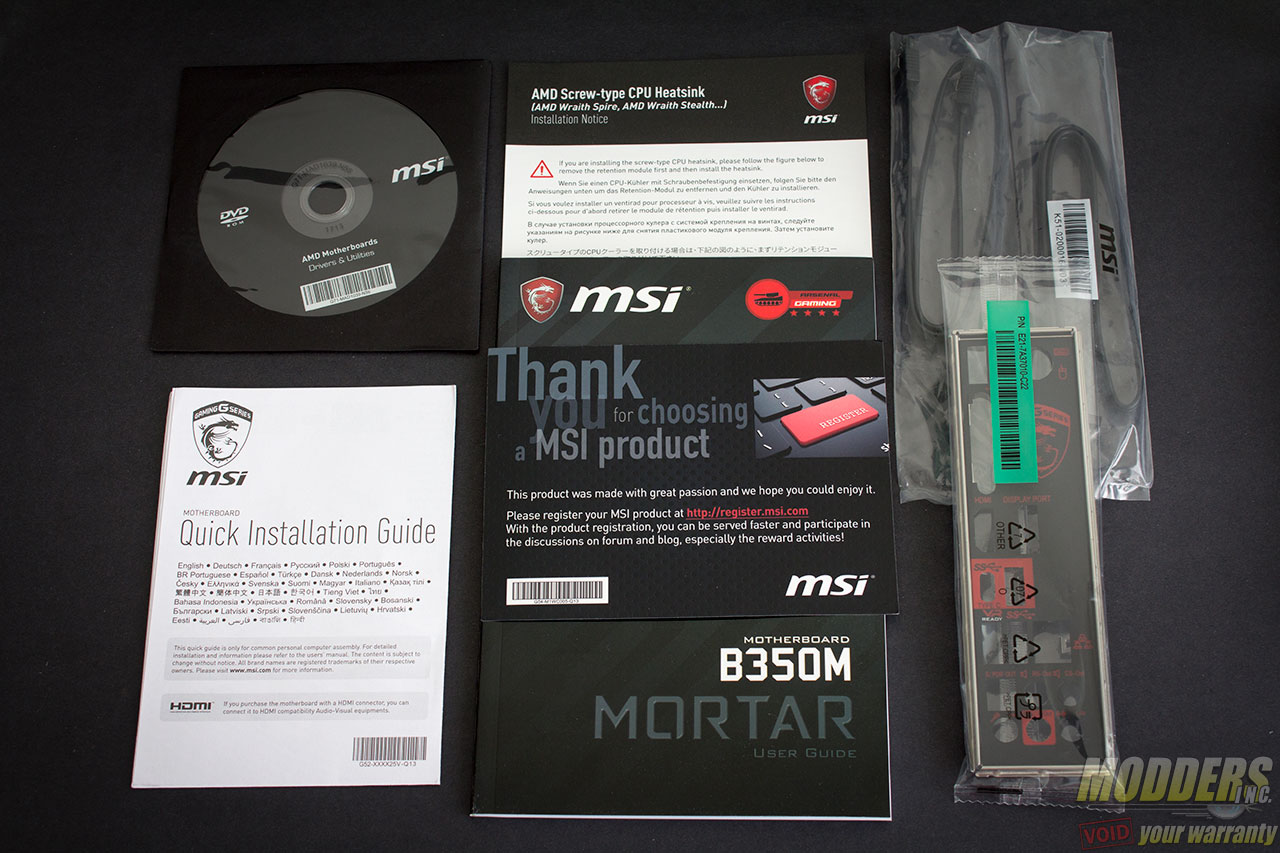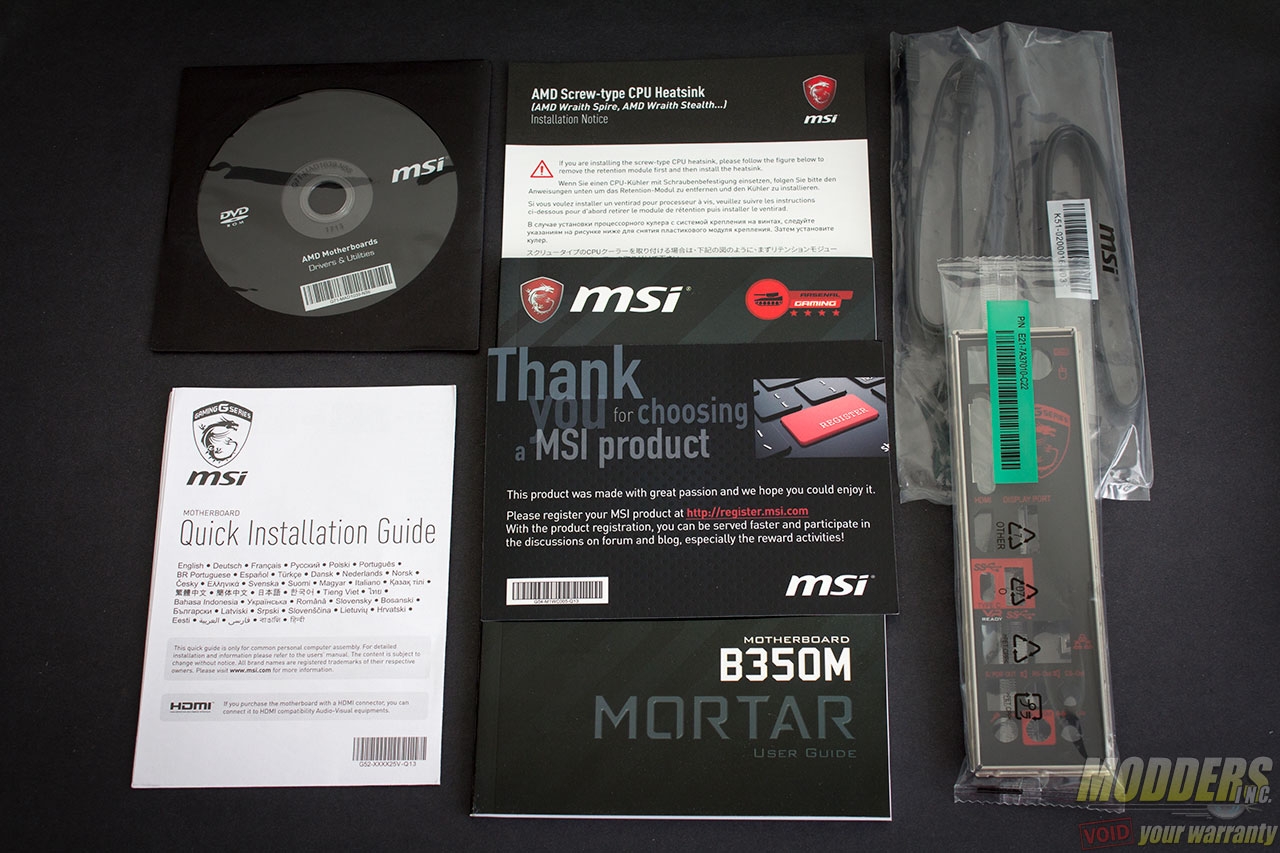 In case you have not picked up the hint from the name, the "M" in B350M stands for "micro-ATX", which is the form factor of this motherboard. That means it measures 243 x 243mm square. It uses a matte black 4-layer PCB with gray silkscreen  print on it, although not as tattooed as the Intel B250M Mortar which had gray printing across the majority of the area.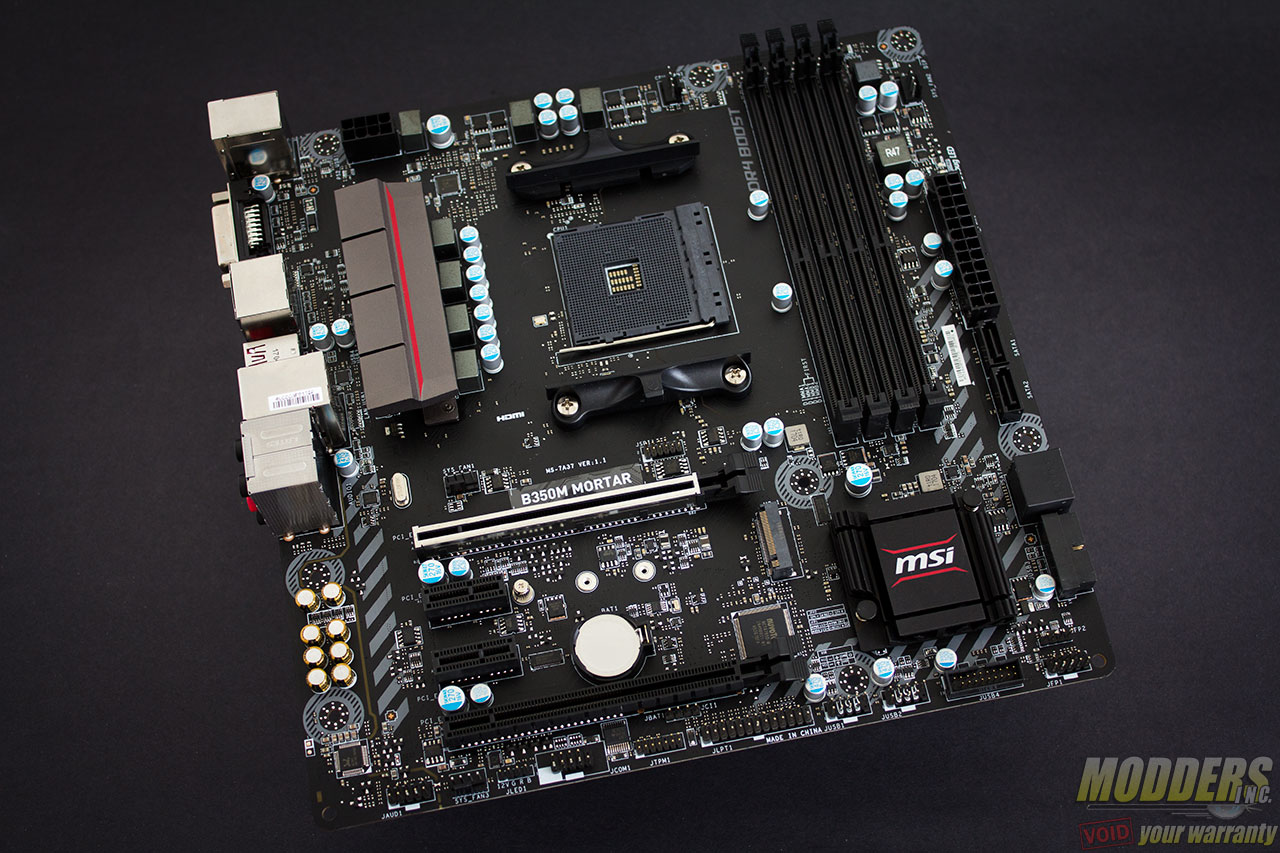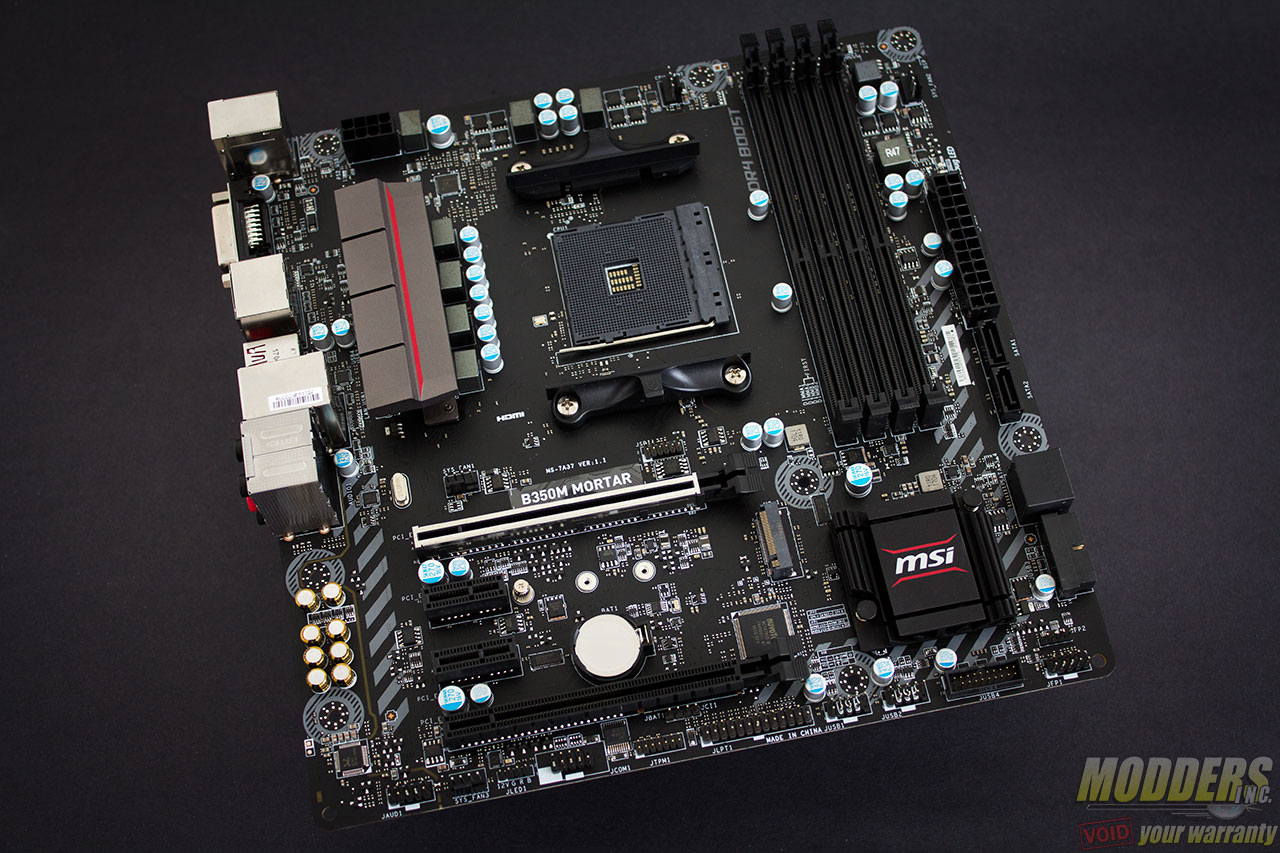 AMD B350 series motherboards are compatible with AMD Ryzen as well as upcoming Raven Ridge APUs. That is why there are video outputs onboard, even though Ryzen CPUs do not have built-in graphics. Unlike its Intel B250 chipset counterpart, the AMD B350 chipset can take advantage of fully unlocked CPUs and overclock them. The memory can also clock up to 3200MHz (via divider, even pre-AGESA 1.0.0.6 microcode update, stability not-withstanding) compared to the B250 chipset which is locked to 2400MHz with 7th gen Intel Core CPUs and 2133MHz with 6th gen Intel Core CPUs.
Unlike the flagship AMD X370 chipset, B350 chipset motherboards do not have PCIe x16 bifurcation capability, so users cannot run SLI. It is still capable of natively supporting USB 3.1 Gen2, however USB 3.1 gen1 is limited to six ports vs 10 with X370. For some reason, the MSI B350M Mortar does not have USB 3.1 Gen2 ports however.