A Closer Look at the Biostar Racing B350GT3 Motherboard »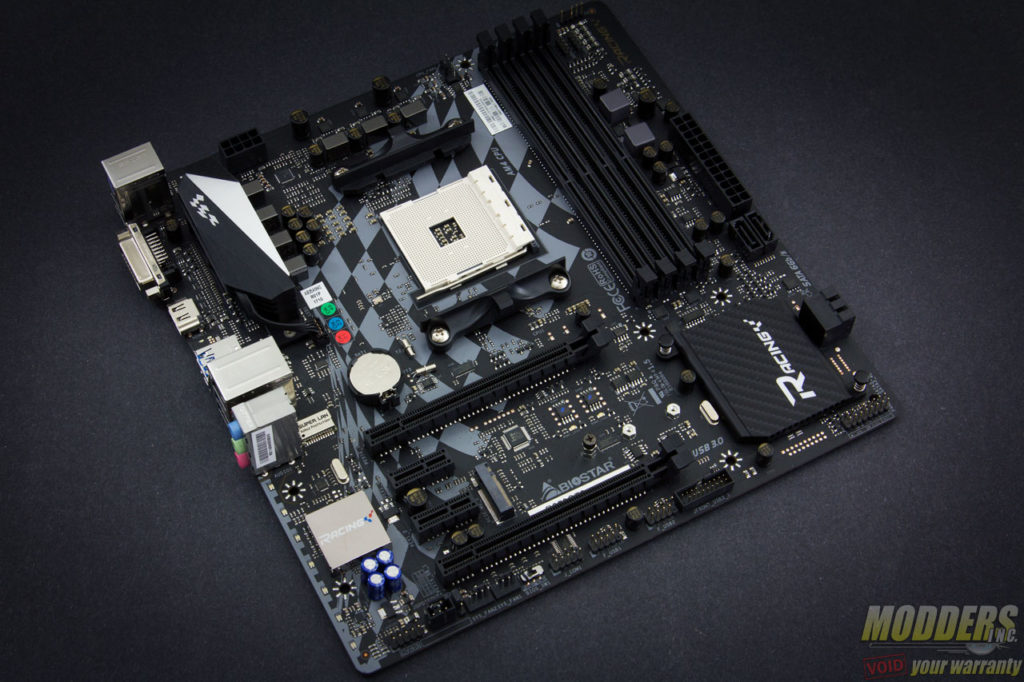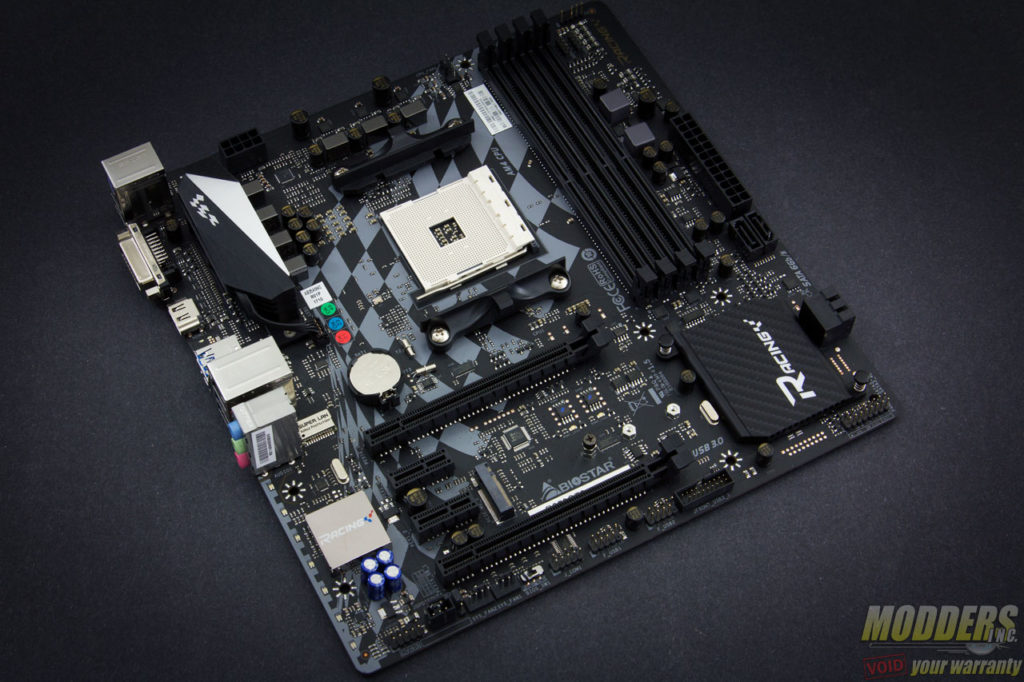 A few years ago, a "no frills" motherboard looked a lot different; having unfortunate-brown PCBs and showing an almost complete disregard for aesthetics with a dash of contempt for those who are trying to build on a budget. The new paradigm that motherboard manufacturers have embraced calls for a more dignified look and better set of extra features. Like it or not, RGB LED is so popular that it is pretty much a requirement now, even on a budget motherboard. Some may not seem to think so, but Biostar does, as evident in their Racing B350GT3 motherboard.
The Biostar Racing B350GT3 comes decked in sobering blacks and grays, but it is ready to party having four RGB LED zones adjustable via their VIVID LED DJ feature. It has the standard B350 chipset option with four SATA3 ports, a 32Gb/s NVMe M.2 port (which also supports SATA SSDs), two USB 3.1 Gen2 5Gb/s, and six USB 3.1 Gen1 10Gb/s. The Biostar Racing B350GT3 however offers a customized audio subsystem that has an adjustable gain control for headphones. It also has a switchable dual-BIOS and external display output concessions for when users install an AM4 APU, including current Bristol Ridge or the upcoming Raven Ridge processors.
[sc:sponsor sponsor="Biostar" product_link="http://www.biostar.com.tw/app/en/mb/introduction.php?S_ID=870″ product_name="B350GT3″ product_price="$84.99″ ]
Since it is part of the Racing series, the Biostar B350GT3 box color is carbon fibre black with red and gray accents. There is no photo of the board on the front but the rear provides an overview of hardware as well as unique features built into the board.
The contents inside the box are stored in two compartments. The top area contains the motherboard housed inside an anti-static bag while underneath all the accessories are individually packed and stored.
Aside from the essential drive disc, the accessories include four SATA cables and an IO shield. For the documentation, a user's manual is included.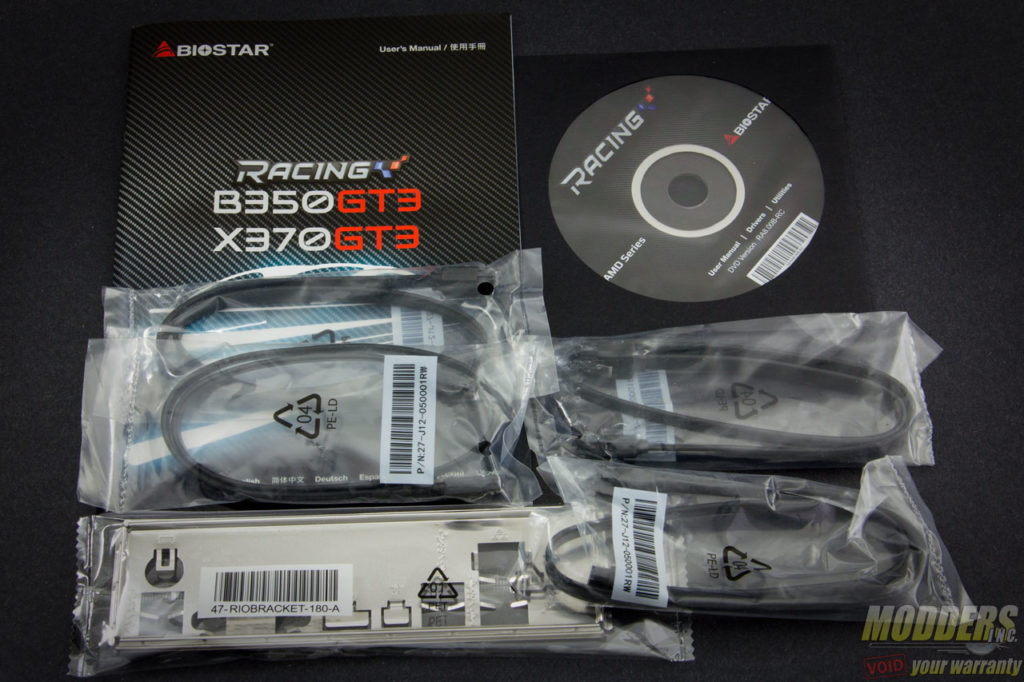 The Biostar Racing B350GT3 motherboard uses a micro-ATX form factor with a slightly narrower width measuring 244 x 238mm instead of 244mm x 244mm like a typical micro-ATX motherboard. It uses a 4-layer matte black PCB with a checkered flag print across, representing the Biostar Racing series line. The DIMM slots, connectors and expansion slots are all uniformly black although the CPU socket itself is white and not dark gray used with most other B350 motherboards.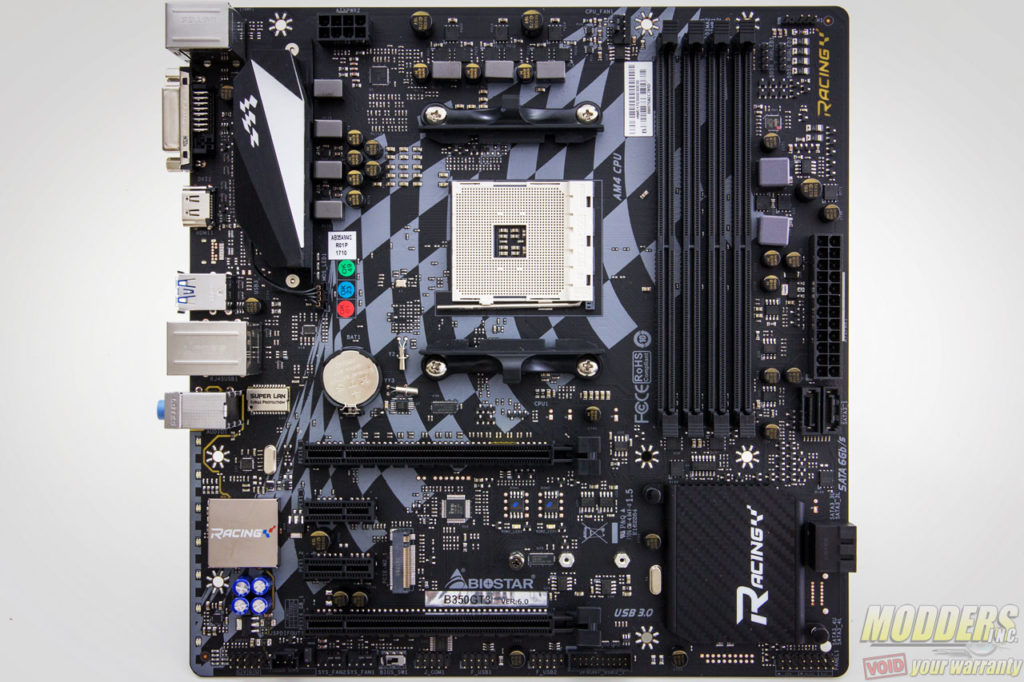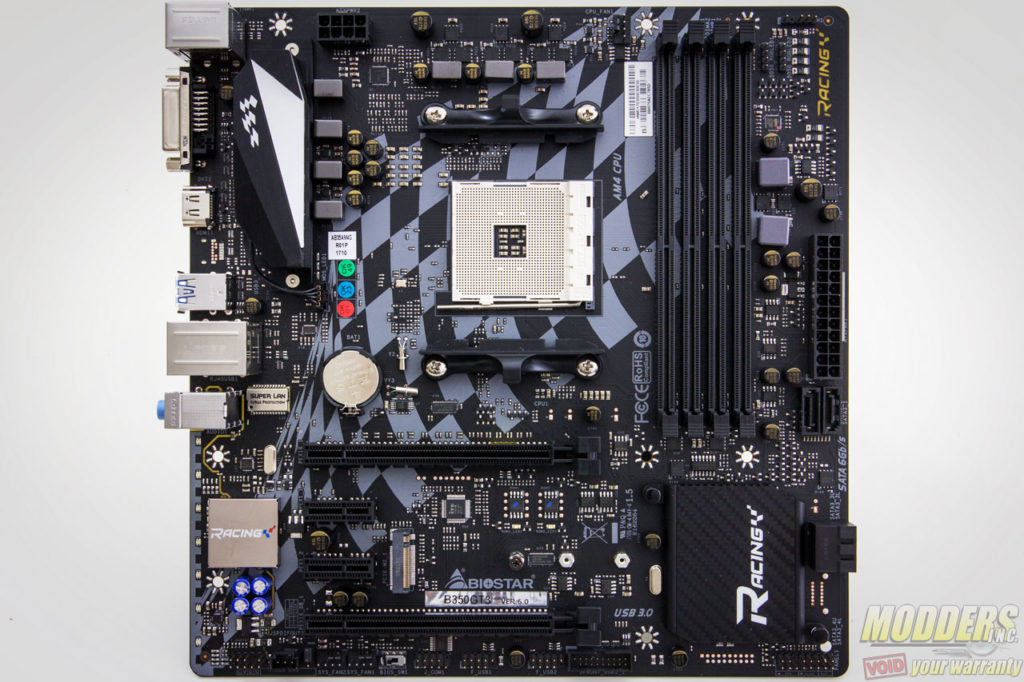 There are on-board RGB LEDs on the B350GT3 on the top side right along the edge of the audio area. It is not located at the backside like other motherboards which is typically used to emphasize and illuminate the audio subsystem cut-out. There is another row of LEDs (although non-RGB) on the top corner edge behind the 'Racing GT' logo.