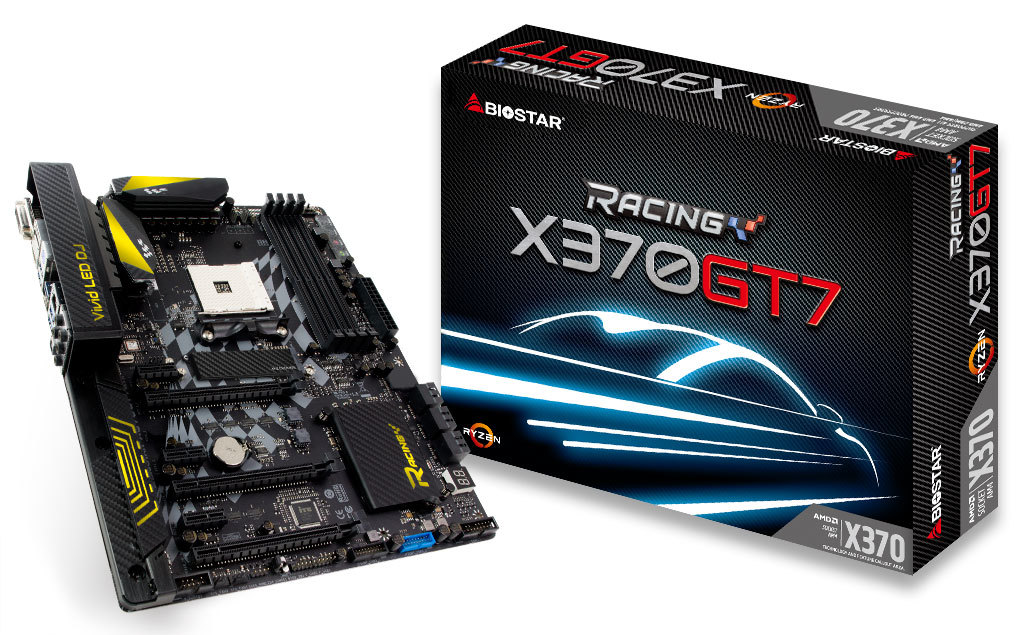 The most awaited CPU launch in over a decade is almost here, and of course the motherboards that support it as well. Biostar has revealed their full Racing series motherboard line up compatible with AMD's latest Ryzen CPUs. These motherboards are equipped with Biostar's second generation Racing series technology, improving upon the features that were utilized with their earlier Intel-based Racing series motherboards.
At the top of the heap is the flagship Biostar Racing X370GT7 motherboard packed with 6x SATA3 connectors, 1x M.2 slot supporting up to 32GB/s and 2x PCI-E x16 3.0 slot for dual video card gaming. It also comes packed with Realtek ALC1220 8-channel HD audio and Realtek 8118AS Gigabit LAN controller. For those who prefer additional eye candy via on-board RGB LED, the X370GT7 motherboard is also equipped with Biostar's Vivid LED DJ, 5050 Fun Zone and VIVID LED Armor. The BIOSTAR RACING X370GT7 motherboard will be offered with a special bundle and will come with a BIOSTAR M200 M.2 240GB solid-state drive.
The other two ATX motherboard offerings from Biostar are the RACING X370GT5 and RACING B350GT5 motherboards. They are identical in terms of looks but differ in features due to the chipsets used and price-point. The X370GT5 has six SATA3 ports while the B350GT5 only has four  SATA3 ports. Both have an M.2 32GB/s port and both have Realtek RTL8118AS Gigabit LAN as well as Realtek ALC892 HD Audio. One more advantage of the X370GT5 are two additional USB 3.1 Gen1 connectors available for a total of eight (four via two 19-pin headers) over the B350GT5 which has a total of six. Both have USB 3.1 Gen2 ports (one Type-A and one Type-C).
For the micro-ATX form factor, Biostar has the RACING X370GT3 and the RACING B350GT3. Like the X370GT5 and B350GT5, they differ in SATA port count due to the chipset, 6x SATA3 vs 4x SATA3, but both are equipped with M.2 32GB/s ports, Realtek RTL8118AS Gigabit LAN controller and Realtek ALC887 HD audio codec.
BIOSTAR is also giving out to users free invite code content bonus packs which includes premium gifts for World of Tanks gamers in Asia server with all BIOSTAR RACING series motherboards.

BIOSTAR RACING X370GT7 product page: http://www.biostar.com.tw/app/en/mb/introduction.php?S_ID=874#specification

BIOSTAR RACING X370GT5 product page: http://www.biostar.com.tw/app/en/mb/introduction.php?S_ID=873#specification
BIOSTAR RACING B350GT5 product page: http://www.biostar.com.tw/app/en/mb/introduction.php?S_ID=872#specification
BIOSTAR RACING X370GT3 product page: http://www.biostar.com.tw/app/en/mb/introduction.php?S_ID=871#specification
BIOSTAR RACING B350GT3 product page: http://www.biostar.com.tw/app/en/mb/introduction.php?S_ID=870#specification

Visit the new BIOSTAR website at: http://www.biostar.com.tw/