A Closer Look at the ASRock B550 Extreme4 »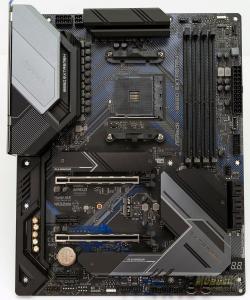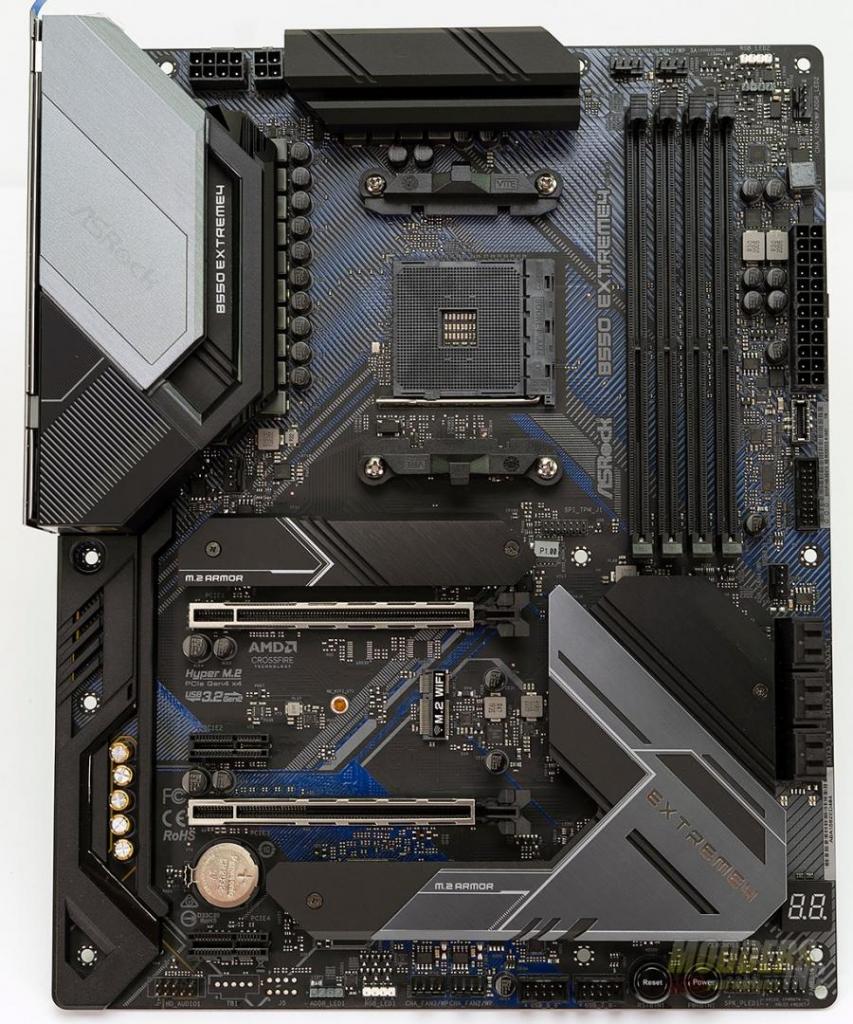 The B550 Chipset from AMD is the mainstream chipset whereas the X570 is the high-end or enthusiast chipset. ASRock like many other manufactures has released a slew of B550 motherboards in all sizes and price ranges and as I am wrapping up my B550 reviews, they sent over the ASRock B550 Extreme4. The ASRock B550 Extreme4 is a full-size ATX motherboard featuring some of the latest innovations from ASRock. Interestingly, the B550 color scheme is not the standard black or green PCB and added a bit of color to it that flows well with the color of the heatsinks and other accessories on the board. Aside from the B550 chipset, the motherboard includes a 2.5 gigabit network adapter, USB 3 Gen2 ports, 14 phase power delivery with 50A Dr.MOS as well as supporting up to 4733+ MHz memory speeds and continues with their PolyChrome RGB. On paper, the ASRock B550 Extreme4 sounds pretty good so, let's get into it and see if it is really as good as it claims to be.
Packaging
ASRock's packaging has always been colorful and artistic. This helps the manufacture's products stand out from one another when placed on a shelf at the brick and mortar stores. On the front side of the box, there is blue and pink line ard with the product name in large letters. Moving to the back of the box, ASRock lists out the specifications for the B550 Extreme4. Also included on the back is a clear graphic for which M.2 slot supports PCIe 4.0 and which is PCIe 3.0. There is another graphic showing the included connection type on the motherboards I/O panel and finally, ASRock goes into some of the details on the included features of the motherboard.
Once you've opened the box, you'll be presented with a dual-chamber interior. The upper chamber contains the documentation for the motherboard. In this case, a quick installation guide and software set up guide are included.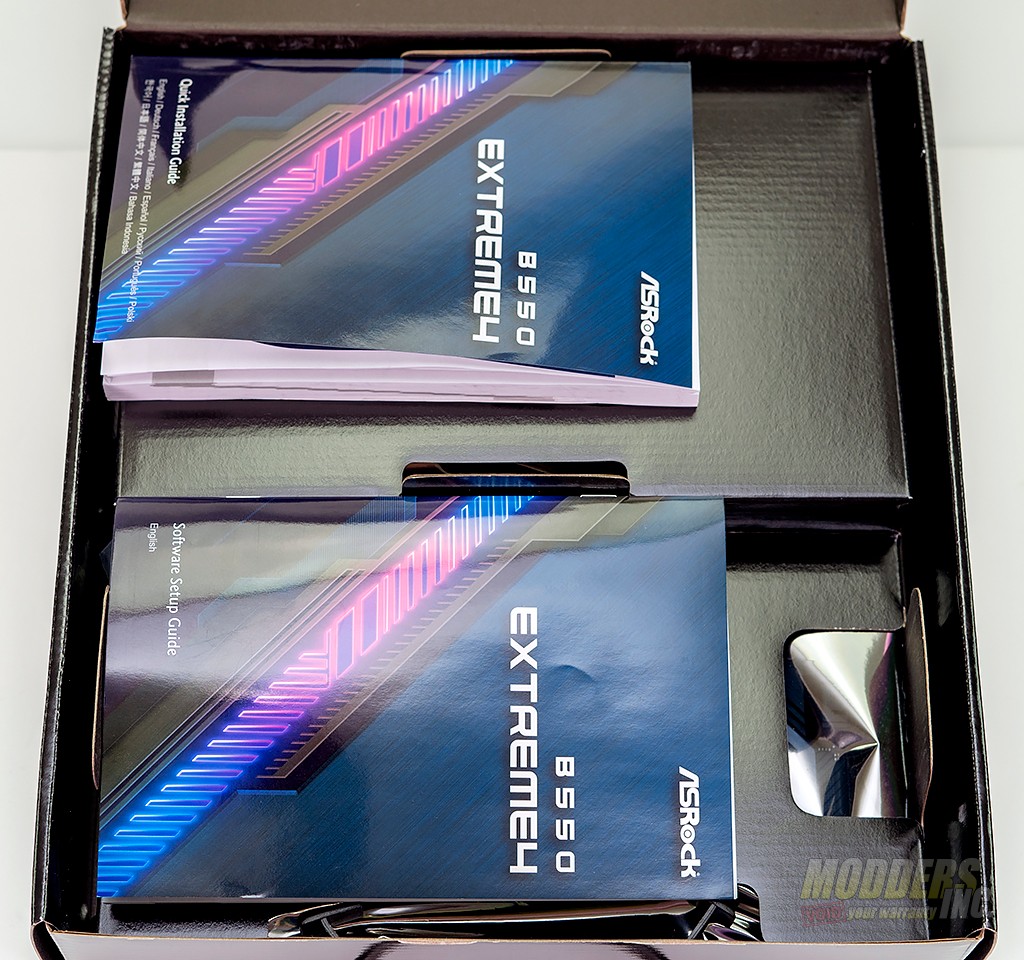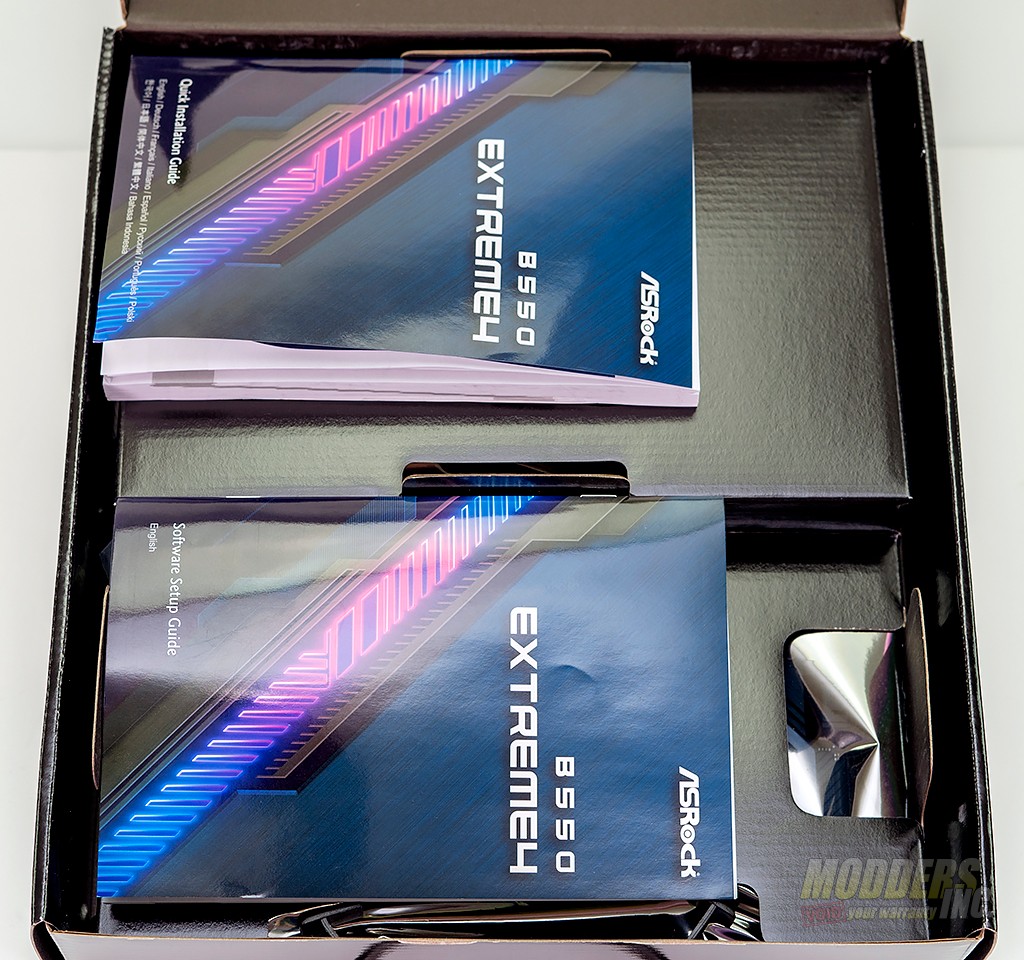 The lower chamber contains the motherboard which is wrapped in an antistatic bag with the installation accessories housed below it.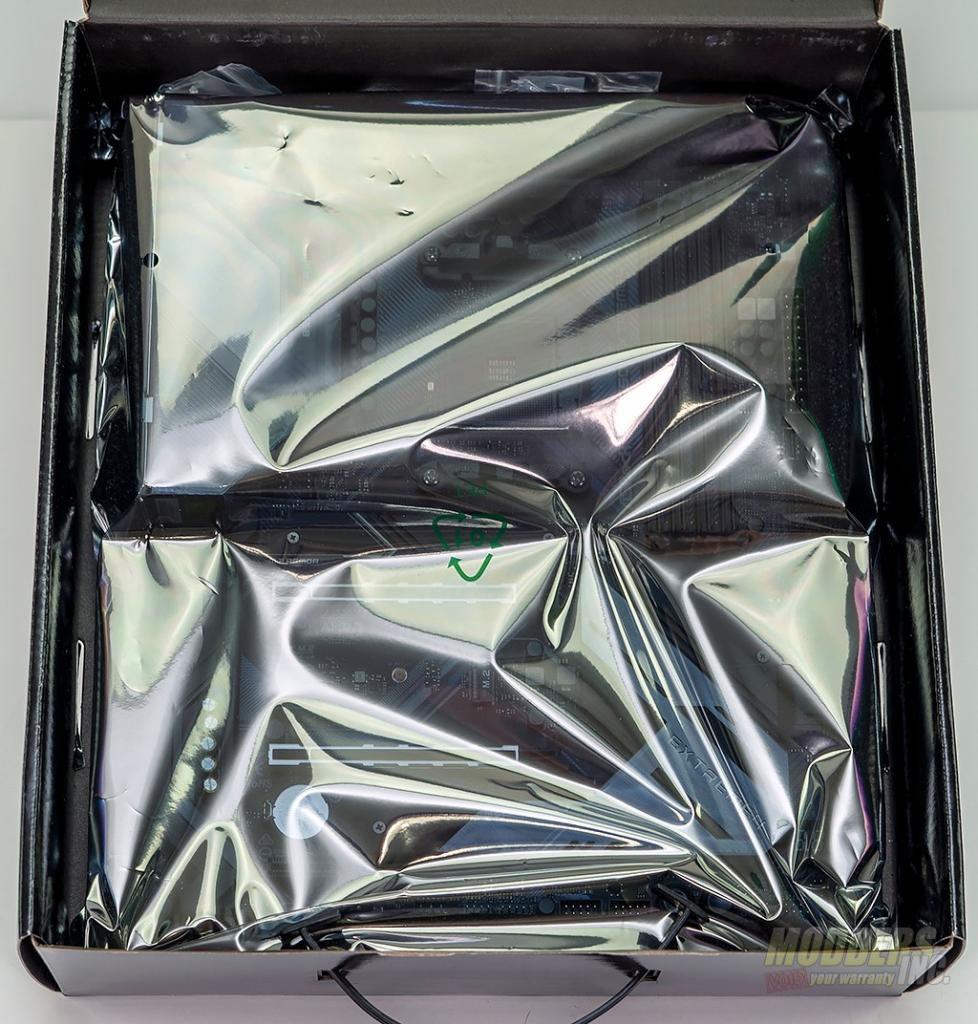 ASRock Zip-tied the motherboard to the foam insert at all four corner holes. Not that it matters all that much, but I thought it was strange enough that it's worth mentioning.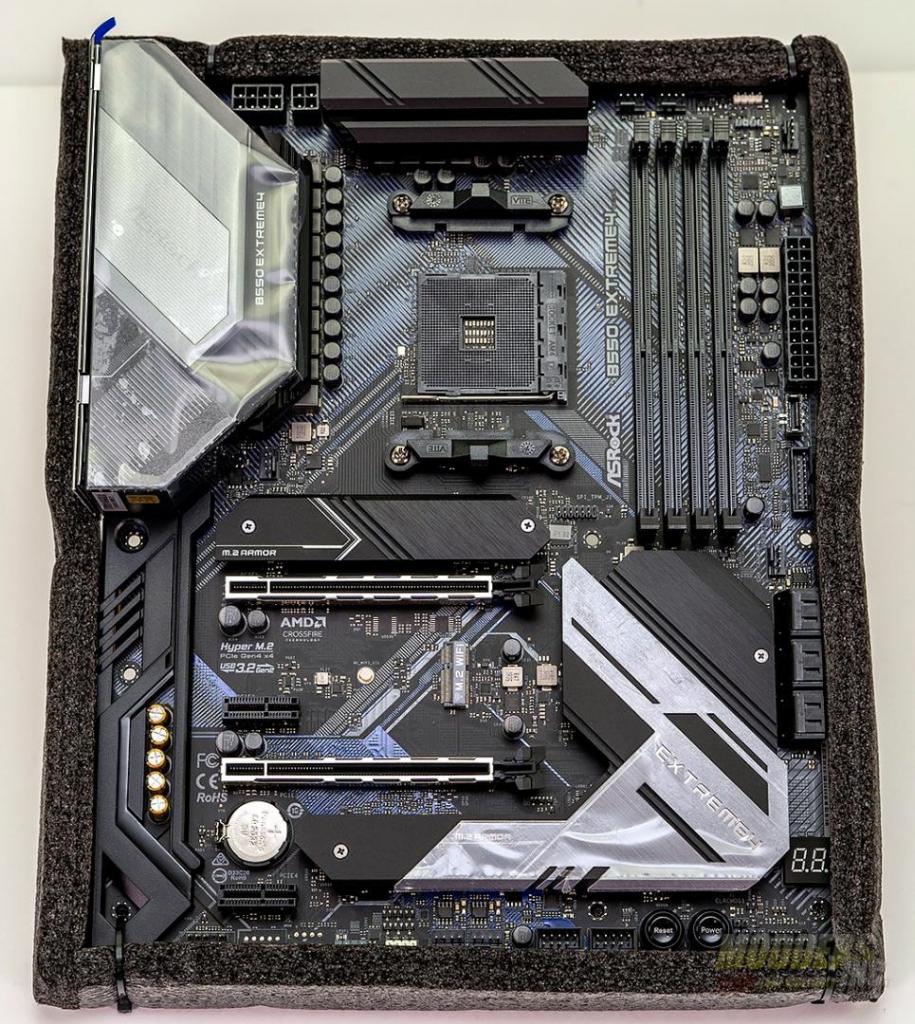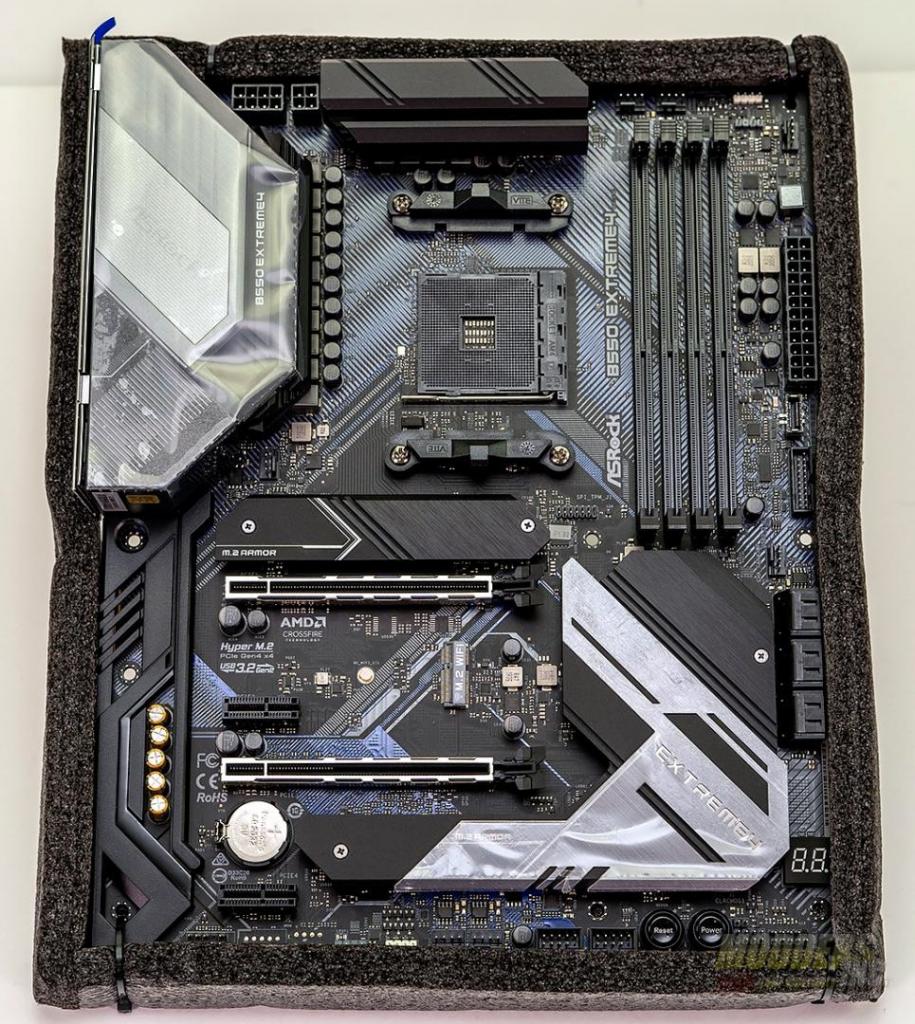 CPU
– Supports 3rd Gen AMD AM4 Ryzen™ / future AMD Ryzen™ Processors*
– Digi Power design
– 14 Power Phase design

*Not compatible with AMD Ryzen™ 5 3400G and Ryzen™ 3 3200G.

Chipset
– AMD B550
Memory
– Dual Channel DDR4 Memory Technology
– 4 x DDR4 DIMM Slots
– AMD Ryzen series CPUs (Matisse) support DDR4 4733+(OC) / 4666(OC) / 4600(OC) / 4533(OC) / 4466(OC) / 4400(OC) / 4333(OC) / 4266(OC) / 4200(OC) / 4133(OC) / 4000(OC) / 3866(OC) / 3800(OC) / 3733(OC) / 3600(OC) / 3466(OC) / 3200 / 2933 / 2667 / 2400 / 2133 ECC & non-ECC, un-buffered memory*
– AMD Ryzen series APUs (Renoir) support DDR4 4733+(OC) / 4666(OC) / 4600(OC) / 4533(OC) / 4466(OC) / 4400(OC) / 4333(OC) / 4266(OC) / 4200(OC) / 4133(OC) / 4000(OC) / 3866(OC) / 3800(OC) / 3733(OC) / 3600(OC) / 3466(OC) / 3200 / 2933 / 2667 / 2400 / 2133 ECC & non-ECC, un-buffered memory*
– Max. capacity of system memory: 128GB**
– Supports Extreme Memory Profile (XMP) memory modules
– 15μ Gold Contact in DIMM Slots
BIOS
– 256Mb AMI UEFI Legal BIOS with GUI support
– Supports "Plug and Play"
– ACPI 5.1 compliance wake up events
– Supports jumperfree
– SMBIOS 2.3 support
– CPU, CPU VDDCR_SOC, DRAM, VPPM, VTT_DDR Offset, CPU VDD 1.8 Voltage Multi-adjustment
Graphics
– Integrated AMD Radeon Vega Series Graphics in Ryzen Series APU*
– DirectX 12, Pixel Shader 5.0
– Shared memory default 2GB. Max Shared memory supports up to 16GB.**
– Supports HDMI 2.1 with max. resolution up to 4K x 2K (4096×2160) @ 60Hz
– Supports Auto Lip Sync, Deep Color (12bpc), xvYCC, and HBR (High Bit Rate Audio) with HDMI 2.1 Port (Compliant HDMI monitor is required)
– Supports HDR (High Dynamic Range) with HDMI 2.1
– Supports HDCP 2.3 with HDMI 2.1 Port
– Supports 4K Ultra HD (UHD) playback with HDMI 2.1 Port
– Supports Microsoft® PlayReady
Audio
– 7.1 CH HD Audio with Content Protection (Realtek ALC1220 Audio Codec)
– Premium Blu-ray Audio support
– Supports Surge Protection
– 120dB SNR DAC with Differential Amplifier
– NE5532 Premium Headset Amplifier for Front Panel Audio Connector (Supports up to 600 Ohm headsets)
– Pure Power-In
– Direct Drive Technology
– PCB Isolate Shielding
– Impedance Sensing on Rear Out Port
– Individual PCB Layers for R/L Audio Channel
– Gold Audio Jacks
– 15μ Gold Audio Connector
– Nahimic Audio
LAN
– 2.5 Gigabit LAN 10/100/1000/2500 Mb/s
– Dragon RTL8125BG
– Supports Dragon 2.5G LAN Software
– Smart Auto Adjust Bandwidth Control
– Visual User-Friendly UI
– Visual Network Usage Statistics
– Optimized Default Setting for Game, Browser, and Streaming Modes
– User Customized Priority Control
– Supports Wake-On-LAN
– Supports Lightning/ESD Protection
– Supports Energy Efficient Ethernet 802.3az
– Supports PXE
Slots
AMD Ryzen series CPUs (Matisse)
– 2 x PCI Express x16 Slots (PCIE1: Gen4x16 mode; PCIE3: Gen3 x4 mode)*
AMD Ryzen series APUs (Renoir)
– 2 x PCI Express x16 Slots (PCIE1: Gen3x16 mode; PCIE3: Gen3 x4 mode)*- 2 x PCI Express 3.0 x1 Slots
– Supports AMD Quad CrossFireX™ and CrossFireX™
– 1 x M.2 Socket (Key E), supports type 2230 WiFi/BT module
– 15μ Gold Contact in VGA PCIe Slot (PCIE1)
Storage
– 6 x SATA3 6.0 Gb/s Connectors, support RAID (RAID 0, RAID 1 and RAID 10), NCQ, AHCI, and Hot Plug*
– 1 x Hyper M.2 Socket (M2_1), supports M Key type 2230/2242/2260/2280 M.2 PCI Express module up to Gen4x4 (64 Gb/s) (with Matisse) or Gen3x4 (32 Gb/s) (with Renoir)**
– 1 x M.2 Socket (M2_2), supports M Key type 2230/2242/2260/2280/22110 M.2 SATA3 6.0 Gb/s module and M.2 PCI Express module up to Gen3 x2 (16 Gb/s)**
Connector
– 1 x SPI TPM Header
– 1 x Power LED and Speaker Header
– 2 x RGB LED Headers*
– 2 x Addressable LED Headers**
– 1 x CPU Fan Connector (4-pin)***
– 1 x CPU/Water Pump Fan Connector (4-pin) (Smart Fan Speed Control)****
– 5 x Chassis/Water Pump Fan Connectors (4-pin) (Smart Fan Speed Control)*****
– 1 x 24 pin ATX Power Connector (Hi-Density Power Connector)
– 1 x 8 pin 12V Power Connector (Hi-Density Power Connector)
– 1 x 4 pin 12V Power Connector (Hi-Density Power Connector)
– 1 x Front Panel Audio Connector (15μ Gold Audio Connector)
– 2 x USB 2.0 Headers (Support 4 USB 2.0 ports) (Supports ESD Protection)
– 1 x USB 3.2 Gen1 Header (Supports 2 USB 3.2 Gen1 ports) (Supports ESD Protection)
– 1 x Front Panel Type C USB 3.2 Gen1 Header (Supports ESD Protection)
– 1 x Dr. Debug with LED
– 1 x Power Button with LED
– 1 x Reset Button with LED
Rear Panel I/O
– 2 x Antenna Mounting Points
– 1 x PS/2 Mouse/Keyboard Port
– 1 x HDMI Port
– 1 x Optical SPDIF Out Port
– 1 x USB 3.2 Gen2 Type-A Port (10 Gb/s) (Supports ESD Protection)
– 1 x USB 3.2 Gen2 Type-C Port (10 Gb/s) (Supports ESD Protection)
– 2 x USB 3.2 Gen1 Ports (Supports ESD Protection)
– 4 x USB 2.0 Ports (Supports ESD Protection)*
– 1 x RJ-45 LAN Port with LED (ACT/LINK LED and SPEED LED)
– HD Audio Jacks: Rear Speaker / Central / Bass / Line in / Front Speaker / Microphone (Gold Audio Jacks)
Software and UEFI
Software
– ASRock Motherboard Utility (A-Tuning)
– ASRock Dragon 2.5G LAN Software
– ASRock Polychrome SYNC*
UEFI
– ASRock Full HD UEFI
– ASRock Instant Flash
Support CD
– Drivers, Utilities, AntiVirus Software (Trial Version), Google Chrome Browser and Toolbar
Accessories
– Quick Installation Guide, Support CD
– 4 x SATA Data Cables
– 3 x Screws for M.2 Sockets
– 2 x Standoffs for M.2 Sockets
Hardware Monitor
– Temperature Sensing: CPU, CPU/Water Pump, Chassis/Water Pump Fans
– Fan Tachometer: CPU, CPU/Water Pump, Chassis/Water Pump Fans
– Quiet Fan (Auto adjust the chassis fan speed by CPU temperature): CPU, CPU/Water Pump, Chassis/Water Pump Fans
– Fan Multi-Speed Control: CPU, CPU/Water Pump, Chassis/Water Pump Fans
– Voltage monitoring: +12V, +5V, +3.3V, CPU Vcore, CPU VDDCR_SOC, DRAM, VPPM, CPU VDD 1.8V
Form Factor
– ATX Form Factor: 12.0-in x 9.6-in, 30.5 cm x 24.4 cm
– 2oz Copper PCB
OS
– Microsoft® Windows® 10 64-bit
Certifications
– FCC, CE
– ERP/EuP ready (ErP/EuP ready power supply is required)