Biostar Hi-Fi Z97Z7 Motherboard Overview »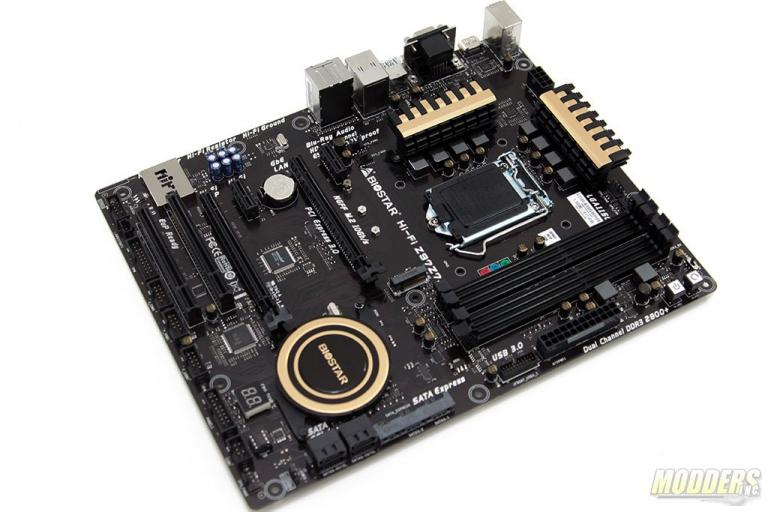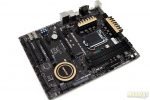 Even though not everyone will admit it, appearances play an important part in decisions made whether it be picking a car or picking a wife. It is not something that can be helped, all humans are biologically wired to be attracted to what looks good. The specifics may be different from one person to the next, but generally there are certain rules of aesthetics that are unequivocally universal. Good looks also carries with it a kind of confidence, even when it comes to inanimate and non-biological things. When something is crafted well, it implies that whoever built it knew what they were doing and were deliberate in their actions, in turn it is also likely that it will perform whatever function it was primarily designed to do well.
Normally Biostar is not a brand anyone would normally associate with high-end motherboards as their offerings always are within range for the average consumer. Their motherboards are also not boards that you would often describe as the best looking. After all, the limited production budget on entry-level and mainstream motherboards is often used up on adding features rather than focusing on the looks. Biostar is intending to break out of the budget mainboard offerings however with the announcement of the Hi-Fi Z97Z7, an LGA1150 based motherboard with ambitions of high-end motherboard caliber not just in terms of looks but in features as well, priced within Biostar's typical range.
Review Sample Provided by: Biostar
Product Name: Biostar Hi-Fi Z97Z7 Motherboard
MSRP: $120 USD
Product was given in exchange for work done to produce this review.
The box color is the now black with golden accents and not the traditional Biostar red with accents of gold hinting the new color theme of the Z97 series. Inside, the top compartment contains the accessories while the motherboard itself is inside an anti-static bag with padding on the rear side.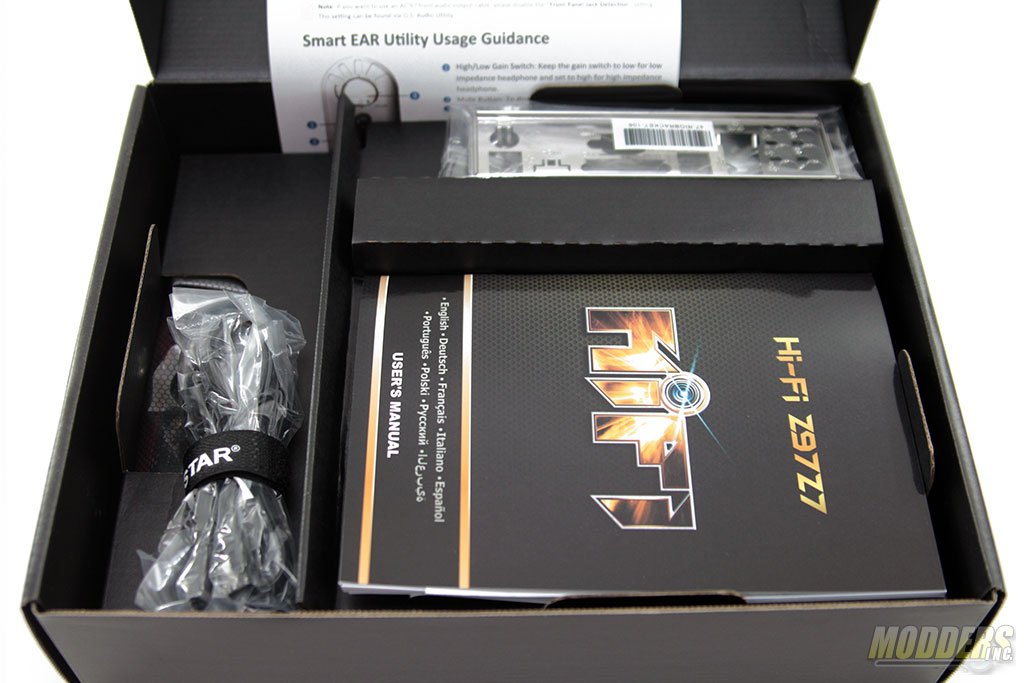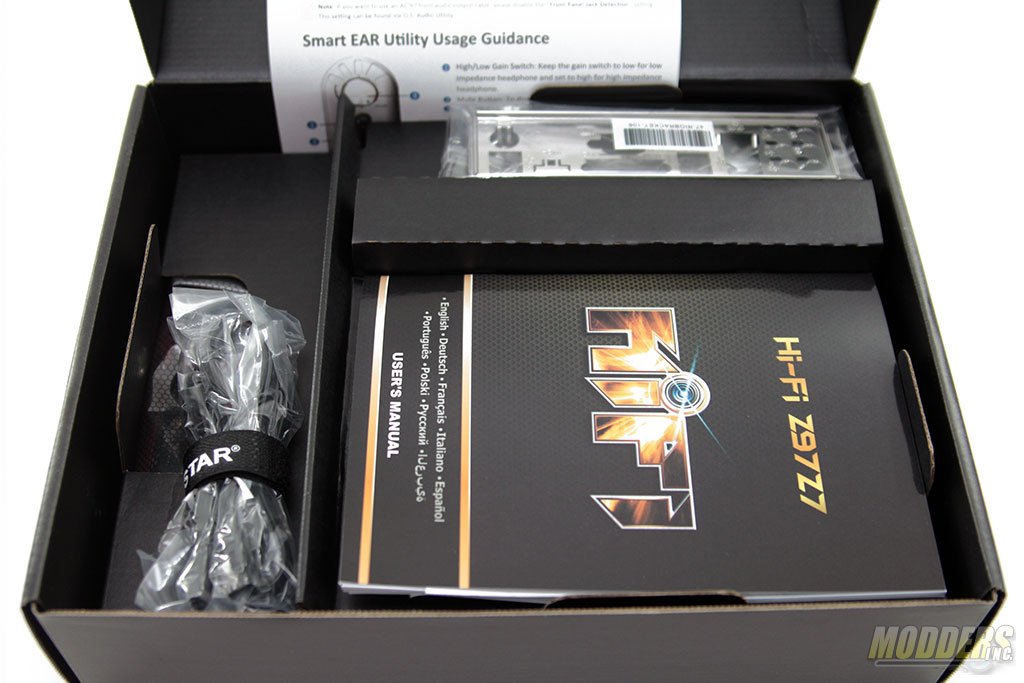 Accessories for the Biostar Hi-Fi Z97Z7 include the essential driver disc, IO shield, a multi-language user's guide, Smart Ear Utility usage sheet and four straight latching SATA cables.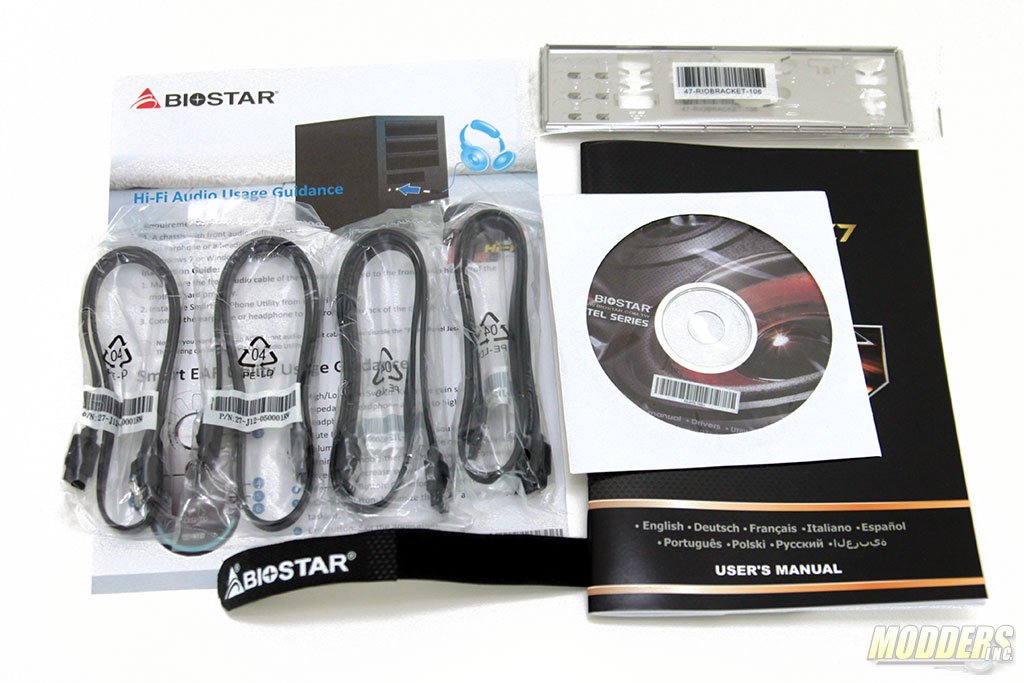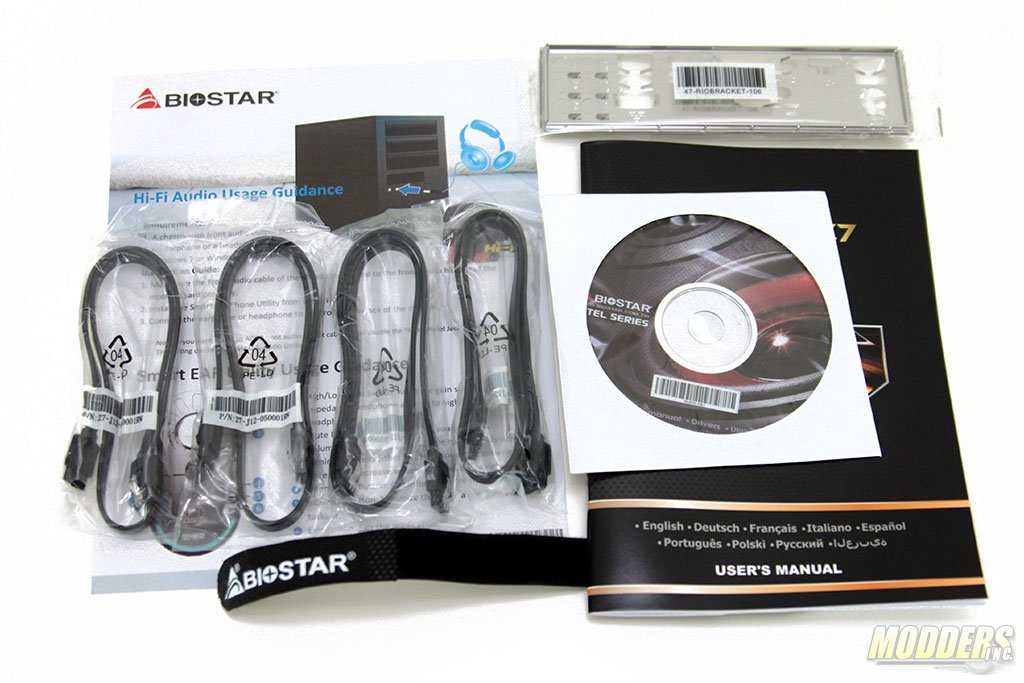 The full official specifications table can be seen below, taken directly from the product landing page: http://www.biostar.com.tw/app/en/mb/introduction.php?S_ID=755
Specifications:
CPU
Intel® Core™ i7 LGA 1150 Processor
Intel® Core™ i5 LGA 1150 Processor
Intel® Core™ i3 LGA 1150 Processor
Intel® Pentium® LGA 1150 Processor
Ready for Intel 4th Gen. unclocked CPU (codename Devil's Canyon)
Ready for Intel next enthusiast-class CPU(codename Broadwell)
Support CPU Bclk overclock
Chipset
Intel® Z97 Express Chipset
Memory
Support Dual Channel DDR3 2800(OC)/ 2600(OC)/ 2400(OC)/ 2200(OC)/ 2133(OC)/ 1866(OC)/ 1800(OC)/ 1600/ 1333/ 1066 MHz
Support non-ECC memory modules
Support Extreme Memory Profile(XMP) memory modules
4 x DDR3 DIMM Memory Slot
Max. Supports up to 32GB Memory
Slots
1 x PCI-E x16 3.0 Slot (support CrosfireX)
1 x PCI-E x16 2.0 Slot (x4)
2 x PCI-E x1 2.0 Slot
2 x PCI Slot
Onboard Graphics

By CPU model
Supports DX11.1/ 11/ 10.1/ 10/ 9
Supports HDCP
Support DirectX Video Acceleration(DXVA) for accelerating video processing
—Full AVC/VC1/MPEG2 HW Decode
Support Advanced Scheduler 2.0, 1.0, XPDM
Support OpenGL 4.0
Support HDMI, 1.4a specification compliant with 3D
Support 3 Displays(HDMI + DVI + VGA)
Multi GPU

Supports AMD CrossFireTM Technology
Storage
4 x SATA3 Connector
1 x SATA Express Connector (Support 1 x SATA Express 10Gb/s devices or 2 x SATA3 6Gb/s devices)
Support SATA RAID: 0,1,5,10
Support both Legacy and AHCI Mode
Support Hot-Plug in AHCI mode
Support Intel Smart Response Technology
1 x M.2(N.G.F.F.) Connector up to 1000MB/s
Support both PCIE NAND for PCIE SSD and SATA NAND for SATA SSD
USB
4 x USB 3.0 Port
1 x USB 3.0 Header
2 x USB 2.0 Port
2 x USB 2.0 Header
AUDIO
Realtek ALC892 8-Channel Blu-ray Audio
Support Blu-ray Audio
Support HD Audio
Support 2/4/6/8-channel
Support Biostar Hi-Fi
LAN
Realtek RTL8111GR – 10/100/1000 Controller
Support Wake-On-LAN
Support PXE
Internal I/O Ports
1 x USB 3.0 Header
2 x USB 2.0 Header
4 x SATA3 6Gb/s Connector
1 x SATA Express Connector(Support 1 x SATA Express 10Gb/s Devices or 2 x SATA3 6Gb/s Devices)
1 x M.2(N.G.F.F.) Connector
1 x Front Audio Header
1 x Front Panel Header
1 x S/PDIF OUT Header
2 x CPU FAN Header
3 x System FAN Header
1 x Serial Header
1 x CIR Header
1 x TPM Header(TPM V1.2)
Back I/O Ports
1 x PS/2 Keyboard
4 x USB 3.0 Port
2 x USB 2.0 Port
1 x HDMI Connector, resolution up to 4096×2160@24Hz, 24bpp / 2560×1600@60Hz, 24bpp / 1920×1080@60Hz, 36bpp
1 x DVI Connector, resolution up to 1920×2000@60Hz @24bpp
1 x VGA Port, resolution up to 1920×2000@60Hz @24bpp
2 x RJ-45 Port
5 x Audio Connector
1 x S/PDIF Out Port
Bundled Software

BullGuard
Smart Ear headphone Utility
BIO-Remote2
BIO-Remote
Biostar MAGIX Multimedia Software Suite
Smart Speed LAN
Intel Rapid Start Technology
Intel Smart Connect Technology
Intel Rapid Storage Technology(include Intel Smart Response Technology)
Dimensions
ATX Form Factor Dimension: 30.5cm x 24.4cm ( W x L )