News and Articles
Cooler Master Announces the Release of the their new Gaming Keyboard with Aimpad™: MK850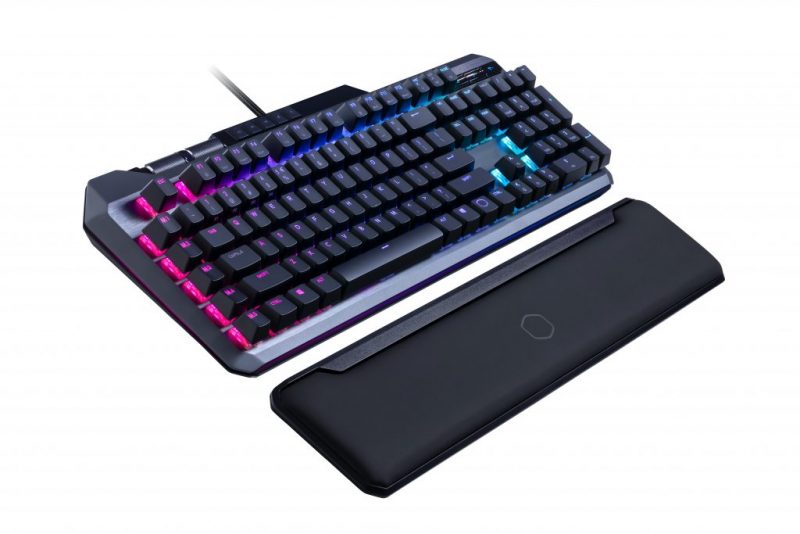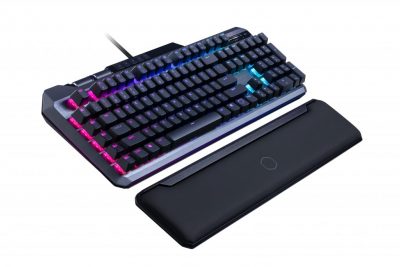 Cooler Master Releases Gaming Keyboard with Aimpad™: MK850
Cooler Master, one of the most well-known names in PC peripherals announces the release of their new analog keyboard, the MK850!  This feature packed keyboard sounds like a hardcore gamers dream.  Equipped with Cherry MX switches, the MK850 is further enhanced by being the first mechanical keyboard to have the new Aimpad technology!  Don't know what Aimpad is?  This tech turns the MK850 mechanical keyboard into a game controller monster!  The QWER and ASDF keys are equipped with the Aimpad tech which senses how far down you press the key and acts accordingly on your games.  Think smooth barrel rolls while flying through the sky!  Think a slow peek around a corner!  Think a gentle smooth stroll down the boulevard!  And the MK850 doesn't stop there!  Like many Cooler Master keyboards, this one comes with extra keycaps (in purple!) to highlight the special Aimpad keys.  There is also a magnetic coupling, padded wrist rest.  Cooler Master's proprietary software will let you customize the RGB backlights to almost any color scheme you want!  The Cooler Master MK850 with Aimpad is now available through NewEgg, Best Buy, and Amazon.  Check out the full press release below!  Or just drool over the hot pictures of this new, never before seen, one of a kind keyboard from Cooler Master!
Cooler Master announces the release of its new analog mechanical gaming keyboard, the MK850.
"The MK850 is the world's first mechanical keyboard, using Cherry MX switches, capable of sensing exactly how far down you press the key," says Lance Madsen, Aimpad™ Principle Engineer. "It provides unparalleled control in even the most demanding PC games."
"We wanted to implement Aimpad™ technology to provide gamers with an extra tool and to push our innovation efforts to the next level," says Bryant Nguyen, Peripheral General Manager. "
What sets the MK850 apart is that it is the only analog keyboard that uses prestigious Cherry MX switches and can sense the entire 4mm range of a key press versus competitor analog keyboards that are only capable of measuring 2mm of analog movement and do not utilize Cherry MX switches.
MK850 is equipped with Aimpad™ technology providing the precision control most commonly found in devices such as aviation joysticks, steering wheels, and gaming controllers and enabling analog control in digital inputs. It allows gamers to control speed, yaw, adjust pitch, creep, and roll. During driving games, Aimpad™ can be used to make smooth turns on the fly or ease into gentle curves by simply changing the distance of the keypress.
The MK850 harbors a removable wrist rest for ultimate comfort, two programmable precision scroll wheels, five dedicated macro keys with five levels of and four profiles­­, a detachable USB Type-C cable, dedicated multi-media keys for quick access to commonly used commands, RGB illumination, and a sleek high-grade anodized aluminum top plate. The MK850 is fully programmable through Cooler Master's easy to use software suite.
The MK850 is available at Best Buy, Amazon, and Newegg on February 28, 2019 respectfully, for $/€199.99. For more information please visitwww.coolermaster.com.
Images: https://coolermaster.egnyte.com/fl/Hvkv3p4pFu
Video: https://coolermaster.egnyte.com/dl/zDL5WnjP5c