PC Mouse
Cooler Master MM720 Gaming Mouse Review
Lite as a feather
A Closer Look at Cooler Master MM720 Mouse »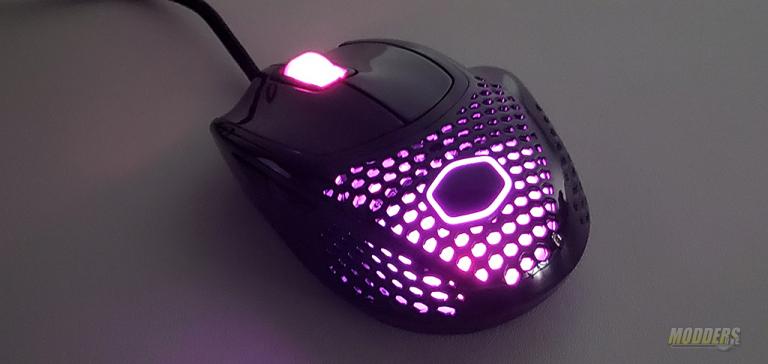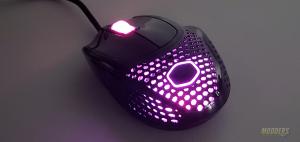 What makes a good mouse? Is it the high DPI ability, weight, or perhaps the best optical sensor on the market? We all have desirable characteristics for mice that make us happy and comfortable while we use them. When gaming for hours at a time you want to feel immersed in the game and not worry about wrist strain or muscle fatigue. Finding the right mouse could be a challenge as the selection is incredible ranging from tens to hundreds of dollars. The Cooler Master MM720 is a new right-handed mouse by Cooler Master that is highly affordable and was designed to be extremely comfortable to use. This mouse was first introduced at CES 2020 and was positively accepted by reviewers and the gaming community. One of the signatures of the MM720 is its lightweight design and ergonomic looks. The entire mouse weighs only 49 grams and has a unique honeycomb design in its shell.
Just like most accessories by Cooler Master, The MM720 comes in a well-designed shipping box. The entire packaging of MM720 has vivid images and informative text to show potential customers what they are about to buy. The MM720 comes in Black Matte, White Matte, Black Glossy, and White Glossy variations. Our sample arrived with Glossy Finish however the specs across the MM720 series are the same.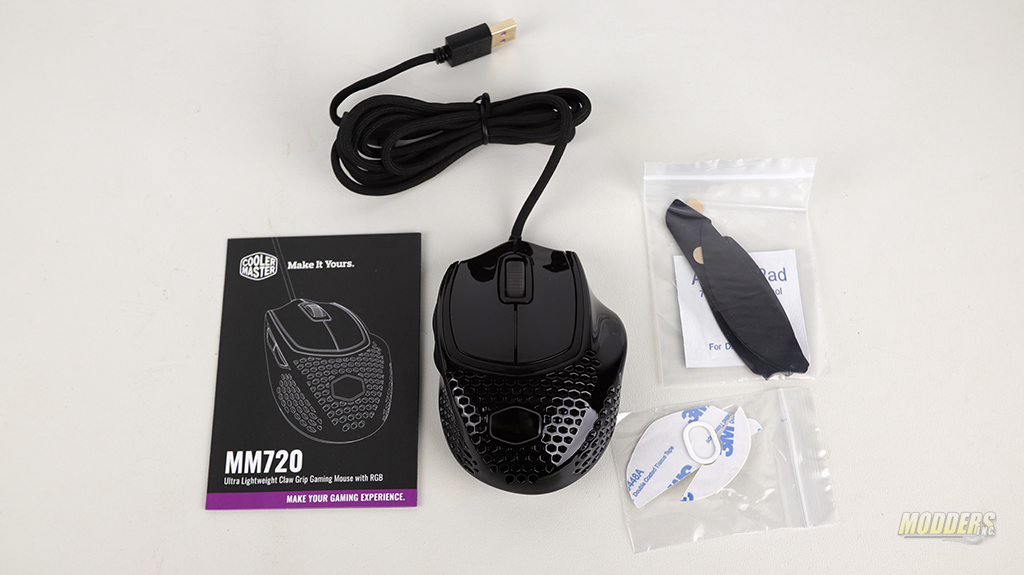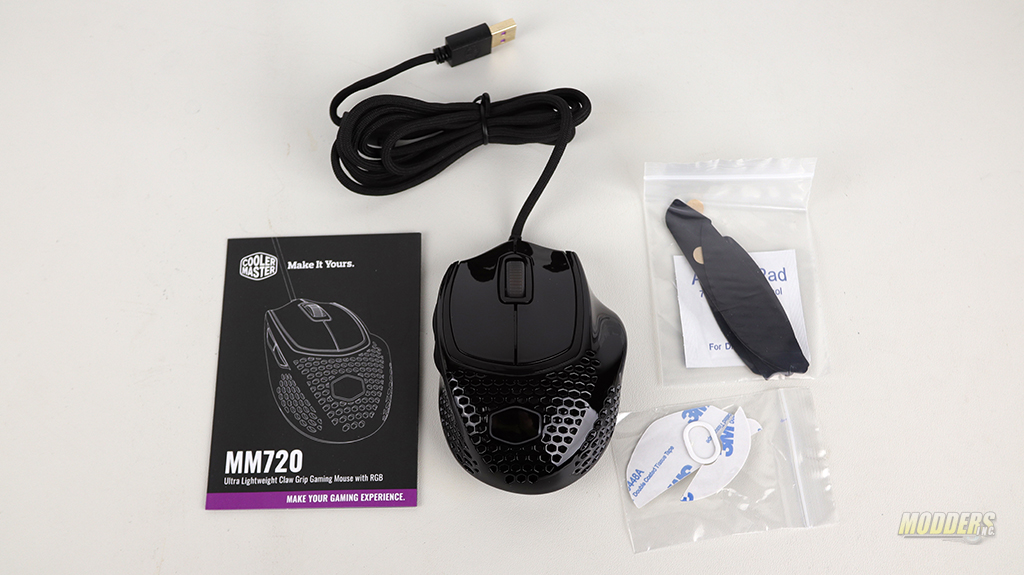 The MM720 packaging includes an instruction booklet, a few PTFE adhesive pads, and an actual MM720 mouse. The MM720 is an RGB-capable mouse with a non-removable USB 2.0 cord.
Technical Specifications
PRODUCT NUMBER
MM-720-KKOL1 (Black Matte), MM-720-WWOL1 (White Matte), MM-720-KKOL2
(Black Glossy), MM-720-WWOL2 (White Glossy)
MOUSE GRIP TYPE
Claw, Palm
MOUSE MATERIAL
ABS, PTFE
MOUSE COLOR
Black, White
SURFACE TREATMENT
Matte, Glossy
MOUSE LED BACKLIGHT
2-zone RGB
MOUSE SENSOR
PixArt PMW3389
CPI / DPI
7 Levels (400, 800, 1200 (default), 1600, 3200, 6400, 16000)
MOUSE TRACKING SPEED
400 ips
MOUSE LIFT OFF DISTANCE
< ~2mm
MOUSE POLLING RATE
1000Hz
ANGLE SNAPPING
N/A
MOUSE ACCELERATION
50g
MOUSE PROCESSOR
32 bit ARM Cortex M0+
MOUSE MEMORY
512 KB
L/R MICRO SWITCH
LK optical micro switch, 70M
ENCODER
LK optical encoder
MOUSE BUTTONS
6
MOUSE CABLE LENGTH
Fixed Ultraweave cable, 1.8m
SOFTWARE
Yes, Cooler Master MasterPlus+ Support
MOUSE DIMENSION
105.42 x 76.52 x 37.35mm
MOUSE WEIGHT
49g/0.108lbs
WARRANTY
2 years
PRODUCT
Mice
SERIEs
MasterMouse