Keyboards
Cooler Master CK552 Full RGB Mechanical Gaming Keyboard
A Full-sized, Compact, RGB, Customizable, Gaming Keyboard
A Closer Look at the Cooler Master CK552 Full RGB Mechanical Gaming Keyboard »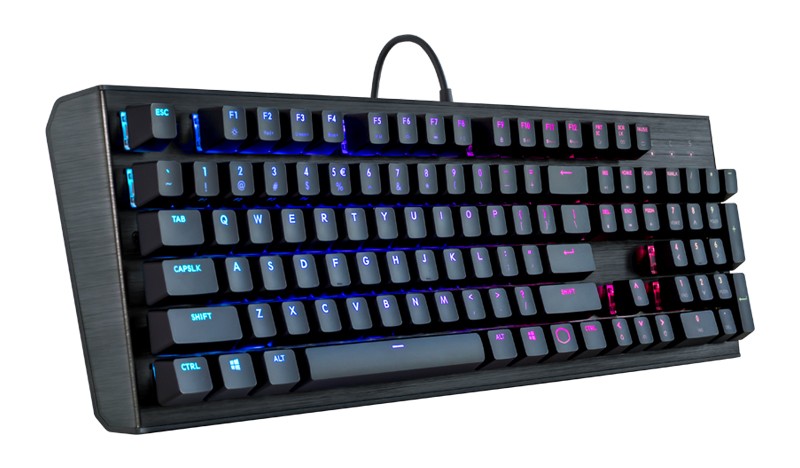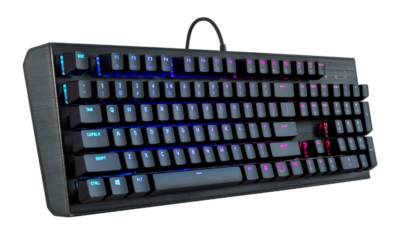 We have seen a lot of keyboards recently.  Full-sized, Compact, RGB, Customizable, Gaming, Mechanical are all terms we have seen used.  Cooler Master has provided us with their new CK552 Full RGB Mechanical Gaming Keyboard that is all of those things wrapped in one package.  Lets check it out and see what Cooler Master has done.
The packaging for the Cooler Master CK552 Full RGB Mechanical Gaming Keyboard is easily recognizable by that wonderful Purple that Cooler Master loves to use.  The Cooler Master logo with their ever-present tag line "Make It Yours" and the CK552 in large white letters are both minimized by the spectacular picture of the CK552 Gaming Keyboard on the box front.  Lit up with a dazzling display of RGB lights it reminds me of a beautifully decorated Christmas tree.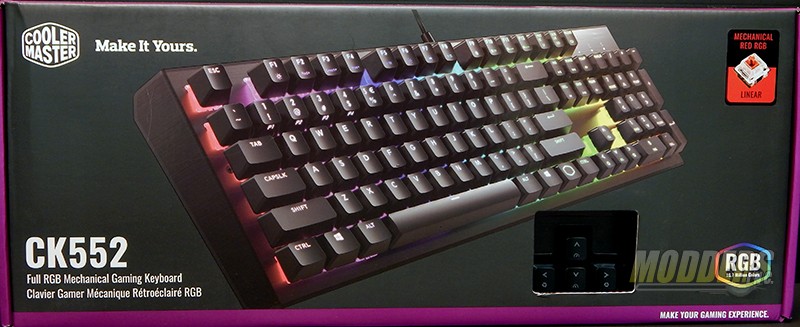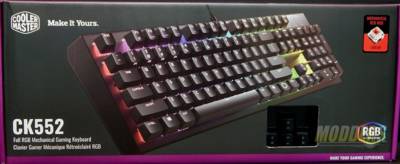 Another eye catching item on the Cooler Master CK552 Full RGB Mechanical Gaming Keyboard box is the large red sticker that refers to the Mechanical Red RGB Linear switches used.  More on these switches later.  The RGB logo in the lower right lets you know this is a Full RGB capable keyboard.  And just to the left of that is a peek inside.  Reach in.  Touch the soft, sensitive, smooth Red Mechanical keys!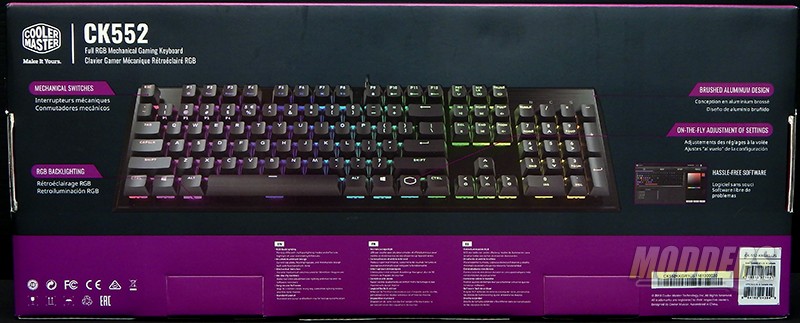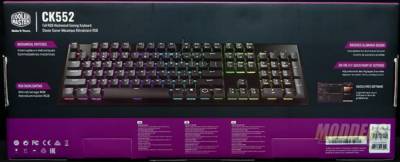 The back of the box gives us a nice view of the keyboard with a slightly fuzzy but fully readable image of all the keys and their associated functions.  For those of you familiar with gaming keyboards many of these functions will be readily apparent.  Mechanical Switches, RGB back lighting, Brushed Aluminum Design, and On-The-Fly Adjustment Of Settings are just 4 of the many features of the Cooler Master CK552 Full RGB Mechanical Gaming Keyboard.  There is also mention of Cooler Masters "Hassle-Free Software".  This software is available for download from Cooler Master's website.
Speaking of features, lets look over this list:
Product Name
CK552
Model Number
CK-552-KKGR1-US
(Red Switch)
Switch Type
Gateron
Material
Plastic / Aluminum
Color
Midnight Black Brushed Aluminum
LED Color
RGB, 16.7 million colors
Polling Rate
1000 Hz
Response Rate
1ms / 1000Hz
MCU
32bit ARM Cortex M3
On board Memory
512KB
On-the-fly system
Yes, for Multi-media, Macro Recording and Lighting Control
Multi-media Keys
Through FN
Cable
Fixed Rubberized 1.8m
Software Support
Yes, through Portal
Connector Cable
USB 2.0
Cable Length
1.8m
Dimensions
460*135*41 mm (L*W*H)
Product Weight (without cable)
850 g
Warranty
2 years
EAN
4719512071441
UPC
884102043949
A couple of specifications to take note of on the Cooler Master CK552 Full RGB Mechanical Gaming Keyboard.  It has a 2-year Warranty.  At 850 grams (nearly 2 pounds) it is a heavy keyboard for its seemingly small size.