Article Index: >>
Page 2 »
Introduction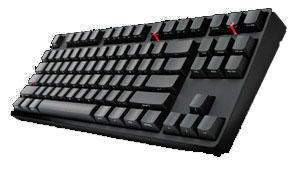 For the most part we interact with our PCs through the keyboard. Since the dawn of the PC era, the keyboard has been one of the peripherals that has been with us the longest. Back in the day, keyboards had mechanical switches versus keyboards today have a squishy membrane for operation. The advantage the mechanical switches have over a membrane style of keyboard is the longevity of the device. Mechanical keyboards tend to last longer under heavy use. There are a variety of mechanical switches and my advice is go to out and test some to figure out your favorite. I tend to lean towards the Cherry MX green switches. The CM Storm division added another keyboard to their Quickfire line: the QuickFire Stealth. The name gives away little about the keyboard, but don't let that fool you.

Review Sample Provided by: Cooler Master
Product Name/Link to Website: CM Storm Quickfire Stealth Mechanical Keyboard
Product was given in exchange for work done to produce this review.
Specifications
| | |
| --- | --- |
| Part Number | SGK-4000-GKCR2(Red switch) SGK-4000-GKCM2(Brown switch) SGK-4000-GKCG2(Green switch) SGK-4000-GKCL2(Blue switch) |
| Key Switch | CHERRY Blue / Red / Brown / Green |
| N Key Rollover | NKRO in PS/2 mode (12KRO over USB) |
| OTF Repeat Rate | 4 levels (PS/2 mode only) |
| Interface | USB (PS/2 adapter included) |
| Extra Keys | 6 pcs (WASD+Arrow keys) included |
| Keycap Puller | Included |
| USB Cable | Removable, braided, gold plated |
| Dimensions | 355(L)x135(W)x35(H) mm 14(L)x5.3(W)x1.4(H) inch |
| Weight | 940 g / 2.1 lbs |
Article Index: >>
Page 2 »